Interior design is a creative and technical endeavor that requires an eye for aesthetics, knowledge of the latest trends, and strong problem-solving abilities. While it's not an easy field to get into, with dedication and hard work, becoming a successful interior designer is possible.
While many pursue their dreams in this field, some groups face more challenges than others. BIPOC designers often have difficulty breaking into the industry due to systemic and institutional barriers. For instance, they may lack access to proper training or experience discrimination when seeking potential positions.
Fortunately, there are resources available to help minorities who want to become interior designers gain the skills and knowledge necessary for success in the industry. Minority-owned businesses and organizations are working with BIPOC designers to give them necessary resources and opportunities, such as access to mentorships, workshops, scholarships, and internships.
Organizations like the National Association of Minority Designers (NAMD) provide members with professional advice and support on how to launch a successful interior design career. Through events like their annual "Designer's Summit," NAMD brings together aspiring professionals for networking opportunities and lectures from industry experts.
These initiatives have helped create an inclusive environment where Black and brown designers can grow in their craft and build a thriving business. With resources available specifically tailored towards minorities looking to break into the industry, there is more room now than ever before for Black and multicultural interior designers to succeed.
Hit the Follow Button on these 7 BIPOC Designers ASAP
The world of interior design is becoming more diverse. By utilizing resources like those provided by NAMD and other minority-owned organizations, aspiring BIPOC interior designers can gain the skills and knowledge they need to break into this creative and challenging field. With the right resources, Black and multicultural interior designers can rise to the top and make their mark in this ever-evolving industry.
Everick Brown Design is a Black-owned and operated design company headed by the talented husband and wife duo, Everick Brown and Lisa Walker. The company offers professional residential and commercial design solutions. They specialize in seamlessly combining modern and classic styles to create exquisitely decorated interiors that will bring any space to life.
With two decades of experience and a driven focus on increasing profitability, Everick and Lisa aid their clients in avoiding everyday design errors. This duo brings many years of expertise with different perspectives to effectively manage the design process through accurate budgeting, open communication, and an evenhanded strategy.
Growing up surrounded by creatives, Erika Ward had the opportunity to observe art being made on a regular basis. Her grandfather — an accomplished architect for the federal government —was her initial design mentor. And it is thanks to him that she started her own interior design company Erika Ward Interiors.
Erika Ward Interiors offers comprehensive interior design services that can help transform your home into a harmonious and beautiful place for life's special occasions. The company is committed to turning any space from an empty canvas into a masterpiece, all while ensuring its practicality and usability. So if you want to create the perfect backdrop for memorable moments with your loved ones, Erika Ward Interiors has you covered.
Denese Butler – The Perfect Vignette
Denese is an interior design master, able to read her clients' minds and present them with solutions they would never have thought of. Her enthusiasm, energy, and friendly nature allow her to build meaningful connections that encourage people out of their comfort zones so they can make daring decisions. With experience in the fashion industry under her belt, Denese made a successful transition into interiors—where she continues to create beautiful spaces for all who seek it!
As fate would have it, the two paths crossed to culminate in the launch of her design firm The Perfect Vignette. Since then, she has earned recognition from multiple magazines for being one of "Top Black Designers You Should Be Following".
Mike is the absolute genius when it comes to restoring harmony and beauty into any home. His creativity knows no bounds as he can completely redesign floor plans, making room for whatever his clients want while preserving the exterior's unique charm. As a Builder and Designer, Mike works hard to make every single project shine like never before.
Candace Mary Griffin – Candace Mary Interiors
Candace Griffin of Candace Mary Interiors is a visionary when it comes to crafting beautiful spaces. By blending classic pieces with contemporary elements, she has the power to bring personality and charm into each area – making them feel inviting from all angles. She understands that design and home staging are more than just aesthetics; they should evoke feelings of comfort and connection too so that people can fall in love with their home. Candace's skill at creating a visual journey through her designs allows for truly unique experiences tailored around your needs!
Throughout her illustrious career, Candace has collaborated with a variety of clients including realtors, first-time home buyers, homeowners, celebrities and small businesses. Not only was she featured in multiple articles but also earned numerous awards for her work. Recently recognized as House Beautiful's Next Wave Designer for 2022 and part of Goldman Sachs 1000 Small Businesses plus Design Council member for Sherwin Williams – there is no limit to what this designer can achieve!
Rayman Boozer – Apartment48 Interior Design
Apartment48 Interior Design is a Black-owned design studio dedicated to creating beautiful interiors for an inviting home. With years of experience in the industry, the company understands that a well-designed space makes for a great living experience. And its team of professionals specialize in creating stunning, individualized interiors for residential and commercial spaces.
For more than two decades, founder Rayman Boozer and his team worked to craft unique and stylish designs for their clients' various projects. From modern lofts to television studios and everything in between, Apartment48 Interior Design captures each client's personal aesthetic so that every design speaks their individual language.
No matter the size of your project, Apartment48 Interior Design will take care of it from start to finish.
Ariene Bethea – Dressing Rooms Interiors Studio
Dressing Rooms Interiors Studio offers an exquisite selection of vintage and contemporary furniture, lighting, art and décor with bold color combinations that burst with life. Their collection features a unique mix of African, Asian, Indian, Italian and Moroccan pieces for a truly soulful aesthetic.
From original art paintings to coffee table books, Dressing Rooms Interiors Studio is your one-stop-shop when it comes to home decor. The best part? There is a product to suit any decor style so you are sure to find what you need every single time.
Courtney McLeod – Right Meets Left Interior Design
Courtney McLeod is the founder of Right Meets Left, a design studio taking the indsutry by storm. Her work has earned her a number of notable mentions, including The Rising Star Award from the DDB and a feature in the Wall Street Journal!
The name Right Meets Left speaks to the company's design strategy: a combination of creative and analytical skills that incorporates texture, pattern, and color. At Right Meets Left, they strive for an ideal balance between artistic expression (right brain) as well as structured processes (left brain). The goal is always to bring out each client's individual personality through the perfect marriage of these two principles. They also prioritize flawless execution in order to ensure complete fulfillment of clients' expectations.
---
---
Decorate
Access design inspiration that infuses personality and culture into your spaces.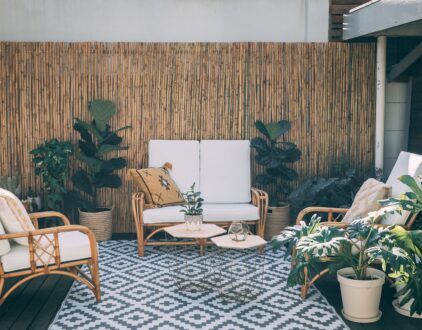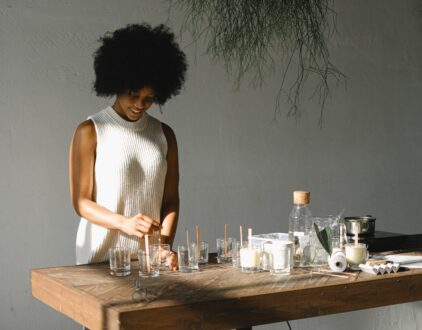 FOLLOW ALONG ON INSTAGRAM
Find us on social for more home inspiration where culture, personal style, and sophisticated shopping intersect to help you create a home where you love to live.