Did you know that there are plenty of DIY gel nail alternatives that you can try at home?
If the past few years of the pandemic have taught us anything, then it's that it comes in handy to have your home stocked with essential needs as well as a few wants for added peace of mind. With that in mind, there's no time like the present to turn your home into a nail salon. You won't have to worry about driving to the salon or long wait times, and you'll save money on that increasingly pricey gel manicure.
Another benefit of an at-home mani and pedi is that you can avoid the nail salon lamps that are used to set gel manicures. They produce UVA rays, which have been found to cause premature aging and skin cancer. Although it presents a smaller risk than other UV tanning devices, salon lamps increase the chance of squamous cell carcinoma, a form of aggressive skin cancer, from forming underneath the nail.
Lucky for us, we are in the age of "clean beauty." Skin, hair, nail and makeup brands that are safe for the environment and healthy for our bodies are all the rage. In 2023, there are more options than ever for eco-friendly nails that offer viable alternatives to the classic gel manicure, but with the same durability and natural, glossy look.
Cut the risk and protect your skin and nails with these DIY gel nail alternatives:
Jump to Products
---
1
Pear Nova Nail Set
Vegan, cruelty free and Black-owned, Pear Nova is a nail care brand that you are sure to love. This natural and toxin-free polish is a great alternative to those high-end gel manicures. Even Oprah approves! It was named one of Oprah's Favorite Things in 2020. The set comes with four luxe shades, a top coat and a green tea cuticle oil, and shades range from nudes to neutral to red. So you'll have a color to fit any mood or style!
2
Manicurist Nail Kit
If you are looking for the best clean alternative to a gel manicure, look no further than the Manicurist Nail Kit. This manicure set of cureless gels (aka they require no UV lights) is also 10-free, plant-based and HEMA-free. The Manicurist Green Flash Essentials Gel Nail Polish Kit comes with a LED curing light, base coat, three polish colors of your choice, top coat, nail clips and remover. This nail kit is truly all the things you love about regular nail polish without the chipping and a gel without the toxins.
3
Habit Cosmetics Nail Polish
Another beloved Black-owned nail care brand, Habit Cosmetics is known for its luxurious, all natural and organic polish. Say goodbye to toxins with this gel alternative. Even the packaging is sustainable. This pale pink shade is topped off with a creme finish, and the brand offers a variety of other nail shades from space cadet blue shimmer to tan lines semi nude tan.
4
Morovan Dip Powder Nail Kit
This do-it yourself dip kit is an Amazon's Choice Favorite. This dip powder is a perfect replacement for a gel manicure as it creates a long-lasting and durable manicure. We're talking nails that can withstand just about anything — hard-to-open jewelry clasps, home projects, washing dishes and lifting weights at the gym. This kit comes with 18 colors, nail dip powder and a dip essential liquid set (which includes a base coat, top coat, activator and brush saver).
5
NAILSTIK Luxury Press On Nails
Press-on nails are a fast, effective and inexpensive DIY project . They're perfect if you are allergic to gel manicures or acrylic nails. Press-on nails can be applied and removed quickly and reused as well. This set of 24 nails by NAILSTIK comes with a storage box, a mini nail travel bag, adhesive tabs, a 3D gel nail glue, mini file and cuticle stick.
OUR EDITORS LOVE FINDING YOU THE BEST PRODUCTS AND OFFERS! IF YOU PURCHASE SOMETHING BY CLICKING ON ONE OF THE AFFILIATE LINKS ON OUR WEBSITE, WE MAY EARN A COMMISSION AT NO EXTRA COST TO YOU.
---
---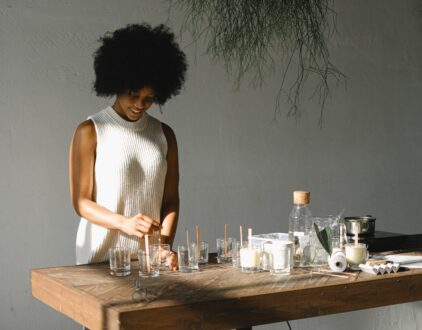 by Arielle Clay | January 19, 2023
by Stephanie Taylor | January 20, 2023
by Stephanie Taylor | January 29, 2023
FOLLOW ALONG ON INSTAGRAM
Find us on social for more home inspiration where culture, personal style, and sophisticated shopping intersect to help you create a home where you love to live.