Adding curb appeal to your front yard is a great way to make your home look more attractive. Curb appeal is all about making the outside of your house look inviting and pleasant, so it's important that you take care when designing your front yard. Here are some tips on how to beautify your front yard to create a beautiful curb appeal:
Plant flowers and shrubs: Adding flowers and shrubs to your front yard can help enhance its curb appeal and provide an eye-catching contrast with the existing architecture. When selecting plants, choose colors that coordinate with the color of your home and opt for low-maintenance options like perennials or evergreens if you're not looking for intensive gardening.
Create a walkway: Create a path or walkway through your front yard to make it more inviting. Choose an attractive material like flagstone or brick and edge the path with plants or shrubs. This will add curb appeal to your home and provide functionality for visitors.
Add outdoor lighting: Outdoor lighting provides both curb appeal and security for your home. Path lights, spotlights, and post-mounted lights can all be used to create attractive displays in your front yard while adding extra security at night. Make sure you choose fixtures that are waterproof, long lasting, and energy efficient.
Install an arbor or trellis: An arbor or trellis can help enhance the curb appeal of your home. Use it to create a garden entrance, frame the doorway of your home, or support climbing plants like vines and roses.
Add curb appeal with window boxes: Window boxes can add instant curb appeal to your home while providing easy access to flowers and herbs. Choose attractive wooden or metal styles that match the color of your home and fill them with a variety of colorful flowers that will bloom in different seasons.
These are just a few ideas on how to beautify your front yard and create curb appeal that will impress visitors and improve the look of your home. With some careful planning and creative thinking, you can easily transform your front yard into an inviting outdoor space.
Here are few products to shop to help step up your front yard magic: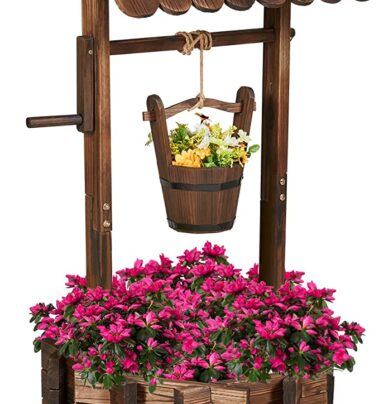 1
Wooden Wishing Well
Looking for a wishing well that will last for years to come? Look no further than the Wooden Wishing Well. This well is constructed entirely of high-quality firewood, ensuring that it will withstand even the harshest weather conditions. The four reinforcement rods provide a sturdy base foundation, while the adjustable height allows you to customize the well to your needs. Best of all, the built-in drainage holes keep the soil fresh and healthy. Whether you're using it indoors or outdoors, this wishing well is sure to make a lasting impression on your neighbors and guests.
2
Large Hanging Waterproof Lantern
If you want a modern way to light up your yard, try the Large Hanging Lantern from JIAJIAMEI. The lantern is made of high-quality metal, and its light displays a unique, retro hollow pattern that your guests will love. It can be hung anywhere from the porch to a pergola. You can also place it on a table or ledge for a standing display. Powered by the sun, this lantern charges under direct sunlight for up to eight hours. After it's fully charged, its power lasts for up to 10 hours. It's also waterproof, so you don't have to worry about taking it down in the rain.
3
Decorative Solar Garden Lights
These Decorative Solar Garden Lights from Gardencave are made from high-quality plastic and feature a beautiful pattern. These lights are perfect for adding a touch of personality to any outdoor space. They're waterproof and suitable for any weather condition, making them a great choice for year-round use. These lights run on solar power and there is no additional wiring required, which saves homeowners money and energy.
Our editors love finding you the best products and offers! If you purchase something by clicking on one of the affiliate links on our website, we may earn a commission at no extra cost to you. 
---
---
homeownership
Home is a safe place where relationships flourish and the cornerstone of neighborhoods. We believe it's the setting that surrounds your phenomenal story.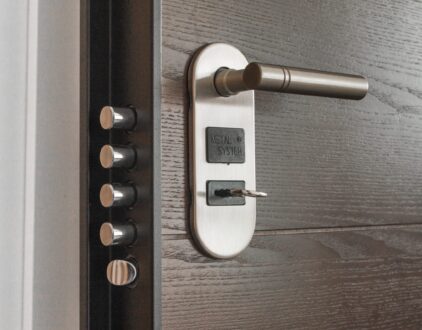 FOLLOW ALONG ON INSTAGRAM
Find us on social for more home inspiration where culture, personal style, and sophisticated shopping intersect to help you create a home where you love to live.