If the crockpot was the kitchenware phenomenon of the twentieth century, the air fryer is the hot ticket kitchen tool of today. Air fryer sales increased by 76% between 2020 and 2022. Air fryer cookbook sales were up 11% during that time. Experts say that the growing popularity is due to air fryers' ability to cut down on energy usage and costs. Also, air fryers cut down on a lot of the unhealthy oils that deep frying requires. A fact that appeals to millennials and Gen Z who are always looking for healthy eating tips and gluten-free, vegan or plant-based options.
You won't have to worry about a lack of options when it comes to cooking in an air fryer. In a few minutes, you can whip up hundreds of comfort foods. That includes meatballs, fried chicken and fries. Don't forget about the healthy options that can be made in this must-have kitchen gadget. Just think cauliflower, Brussels sprouts, broccoli and so much more. Oh, and there's also the dessert. Yum! Air fryers can help satisfy your sweet tooth with treats like a berry crisp, chocolate chip cookies and decadent cakes. They can even reheat leftovers and bring food back to life resulting in treats that taste like it's fresh out of the oven. The possibilities are endless.
If you are wanting to hop on the train of what's trending in kitchenware or if you're just looking to make some restaurant-quality food without the price tag, check out some of the best air fryers on Amazon. Once you try one, you will definitely be obsessed!
Jump to Products
---
1
Ninja AF101 Air Fryer
Eat all your favorite comfort foods without the guilt with the Ninja AF 101 Air Fryer. It has a wide temperature range, 105 degrees Fahrenheit to 400 degrees Fahrenheit, which allows for a variety of cooking styles. You can quickly crisp food or slowly remove moisture. The low fan speed and low temperature allows you to thoroughly dehydrate fruits and vegetables for a quick and healthy snack!
2
COSORI Air Fryer 4 Qt
This modern air fryer comes in three color options (sage green, white and truffle gray) so that you can cook in style! Cooking is made simple with its five, one-touch food presets and helpful preheat and keep warm cooking functions. With the purchase of the COSORI Air Fryer, you also gain access to more than 50 original recipes by the COSORI chefs on the VeSync app. You'll never run out of guilt-free and tasty meal ideas with this air fryer!
3
CHEFMAN Digital Air Fryer+
You can cook just about anything in the CHEFMAN Multifunctional Digital Air Fryer+! You can air fry, bake, dehydrate or roast your favorite foods to a crispy perfection. The CHERFMAN Multifunctional Digital Air Fryer+ harnesses rapid air heating elements to cook fast while still using 98% less oil than traditional fryers. Also, you can meal prep or cook food for large groups as the air fryer offers an extra large capacity at 10 liters.
4
Sakuchi 10-in-1 Digital Air Fryer
If you are looking for a high tech air fryer that streamlines your cooking process, try the Sakuchi Air Fryer. This digital air fryer has 10 preset cooking programs, an LED touch screen and auto shut-off. It is also dishwasher safe and comes with a BPA-free, non-stick basket and crisper plate so you can truly feel good about the food you are cooking.
5
Dreo Air Fryer Oven Cooker
This fan-favorite air fryer utilizes 360 degrees Fahrenheit hot air circulation to heat your food evenly, which creates a crisped to perfection crunch on the outside and a tender texture inside. In addition to the hot air circulation feature, the 100 degrees Fahrenheit to 450 degrees Fahrenheit temperature range cuts cook time by 30%. It comes with a free cookbook with 100 recipes, as well as five cooking modes and six presets, which yield a variety of food options from dried fruit to roasted beef or chicken. One of the most unique features is its transparent viewing window. You'll never have to guess when your food is ready!
6
DASH Tasti-Crisp™ Electric Air Fryer
Available in six unique colors, the DASH Tasti-Crisp™ Electric Air Fryer will add a pop of color and style to your kitchen. The 2.6 quart air fryer makes cooking faster and hassle free with its auto-shut off function. This compact and lightweight air fryer is ideal for smaller kitchens and living spaces as it is half the weight of a standard fryer.
7
Fabuletta Compact Air Fryer
For the foodie who is looking for a quick weeknight meal or snack in the afternoon, the Fabuletta Compact Air Fryer is the perfect kitchen tool. Its 450 degrees Fahrenheit industry-leading temperature max allows for food to be cooked to a golden crisp in minutes, up to 30% faster than competitors on the market. This high tech air fryer comes with a digital screen that features nine preset modes to customize your meal, and it has a shake reminder feature that lets you know when to move your food for optimal cooking.
OUR EDITORS LOVE FINDING YOU THE BEST PRODUCTS AND OFFERS! IF YOU PURCHASE SOMETHING BY CLICKING ON ONE OF THE AFFILIATE LINKS ON OUR WEBSITE, WE MAY EARN A COMMISSION AT NO EXTRA COST TO YOU.
---
---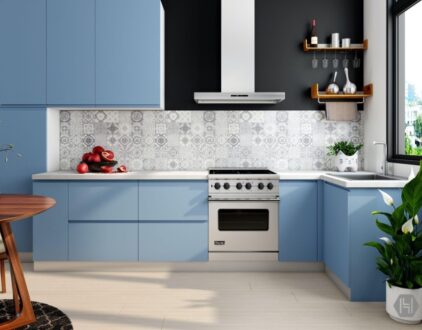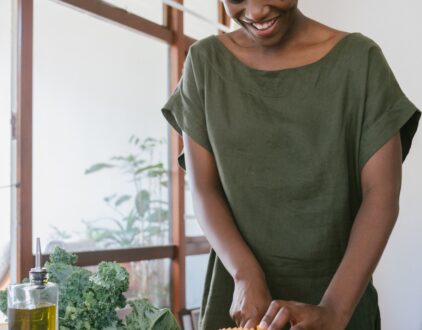 FOLLOW ALONG ON INSTAGRAM
Find us on social for more home inspiration where culture, personal style, and sophisticated shopping intersect to help you create a home where you love to live.