If the kitchen is your happy place, unique kitchen tools can make the culinary experience even more rewarding. Home & Texture has compiled a list of the 5 items that will guarantee you are the head chef at your home.
Cool Kitchen Tools
Cooking isn't for everyone. Some people prefer to order-in and leave the meal preparation to the professionals. They find the task to be stressful or just plain hard and have maybe burned one too many meals to keep trying. But others truly do find solace behind the stove. For these folks, whipping up a tasty treat is akin to a long bath or a yoga session. It's a study in relaxation. They find the process of cooking just as enjoyable as the food that results from it. If this sounds like you, securing the best kitchen tools is a great way to increase the satisfaction you feel while working away. Some of these tools encourage experimentation allowing home chefs to try their hand at techniques used in top restaurants. Others will replace kitchen staples with higher-end versions of the items. Still others will result in perfectly cooked dishes. All, while not exactly necessary, will definitely be a treat for those that love food and drinks.
While many things on this list will be loved by those who enjoy whipping up a good meal, don't click away if you consider yourself cooking averse. There may be an item that changes your mind about food preparation and has you tip-toeing back into the kitchen to give meal prepping another go.
1
Meat Thermometer
This smart thermometer will make sure your meat is always perfectly cooked.  The Meater is a wireless device that connects to an app on your phone or tablet via bluetooth. The dual temperature sensors monitor internal meat temperature up to 212°F and external temperature up to 527°F at the same time. The Meater works in two ways. You can rely on the thermometer's advanced estimator algorithm to determine how long your meat should cook for perfect results or you can set a custom temperature that you'd like to achieve. Either way you'll receive an alert on your phone when the meat is ready.
2
Sous Vide
Sous vide is a cooking technique once reserved for the pros but not anymore. The term means "under vacuum" and the process includes sealing food in a bag and submerging it in water to cook to a precise temperature. This sous vide promises perfect results every time and it's not just for meats. ​​The Anova Precision Cooker circulates water at the exact temperature required for whatever is on your menu from vegetables and eggs to chicken and fish. It allows you to lock in moisture and flavor resulting in great texture and taste. This device is small but mighty. At just under 13-inches, the sous vide can be easily stored and still has the power to get the job done right.
3
Pellet Ice Maker
This may seem like a splurge and it is! But pellet ice lovers will understand the joy of having this ice maker in their own home. No more running to the local convenience store to get your ice fix. Now you can dole out scoops of crunchy soft nuggets as you see fit. The ice maker is the perfect size to sit on your counter and while it has a powerful compressor it operates with little noise. It makes ice in just eighteen  minutes and can hold up to three pounds at a time. Take note, the machine does not include a refrigeration system. If you want to make ice in bulk, you'll have to transfer it to your freezer. 
4
Breakfast Sandwich Maker
Whether you're a morning person or you have to drag yourself out of the bed each day, having a little help with breakfast is never a bad thing. This dual breakfast sandwich maker takes the guesswork out of making your menu. With just a few easy steps you can have a healthy sandwich ready in five minutes. Simply build the base of your sandwiches in the bottom layer, place the egg and your sandwich's top layer on the upper cooking plate, and close the lid. While the device is made for two you can also make just one sandwich. It's great for those who are paleo or keto and allows for total customization.
5
Electric Salt & Pepper Grinder
These salt and pepper dispensers offer the next wave in seasoning distribution. You no longer have to shake or grind your own salt and pepper. These dispensers are gravity activated. After filling each, you simply turn them over above the food you want to season and they take it from there. Turn each dispenser back over to stop the grinding. You can set the coarseness on each device depending on your preferences and needs. The grinders have a rechargeable internal lithium battery. You can get approximately 180 uses out of a single charge. Don't just reserve these grinders for the kitchen. Make sure to pull them out at your next dinner party to hear some ooohs and aaaahs from your guests!
Our editors love finding you the best products and offers! If you purchase something by clicking on one of the affiliate links on our website, we may earn a commission at no extra cost to you. 
---
---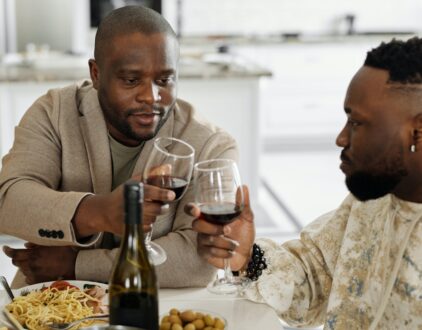 FOLLOW ALONG ON INSTAGRAM
Find us on social for more home inspiration where culture, personal style, and sophisticated shopping intersect to help you create a home where you love to live.