A big change is coming to tiny house communities in Georgia with a new development in Atlanta's College Park neighborhood. South Park Cottages is offering minorities some much needed access to the micro lifestyle. The development, spearheaded by Atlanta-native, Booker T. Washington, will include 29 micro homes ranging in size from 335 to 610 square feet. The price tags? Between $180,000 and $230,000.  It's the first black-owned tiny house community in Georgia and from the response, it appears to be much needed. While tiny house living has gained popularity in an enormous way in recent years, some people have been left questioning, where do black and brown folks fit in?
Early Adopters Recognize Lack Of Diversity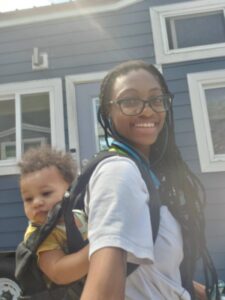 Alexis Monkhouse has been living in her 350 square foot Florida tiny house since 2018. Mostly, Monkhouse has loved it.
"Expenses are so cheap. All my living expenses for a month used to be $1300. For most people that's their rent. I'm very privileged in the fact that I got to do this," Monkhouse said.
Her days of living small are coming to an end. Monkhouse plans to close on a 1100 square foot home in March. She'll still keep her tiny house, which she owns outright, on her new property as a guest house. Monkhouse says the decision to go large is mostly due to her raising a young child, an already challenging task made even more difficult in the confines of a small home.
"I think when you have kids, especially as a single parent, it does mess with your mental health. It gets messy so easily," Monkhouse explained.
Over the years she's noticed the lack of diversity in the tiny house space.  Monkhouse credits the absence of diversity in the tiny house industry to a combination of three things. First is awareness.
"It's scary when you don't see anyone that looks like you doing something like this," Monkouse said.
The Florida resident also credits stigmas and stereotypes to keeping black people away from tiny house communities.
"There's this stereotype that smaller means you have less money and you can only afford this. I think for so long people have looked down on us and assumed we are poor so why feed into those stereotypes," Monkhouse explained "When you see old white people downsize it's like, they're living their best retirement life. When you see black people do it it's like, 'you can only afford that?' It's a stigma."
Finally, Monkhouse questions the affordability of living small.
"I paid $75,000 for my tiny house in 2017. Now, If you're going smaller, you're going to pay an extreme amount of money. I could sell my house now for over $90,000. I have a neighbor that just sold their house for $120,000," Monkhouse said.
Tiny Homes Offer Homeownership Access
Despite Monkhouse's distaste for the rising prices, tiny houses can still offer a lower entry point to the housing market for those who may be struggling with affordability.  Regular sized homes near South Park Cottages range from the mid $200s to the high $300s. That's more than what you'll find in the new tiny house community in Georgia which offers all new builds as well as gated access, a dog park and an edible vegetable garden.
Financing for tiny homes can be complicated. Many lenders won't finance tiny homes on wheels. Others have a minimum loan amount that must be met before financing a structure. According to Rocket Mortgage there are other options including  personal loans, RV loans or builder financing.
Monkhouse is hopeful diversity will grow in the tiny house space even as she plans to make her departure.
"I think the tiny house industry needs more people of color. For representation and so other people can say that person is doing it. I can do that too."
---
---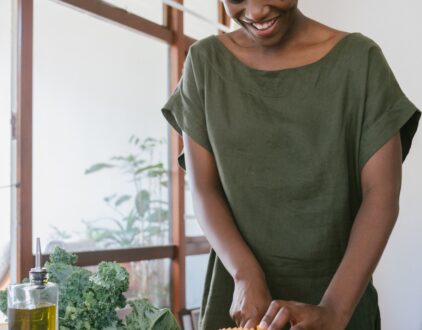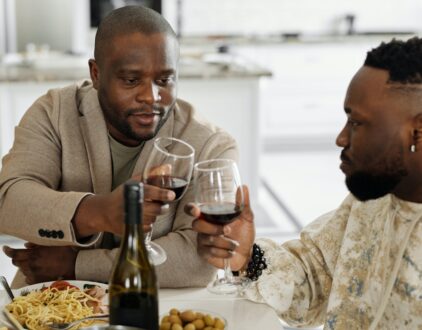 FOLLOW ALONG ON INSTAGRAM
Find us on social for more home inspiration where culture, personal style, and sophisticated shopping intersect to help you create a home where you love to live.