Similar to fashion, your design style is a reflection of your personality. When family, friends, and loved ones step into your home, they should feel an overwhelming sense of "you" without any words ever being spoken. Your unique style truly can speak for you.
But determining what style fits you best isn't always so simple. In fact, defining your design aesthetic can seem overwhelming, especially if you're unsure about the various style options. To figure it out, you should take stock of who you are, what things you like, and what aesthetic you feel especially connected to. Do you enjoy a warm cozy space or do clean lines and organized living really excite you? There are many ways to determine what style fits you best. Doing so can help when attempting to decorate your space in a cohesive way. 
Let's take a look at the 5 different design style options and see what fits you best:
Bohemian
If you are drawn to natural materials like rattan, wicker, and sweetgrass baskets, your style is likely bohemian. This design style infuses nature, air, and energy into a space. Lovers of the bohemian style find themselves drawn to plants and patterns mimicking nature. 
Contemporary
This style is all about what's happening now and in the future. Emerging trends play a big part in contemporary design. Clean lines, minimalism, functionality, and sleek design are all signs that contemporary design is your love language.
Luxe Legacy
Bad and bougie? This one is for you. If Jackie Aina's home is on your vision board, your style is a luxe legacy. This design style consists of sexy, lavish fabrics like velvet and silk. It also includes reflective surfaces, and incorporating metals into your decor. 
Minimalist
Less is more for those who love the minimalist style. This design style is inspired by Japanese design. Similar to contemporary design, there are clean lines and functionality. What sets minimalism apart is having more open space. Simple furniture, quality light fixtures, and clutter-free surfaces reign supreme for those with a minimalist style. 
Eclectic
The eclectic style is for free spirits. Like Tracee Ellis Ross, those who love eclectic design aren't afraid to mix and match colors, textures, and patterns to create visual harmony. This design style isn't a fan of being too "matchy" or following rules and trends. The eclectic design style lover sets their own rules and may even incorporate different design styles into their home. 
Still struggling to figure out your design style? Try taking our Home & Texture quiz for a little more guidance. Then check out our top picks to match whatever style fits you best!
Jump to Products
---
Bohemian
Woven pendant lights
Perfect for over your dining room table, this set of three pendant lights adds natural elements that are just the right finishing to any room. These pendant lights are handmade with natural twine and a matte brown finish. 
Charcoal geometric wallpaper
Wallpaper is a great way to add character to your space. The geometric pattern of this wallpaper is reminiscent of leaves. Try adding a plant or dried pampas, and your room will instantly be transformed. 
Bohemian 5×7 area rug
Made in India, this area rug is perfect for rooms with heavy foot traffic, like your living room and kitchen. It's kid and pet-friendly and stain resistant. You must vacuum regularly and use a clean, dye-free cloth to spot clean. 
---
Contemporary
Modern black 6-drawer dresser
This stunning dresser has a black matte finish, clean lines, and sculpted geometric detail. With six drawers, it's the perfect addition to your contemporary-styled bedroom. 
Asymmetrical solid wood TV stand
This TV stand is perfect for TVs up to 50 inches. The asymmetrical design adds a unique flair. Add your favorite magazines, books, and vases to this stand for a finished, cohesive look. 
Premium real wood side table
Both functional and chic, this side table is a great landing spot for your mug of coffee or favorite book. Although contemporary, it's a table that transcends design styles. 
Home, Technology
Looking for some premium smart gadgets for your new home? Home & Texture's got you covered! Our round-up of
Decorate
Interior design is a creative and technical endeavor that requires an eye for aesthetics, knowledge of the latest
Decorate, Outdoors
When you think of a summer getaway, you probably think of sun, sand, beach, and drinks by the pool. What if you could
Luxe Legacy
Oval magnified standing mirror
This is the type of carrying on we're here for. This swiveling mirror has a luxurious gold finish with hundreds of hand-set European crystals. Your morning and nighttime skincare routine just got one thousand times better. 
Swarovski crystalline golden shadow toasting flutes
Is it just us, or does drinking water from a champagne flute make life feel more luxe? Whether toasting to the good life with your crew or enjoying an intimate dinner with your partner, these toasting flutes will set the vibe. 
Egyptian cotton towels, 6-piece set
These plush Egyptian cotton bath towels add luxury and elegance to your bathroom decor. This set includes two bath towels, two washcloths, and two hand towels. 
Minimalist
Abstract art minimalist shower curtain
This set comes with a stainless steel shower curtain rod and shower curtain with minimalist line art of a woman's body. It's the perfect touch to your minimalist bathroom decor. 
Digital wall clock
The LED clear display screen on this 10-inch clock makes it easy to see the time, date, day of the week, and temperature at a glance. The minimalist design compliments any room without visually clogging the space. 
Ceramic fruit bowl
Have you ever seen a more sleek fruit bowl? In addition to fruit, this multi-functional ceramic bowl can be used for bread, a storage tray, a centerpiece, and more. 
---
Decorate
Access design inspiration that infuses personality and culture into your spaces.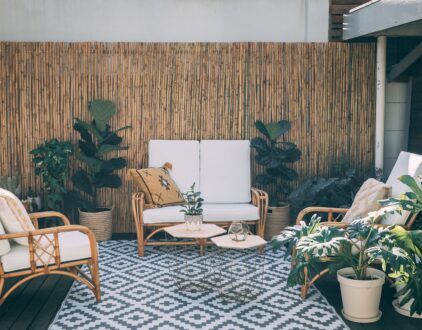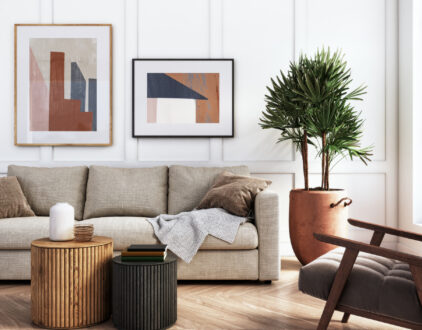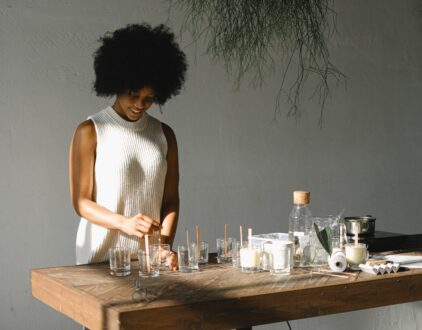 FOLLOW ALONG ON INSTAGRAM
Find us on social for more home inspiration where culture, personal style, and sophisticated shopping intersect to help you create a home where you love to live.