The living room is probably the one room you'll spend the most time in at your home. It's the room for making memories, movie nights, holiday functions, entertaining guests and relaxing. When you're living room has just the right amount of space and is the perfect shape, it is easier to have guests over, set up decorations and furniture, and relax after after a hard day of work. But what do you do if you have an awkward layout?
Sometimes certain houses and apartments have different shapes and layouts that can be quite awkward to navigate. It can become a challenge to figure out how to set up furniture while still leaving a decent amount of space to move around.
Even though this can appear as a challenge, you can use awkward living room layouts to your advantage. You can do this by using funky or colorful decor, smaller furniture with storage space, unique rugs, lighting or any living room pieces that you see fit.
Here are seven awkward living room layout ideas.
L-Shaped Living Room
L-shaped living rooms are ideally one of the best awkward living room layouts to work with because you can typically use multiple furniture shapes. L-shaped couches are best for this type of layout, but you can also use regular rectangular couches and chairs for this type of layout space. L-shaped couches paired with a table and a tv stand work well, because it can create a barrier to other rooms in this layout.
Studio Apartment Living Room
Because studio apartments are basically one big room of living space, this can be another space that is awkward to set up. Even with small square footage, you can work around this by setting up your bed on one side and a small couch, table and tv stand on the other side. If you're even more limited with space, try putting a credenza or the couch in front of your bed with the tv stand in front of that. You can also use under-the-bed storage or bookshelves for extra storage.
Under The Stairs Small Space
If your home has a small space under your stairwell, don't let that space go to waste. Instead, use it as a book or reading corner. Adding some pillows, a small blanket and maybe a small lamp with some books will really make this corner feel cozy.
Multiple Entryways
Having multiple entryways in a living room can be used as an advantage because there are multiple areas where furniture can be placed. This quirky living room style is different from others because there is some constraint to it. Making sure different entrances are not blocked can be a challenge, although getting the right-sized furniture solves this problem very easily.
Big Open Space
Next on the list of awkward living room layout ideas are living rooms with big open spaces. This type of layout is a bit easier to set up because the possibilities are endless. You can have L-shaped couches, wide couches, a big couch with smaller sets of chairs and more! It's also easier to set up lights and side tables in this type of space because there is so much to work with. Adding a bookshelf helps bring out the space even more. The best part is that it's easy to go full maximalist or minimalist with this type of space.
Angled Fireplace
Another awkward living room layout idea to work around is the angled fireplace. This can be quite awkward as your furniture and decor may be in one area, while the fireplace is adjacent or turned awkwardly in another area. To combat this, decorate the fireplace with lights, candles or eclectic home decor that fits your taste.
Another idea is to place the couch directly across from the fireplace, with the table in the middle and a TV mounted above the fireplace. This makes for a cozy living space and creates an organized flow.
Round Living Room
By far, one of the most awkward living room layout ideas to work with is the round living room. Although this type of design is not used that often, there's a possibility that you may have to work around this type of space. For this type of living room, a round rug would work best to place your sofa or chairs around it. Putting furniture towards the middle of the space also gives the illusion that it is not a round living room.
---
---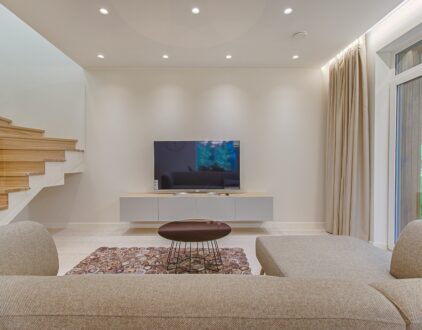 ---
Spaces
Whether it's luxury or ease, every area of your home should be as fabulous and unique as you.
FOLLOW ALONG ON INSTAGRAM
Find us on social for more home inspiration where culture, personal style, and sophisticated shopping intersect to help you create a home where you love to live.