Home security systems help you keep your family, living space and personal belongings safe. Now, they're more advanced than ever.
Long gone are the days when a homeowner's only option was investing thousands to have a complicated security system installed on their property. The power is now in the consumer's hands with modern, do-it-yourself technology. These kits vary in complexity and price, but all offer an up-to-date way to keep an eye on your home. If you're not familiar with how these new systems work, it may come as a surprise that they are often not monitored by a company or the police. When the home security system detects an issue, homeowners are immediately alerted on their cell phone and then encouraged to call police themselves. This DIY model greatly reduces expenses. After the one-time purchase of the system, there is no monthly monitoring fee. Reviewers rave about having full control right in the palm of their hand and love the way these systems work.
For those homeowners who have also taken the leap into the world of short term rentals, it is especially important to invest in home monitoring and protection. Whether you're allowing renters to spend the night while you sleep in a room just down the hall or offering up your entire property, security is key. These systems can be an extra set of eyes and ears as you work to generate income and keep your property protected.  Home & Texture has compiled a  list of the top home security systems with products that allow you full control.
1
Ring
Ring is one of the top brands in the home tech landscape. Many consumers are familiar with Ring's ever-popular doorbell product. But the brand's home security system also lives up to the hype and has received rave reviews. This system works well for homes with up to four bedrooms. The fourteen-piece kit includes a base station, two keypads, eight contact sensors and two motion detectors. There's also a range extender which ensures all your alarm devices will have a signal. The kit requires easy set-up. Just plug in your base station, connect it to wifi via the Ring app and choose the best spots in your home for the sensors.
2
Eufy
Eufy, another industry favorite, offers a five-piece home security system that's designed to protect your property and your wallet. Coming in well under $200, this system works great for smaller spaces. It includes a home base, keypad, motion sensor, and two entry sensors. You can easily attach the entry sensors to doors and windows and use the included mounts to secure motion sensors and the keypad to your walls. The moment motion or a breach is detected, you'll receive an alert to your mobile device. While it is not required, the Eufy system does offer optional 24/7 monitoring of your home security device as a second line of defense in emergencies. If you choose this option, police, fire and medical response will be called when your alarm system is triggered.
3
Tolviviov
Tolviviov touts itself as the smart way to protect your home. Think of this option as buildable rather than all-inclusive.  The initial eight-piece home security system includes an alarm siren station, window and door sensors and remote controls. You can choose to use either the remote or an app installed on your phone to shut the alarm on and off. Additional items such as a keypad and motion detectors can be purchased and integrated into the kit to add more features. This system works with Alexa and can be voice controlled. You'll receive real-time alerts to your mobile device when doors or windows are opened or closed.
4
SimpliSafe
When it comes to this highly-reviewed brand, it's all in the name. SimpliSafe's home security system is a breeze to set-up and start using. Just plug in the base station, choose the right spots for your sensors, plug in your Simplicam and start protecting your home in minutes. Another plus: no tools are required to get this system up and running. SimpliSafe's kit is the only option on our list that includes a security camera. The device allows you to use your phone or tablet to see what's happening at home while you're away. The motion detectors sense movement within thirty feet and have a 90 degree field of vision. If something does go wrong you can trust that SimpliSafe will sound the alarm. The device's pioneering signal burst technology is powerful enough to cover homes of all sizes with up to 1000 feet of range.
5
Grsico
This reasonably priced home security system comes with nine-pieces well under $100. It's a great way to get started in the whole-home protection of your house at an affordable price. It includes an alarm siren station, a keypad, four windows and door sensors, and a motion detector. You'll also get two remote controls that have an S.O.S. feature. These remotes can be used to trigger the alarm in an emergency, such as someone elderly falling. Other features include personalized entry and delayed exit. Want to ditch the apps and remotes all together? There is hands free voice control with Siri, Alexa, and Google Assistant. Just speak the words away, disarm, or home to control the device.
Our editors love finding you the best products and offers! If you purchase something by clicking on one of the affiliate links on our website, we may earn a commission at no extra cost to you.
---
---
homeownership
Home is a safe place where relationships flourish and the cornerstone of neighborhoods. We believe it's the setting that surrounds your phenomenal story.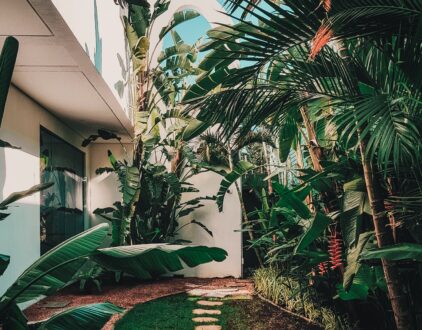 FOLLOW ALONG ON INSTAGRAM
Find us on social for more home inspiration where culture, personal style, and sophisticated shopping intersect to help you create a home where you love to live.