African inspired artwork helps fill your home with warmth and intrigue. No matter your style, it is possible to make some beautiful additions to your personal space. 
The term African art can be complicated. Africa, after all, is an entire continent; expansive in its depth, beauty and complexity. African art encompasses so much and is often considered too broad of a description for the vast creativity that's been birthed from or inspired by Africa. Here, we are using the term to simply categorize art that is connected to the continent in a variety of ways. Be it the essence of the piece, where it was produced or who produced it.
We have worked to compile a list of the best African-inspired artwork with the understanding that it is almost impossible to truly craft an exhaustive catalog. Instead, we hope to showcase just a tiny portion of this category. 
Using art to design your home can make you feel connected and proud.  It allows you to tell a story and express your perspective in your place of solace and peace. When choosing artwork, consider why you feel connected to it. What story does it tell and how does that speak to you? How will your guests react? What do you hope they get from the pieces you have chosen? Certain artwork will lend itself to a particular room or space in your home. As a part of our list we've included where each item may shine the brightest. 
Jump to Products
---
Graphic Lidded Millet Basket
These baskets are a beautiful combination of form and function. Handwoven by craftswomen in Thies, Senegal, the graphic lidded pieces are created using traditional techniques. They are composed of millet grass and recycled plastic. The neutral colors used in the baskets' design make them easy to style around the home. They can be integrated into your decor whether it's modern or traditional. 
Wisdom Print
This print by Florida-based artist Melissa Koby is simple yet powerful. Entitled, Wisdom, the artwork conveys pride, power and dignity. It's a great balance of bold colors with enough muted detail to work well in many spaces.Consider adding this piece to a breakfast nook, dining room or kitchen wall. You have the option to pick from three framing choices: black, neutral or white. These variations allow you to fully integrate the print into your personal home style. It also comes in three sizes. The print is part of this retailer's Local Program which supports black artists and small business owners from coast to coast. 
Omo Youth
Photography can be a beautiful addition to your home. The documentary style of photographs brings nuance to an art collection. This oversized print is framed in reclaimed pine and will stand out in a living room or office. The canvas is made from a UV-resistant, 100% cotton and it includes a high-resolution coating that ensures the picture's quality.  The composition puts the young child at the center of the piece. It's a striking image that will be a point of conversation in  your home. South African photographer David Ballam is the artist behind the picture. Much of  his work focuses on travel and the exploration of African culture. 
Wood Wall Mask
This mask is part of the Novica Fair Trade marketplace, a network for artisans that aims to see everyone fairly compensated. The mask was created with care by artist Sayeed Musah. It is a contemporary example of this type of work. The mask is carved from sese wood and elements of brass are adorned with intricate patterns around the surface. To complete the work Musah painted it with touches of white, gold and blue. Its sleek design would work well in a minimalist home office or a moody man cave. At just 8.75 inches tall, the mask could also be integrated into a gallery wall of other works of art to add more interest in your home. 
Our editors love finding you the best products and offers! If you purchase something by clicking on one of the affiliate links on our website, we may earn a commission at no extra cost to you.
---
---
Decorate
Access design inspiration that infuses personality and culture into your spaces.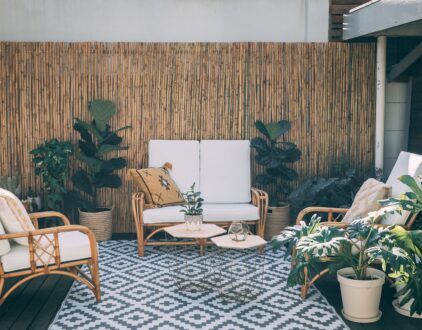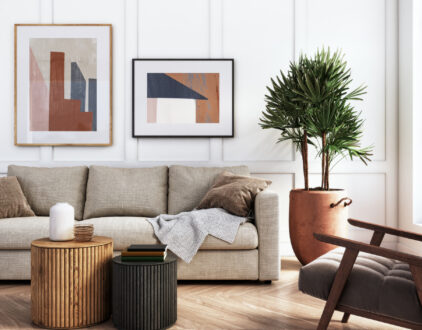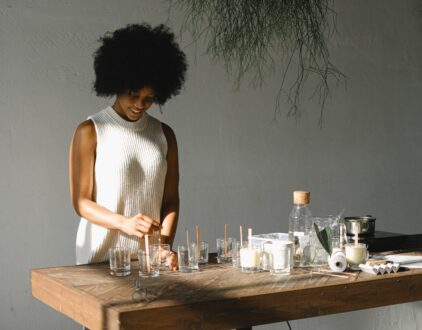 FOLLOW ALONG ON INSTAGRAM
Find us on social for more home inspiration where culture, personal style, and sophisticated shopping intersect to help you create a home where you love to live.