When you think of a summer getaway, you probably think of sun, sand, beach, and drinks by the pool. What if you could bring that same carefree and whimsical atmosphere to your home decor? The good news is that you can enjoy endless days of summer with the proper patio furniture.
Think lounger chairs, accents of bamboo, an outdoor bar, and lots of greenery. Plants moms everywhere are going to have a field day out of this home project. You will breathe life into your outdoor patio and create an oasis that you will never want to leave. Forget your at-home office and "working from home." Let's pivot to vacationing from home in 2023!
Jump to Products
---
1
Best Choice Products 10 ft Solar Powered, LED Lighted Patio Umbrella
You'll be able to enjoy your outdoor patio day or night with this LED Lighted Patio Umbrella from Best Choice Products. Its 24 lights are able to run between six and seven hours, so cheers to a midnight cocktail on the patio! The umbrella is made from high-quality water-resistant fabric, which ensures that it will last for years to come. You will need to buy the base to fully enjoy it, and once it's up, the umbrella will surely brighten up your space since it comes in 12 different colors. A few other innovative features are the easy-push button that gives coverage at any time of day and the wind vent that keeps you cool.
---
2
BLUU Outdoor Patio Cooler Bar
This 10-gallon water cooler bar by BLUU Outdoor holds all of your favorite drinks: up to 50, 12-ounce cans of beer, wine, cocktails, seltzer waters, or whatever will quench your thirst. You can adjust the height to use it as a cocktail table or coffee table, and there is a built-in drainage plug for easy cleanup. It is also made from eco-friendly materials and is waterproof, UV damage resistant, and fade resistant.
Home, Technology
Looking for some premium smart gadgets for your new home? Home & Texture's got you covered! Our round-up of
Decorate
Interior design is a creative and technical endeavor that requires an eye for aesthetics, knowledge of the latest
Decorate, Outdoors
When you think of a summer getaway, you probably think of sun, sand, beach, and drinks by the pool. What if you could
Greesum Patio Furniture 4 Pieces Conversation Sets Outdoor Wicker Rattan Chairs
Greesum Patio Furniture Conversation Set screams chic, modern, and cozy. You will want to lounge on your patio all day with this four-piece set of wicker rattan chairs that includes two single seats, a loveseat, and a glass coffee table. The set comes in brown, black, and gray with various colors of its comfy cushions, and they are designed to be durable and sturdy to hold any size load.
4
Ruimoy Patio Furniture Covers
Once you purchase your favorite patio furniture, you'll want to be equipped to protect it from inclement weather. These patio furniture covers from Ruimoy will protect your outdoor sofa, chair, bar stools, umbrellas and more from rain, sun or snow. The set includes enough covers to protect up to eight to 12 chairs or six to eight sofa sets. It will also protect your furniture on the windiest days while also allowing for air circulation to keep your furniture dry.
Disclaimer: Our editors love finding you the best products and offers! If you purchase something by clicking on one of the affiliate links on our website, we may earn a commission at no extra cost to you.
---
Decorate
Access design inspiration that infuses personality and culture into your spaces.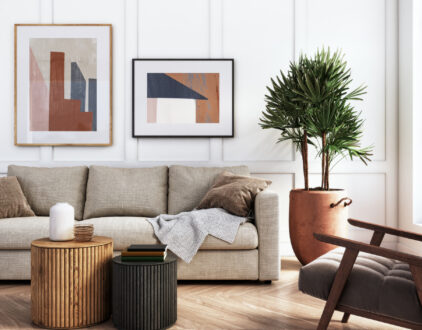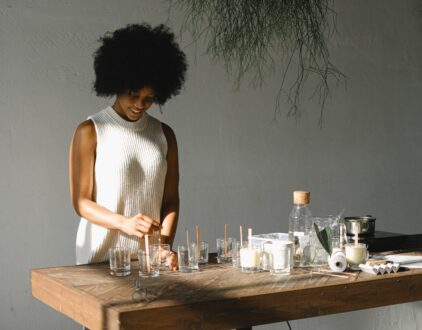 ---
Spaces
Whether it's luxury or ease, every area of your home should be as fabulous and unique as you.
FOLLOW ALONG ON INSTAGRAM
Find us on social for more home inspiration where culture, personal style, and sophisticated shopping intersect to help you create a home where you love to live.