There are certain things that most families look for when it comes to finding the best products and appliances to clean and organize your home. Today's families are looking for ways to clean their homes naturally and avoid the hazardous chemicals often found in brand name products. In addition, families and individuals are looking for efficient and seamless ways to organize their homes while also minimizing the clutter.
When it comes to home organization and cleanliness, simplehuman is often at the top of many people's list because of their well designed products. The home brand is focused on bringing high-performance innovation to everyday household chores like taking out the trash and cleaning the kitchen counters. Their entire mission is to bring the newest technology and innovation to your everyday routine. Think voice activated appliances, comprehensive cleaning solutions and high-tech kitchen and bathroom gadgets.
If there were two words to describe simplehuman, they would be: streamlined and innovative. So now you won't have to overthink your household chores or to-do list because simplehuman truly makes living and being in your home a breeze (hence the name.)
You can also feel really good when you purchase their products because the brand focuses on minimizing waste through its recyclable, composting and refill-reuse products. It's less waste and better products. The brand is at its core a minimalist's dream, so millennials looking for simple, yet elevated household appliances will love this brand.
Here are seven of the newest and bestselling simplehuman products to help you run your house smoothly.
Jump to Products
---
1
Paper Towel Pump
An all-in-one cleaning kit, the simplehuman paper towel pump comes with a paper towel holder and an integrated pump. The 6-ounce pump reservoir dispenses your favorite cleaning spray seamlessly and provides more than 175 pumps. Just hook the finger loop and give it a downward push to quickly access the pump.
2
Rechargeable Sensor Pump With Caddy
Say hello to hands-free dishwashing and goodbye to messy dish soap bottles. This 14-ounce stainless steel soap dispenser is hands-free and germ-free. It includes a clog-proof tubing pump, a silicone valve that prevents messy drips and a side caddy perfect for a sponge. It comes with a built-in, rechargeable lithium ion battery, so you won't have to worry about purchasing batteries.
3
Compost Caddy
Compost is made easy with the simplehuman compost caddy. You'll never forget to separate organics from trash again with this caddy that easily docks on the side of your trash can. The innovative design intentionally keeps smells in while keeping bugs out! The magnetic caddy also conveniently holds your trash can open for any forgotten peels or scrapes.
4
Voice + Motion Rectangular Sensor Can
This simplehuman voice + motion rectangular sensor trashcan allows you to open or close the lid with a voice command. Not into speaking to your kitchen electronics? A  wave of your hand will also do the trick to raise the can's lid. It holds up to 58 liters of waste and includes a liner pocket on the side that dispenses liners quickly and individually. You'll also find an all-natural odorsorb pod under the lid that eliminates trash odors for up to 45 days. When you purchase your simplehuman can, you also have the option to add the compost caddy, which helps you neatly separate organics from trash.
5
Rechargeable 9-Ounce Sensor Pump
After you discover this pump, you'll probably be wishing you had this soap dispenser much sooner. It has the same hands-free, rechargeable technology as the 14-ounce pump. One charge for your pump will last up to three months! Also, it's compatible with simplehuman liquid soap, liquid soap without exfoliants and hand sanitizer. The company recommends simplehuman brand soap for optimal performance.
6
Sensor Round Mirror
Available in brushed silver, rose gold, white, pink and brass, this simplehuman sensor round mirror allows you to see yourself in the best light. Its tru-lux technology evenly distributes light and closely mirrors natural light's full spectrum of colors so you can apply your makeup perfectly. You can also control the brightness at the touch of your fingertip with a range of brightness from 100 lux to 800 lux. It is also rechargeable so you won't have to worry about batteries.
7
Voice + Motion Dual Compartment Rectangular Sensor Can
This comprehensive, smart trash can is the answer to all of your recycling and compost needs. Sorting just got easier with this trash can's voice and motion control technologies as well as its design. It includes a recycling bin on one side and a liner pocket in the trash compartment. The dual compartment trash can comes in a silver brushed, white or black matte finish, as well as a number of sizes and shapes to fit your kitchen needs.
OUR EDITORS LOVE FINDING YOU THE BEST PRODUCTS AND OFFERS! IF YOU PURCHASE SOMETHING BY CLICKING ON ONE OF THE AFFILIATE LINKS ON OUR WEBSITE, WE MAY EARN A COMMISSION AT NO EXTRA COST TO YOU.
---
---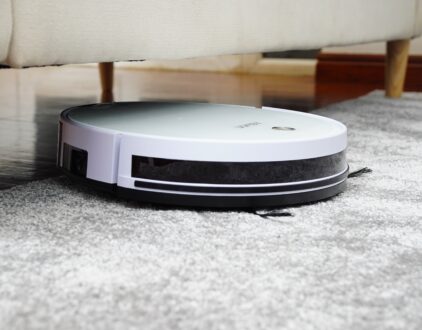 FOLLOW ALONG ON INSTAGRAM
Find us on social for more home inspiration where culture, personal style, and sophisticated shopping intersect to help you create a home where you love to live.