New York winters are notoriously cold and dry. As a frequent migraine sufferer in my early 20s, I was constantly on the lookout for anything that could help prevent my migraines by tackling what was causing them. My uncle, who suffered from sleep apnea, recommended a humidifier for my apartment and I haven't looked back. Dry air can cause eye, nose and throat irritation. Humidifiers can help with that harsh winter cough and chapped lips. Allergy season is around the corner and a great humidifier can keep the air moist to suppress dust and soothe symptoms. Plus, Beauty influencers swear by facial humidifiers to maintain the dewy glow that is so on trend now.
My simple humidifier with a large tank did me well over the years but when an internal part broke and it was time for an upgrade. When I started the hunt for a new one, I was overwhelmed with the choices. Searching for medium sized options to provide proper coverage and make it through 24-hours without changing, I gravitated towards the Levoit brand. I was sold on its features which included a sleek design, sleep mode and an aromatherapy option. I was familiar with the Levoit brand as I already use their air purifiers throughout our home.
The LV600s has both a cool and warm mist option. Both mist options are effective in maintaining a room's humidity while warm mist adds the extra heating component – a helpful addition in winter. Warm mist is also thought to be better at preventing bacterial growth. If you're using the humidifier in a child's room, the cool mist option is the safer option.
Weighing 3 options
I weighed the differences between the slightly smaller Levoit Classic 300S, the LV600HH and the new, updated LV600S Smart Hybrid Ultrasonic Humidifier. The app control featured on all three models has been especially useful when getting ready for bed while in the living room. I turn the humidifier on during the evening and set it at the perfect humidity level thanks to the built-in humidistat. I also choose to have lavender essential oils diffused in the air. It's the perfect environment to drift off to sleep. The newer model, when connected to your WiFi, introduces voice control through both the VeSync app and Google assistant, making it easy to adjust from bed. The app also reminds me when it's time to clean and fill my tank.
The new feature that really grabbed my attention on the LV600S is the plant mode! I'm a proud plant mom and plant mode offers a very comprehensive smart controlled plant care program. It can scan your plant and tell you what environment it thrived in and how humid the room should be. Plant mode also reminds you to water as well as when to re-soil your plant.
Here's what you should know
Like with most humidifiers, you should clean the tank of this Levoit Humidifier once a week to prevent mold and bacteria growth. The tank is dishwasher safe and wipe down the base as well.
The top fill design that Levoit boasts about truly is a game changer. With my former humidifier, filling almost always led to spillage as I had to turn the tank upside down, water cooler style.
A great thing about the Levoit unit is the directional nozzle. Instructions say to place the humidifier at least 6 feet away from the nearest wall. If you're not careful, a unit dispelling too much moisture can create condensation on the walls.
Overall the LV600HH or the LV600S?
I'm not thoroughly convinced that the difference in price between the two models is money well spent. Sure, the plant mode is convenient but with the LV600HH also being smartphone and app friendly, I could also just remotely turn on the humidifier and set it for my plants by looking up "preferred humidity of a monstera." Initially, I used voice control to set for bed a lot more often than I do now, but my husband is a huge fan of this feature. I am thoroughly impressed by how quiet the device is producing almost no sound on sleep mode. My skin feels great and waking up not feeling like you have a sore throat, makes all the difference. Take the plunge! Spring for a Levoit humidifier. Whichever model you choose, you're sure to love the results.
Jump to Products
---
LEVOIT LV600S Humidifier
This option is the most expensive of the three Levoit devices we reviewed. It has the brand new plant mode setting which offers more comprehensive plant-care programs. That includes scanning recognition, more professional encyclopedias, and specialized custom plant management.
LEVOIT LV600HH Humidifier
This humidifier is for the homeowner who loves their sleep. It provides relief from symptoms caused by dry air while resting. It also has near-silent noise levels and an all lights-off mode to help you sleep undisturbed. Already in bed and don't want to get up? The convenient remote control lets you quickly turn on the humidifier from across the room whenever you need. You can also customize the ideal humidity percentage for your house plant, baby, or beloved guitar.
LEVOIT Classic300S Humidifier
This humidifier is the most affordable of the three options. It offers powerful performance with humidification speed that lasts up to 60 hours, and covers more than  500 square feet. You can also customize the humidity so that it adjusts automatically without worry.
Our editors love finding you the best products and offers! If you purchase something by clicking on one of the affiliate links on our website, we may earn a commission at no extra cost to you. 
---
---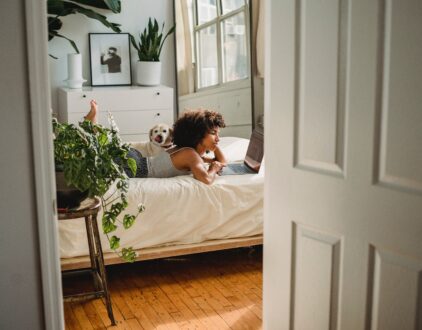 FOLLOW ALONG ON INSTAGRAM
Find us on social for more home inspiration where culture, personal style, and sophisticated shopping intersect to help you create a home where you love to live.