Most of us have it. A spare wall in our house, devoid of decor that needs something special to make it pop. A gallery wall can be a fantastic option to take a blank space from drab to fab.
Design with display in mind
In this digital age many of us are dedicated cellphone photographers. We plan ahead to guarantee the perfect backdrop, lighting and style. It's not rare to spend a good portion of a trip or event snapping away for THE shot. It's also quite common to invest in styled shoots with our families or  just for ourselves. Paying a photographer, securing a studio site and pulling together the right looks. And let us not forget those stunning wedding photographs many of us have documenting our special day. In all these instances, the photographs that result often end up posted to social media then left to sit on our phones or computers rarely thought of again.
A gallery wall is a great way to get your photographs out of the digital realm and on display where they belong. These galleries are a design tactic that are a good use of space and personalize your home with memories that matter. Gallery wall ideas can vary depending on your style. To start you need to take stock of your home's design. If you have a wall that's been hard to fill, either because of size or location, that could be the perfect choice for your display. Consider your accent colors, floor stain and lighting. Then find frames, fixtures and decor that compliment the current look of your house.
Lighting
While picture lights are technically for illuminating artwork, a fun design trend is to add them above photographs or gallery walls. If you don't mind a little faux pas, then snag a few of these lights to add a nice pop to your wall while making everything easier to see.
Accent Pieces
Adding decor items to your gallery wall will help it feel more complete. Your particular space will help you determine what works for your wall. Seating, blankets, plants and sculptures are all great options to consider adding.
Home & Texture has compiled the best gallery wall ideas to help elevate any space you may be struggling with and make your memories shine for years to come.
Frames
1
Matted Gallery Frame
Paying to have your photographs matted and framed can cost hundreds. This pre-matted option is a great affordable solution. The frames are beautifully constructed and come in two finishes, walnut and natural. They are both simplistic and elegant with matting that makes the frames feel high end. However, because of the matting,  you can't just purchase the frames to match the size of your photograph. To determine what size to order, first take note of the pictures you plan to print. If you have a 5x7 photograph you'll want to snag the 11x14 frame. These pieces can be hung either horizontally or vertically. The matting cannot be removed. 
2
Floating Acrylic Frame
Take minimalism to the next level with this frameless option. Your pictures of choice will truly shine and appear to float when placed inside these acrylic frames. These will work for pictures up to 16x20. Don't be afraid to play around with scale and use smaller photos or even try using a mix of picture sizes to increase interest. Reviewers have  also reported framing diplomas, puzzles and artwork. The frames come with a variety of mounting hardware including gold, silver and black. These can be mounted on the wall either horizontally or vertically and come with hardware to help you complete your gallery wall project.
3
Black Gallery Wall Kit
If you prefer a gallery wall with some variety, this kit could be a good choice. It comes with seven black frames in three different sizes: one 11x14, two 8x10 and four 5x7. The frames come matted but the matte can be removed if you choose. They are constructed of aluminum and glass and have tooth hangers on the back for mounting. If you don't want to use all seven frames in your gallery wall, the 8x10 and 5x7 options also come with an easel stand so you can easily place them on countertops. The frames are constructed of aluminum and glass.
---
Lights
1
Gold Picture Light
These gold picture lights are good for your wallet and the environment. They come with a cable for recharging and will run about six hours off of a single charge. The lights are easy to install and can be turned on and off either by the simple touch of a button or by using a remote control. The remote also allows you to set a timer to automatically shut the lights off in one to four hours. Plus, you can adjust the brightness of the light using the remote as well.  The neck is adjustable and can rotate 150° up and down to change the light's direction. 
2
Plug-In Picture Light
If rechargeable lights aren't your thing, there are plenty of plug-in picture light options as well. This plug in light comes in a unique style that will illuminate your wall but not draw any attention away from the pictures it's highlighting. They are designed to allow you to adjust the size and shape of the light output.  You can use a remote to operate the lights and set a timer which will have the lights automatically shut off after three, six or nine hours. Several reviewers suggest having an electrician install an outlet behind the pictures of your gallery wall as a way to hide the cord. 
Home, Technology
Looking for some premium smart gadgets for your new home? Home & Texture's got you covered! Our round-up of
Decorate
Interior design is a creative and technical endeavor that requires an eye for aesthetics, knowledge of the latest
Decorate, Outdoors
When you think of a summer getaway, you probably think of sun, sand, beach, and drinks by the pool. What if you could
Accent Pieces
1
Emery Wood and Upholstered Bench
Additional seating is always a good idea. Placing a bench below your gallery wall will give you extra sitting space and add nuance to your design. The Emery Wood and Upholstered Bench is part of Target's Studio McGee collection. With its natural wood and neutral fabric cushion, the bench is a great item for homes that feel airy and bright. The cushion comes with straps that allow you to easily remove it when not needed. It's substantial but not heavy making it a breeze to relocate depending on your seating needs. Reviewers rave about the bench's quality and many happily mention that it comes fully assembled taking the pressure of building yet another piece of furniture off your plates. 
2
Glasses Scultpure
If you decide to put seating underneath your gallery wall, then a sculpture, like these aluminum glasses, can be a fun decor element to add atop your bench or stool. The unique piece weighs half a pound and will definitely draw your guests' attention. The glasses are both simple and elegant. They come with a hammered finish that gives weight to the piece.  Sit the glasses on a stack of a few coffee table books to play up the theme. A nice throw blanket tossed alongside the other decor would also work well here. Reviewers remind potential buyers that this is a sculpture of glasses and the piece is much larger than those worn to see better. Keep that in mind when ordering and pay close attention to dimensions to see if this sculpture works for you.
3
Faux Olive Tree
Faux greenery can be a polarizing topic. Some swear against it, some swear by it. If you are willing to give fake plants a pass, this olive tree is a great option. Trees like this are having a moment right now. You can find them at high end stores and Etsy alike, many with big price tags. This Amazon option is both well-rated and reasonably priced. At almost six feet it will definitely make a statement. It is constructed with sturdy metal wires so you can adjust and shape the tree to your liking.  It will arrive at your doorstep with a basket to hide the base but consider picking up a more substantial pot to elevate this look even more. 
Our editors love finding you the best products and offers! If you purchase something by clicking on one of the affiliate links on our website, we may earn a commission at no extra cost to you.
---
Decorate
Access design inspiration that infuses personality and culture into your spaces.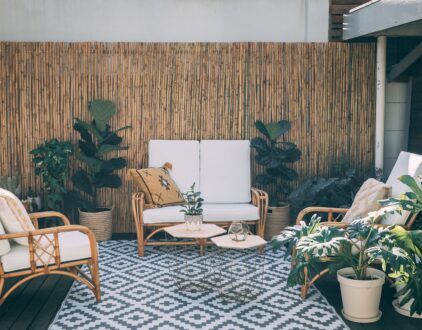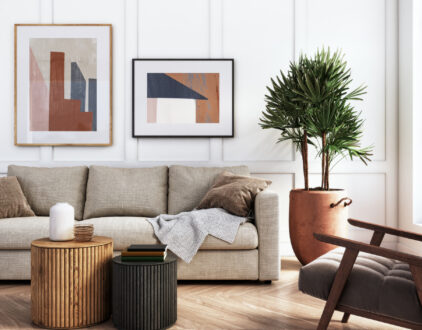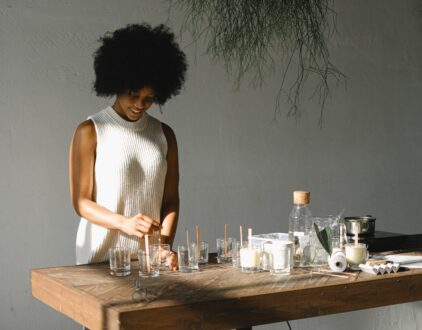 FOLLOW ALONG ON INSTAGRAM
Find us on social for more home inspiration where culture, personal style, and sophisticated shopping intersect to help you create a home where you love to live.