No two homes are exactly alike. Depending on your life experiences, individual style and unique interests, your home is a personal reflection of you and your identity. That is especially true for home interior influencers Michelle Trinh (@chezvudecor) and Julian Thomas (@toldbythomas).
Their New York apartments couldn't be more different from each other—one exudes chic, Parisian charm and the other bold, eccentric maximalism—yet each space is uniquely their own and speaks to their distinctive sense of creativity and originality as a designer.
Scrolling their social feeds is like a masterclass for creating a home filled with personality and character, one that truly makes a statement and stands to prove that a home is much more than just a living space, but a blank canvas waiting to be transformed into art.
"My home is truly a manifestation of my eccentric mind," Thomas says. "My friends and family jokingly say that whenever they step into my home, they feel like they're stepping into my brain."
Both Trinh and Thomas' homes are thoughtfully curated down to the very last detail, and Home & Texture had the exclusive opportunity to learn more about their design philosophies, inspirations, and expert advice for adding personality to your home.
Home & Texture: How do you incorporate personality and character into your home decor, and what advice do you have for others looking to create spaces that feel like their own?
Michelle Trinh: I add personality and character into my home by pulling from my personal experiences. For example, I have a commissioned art piece of Marie Antoinette. It reminds me of my Marie Antoinette-themed housewarming party, my time living in France, and it even incorporates photos of me and my family. My advice is to pull from places of happiness, whether they be memories, places or people.
Julian Thomas: I incorporate my personality in my home decor through my brand identity. As a creator, I have a set of style guidelines that dictate every single creative decision I make, including those in my home. For others, I recommend applying the same concept: Get very confident in your own personal brand and style, and this will make styling everything in your life, whether fashion or home decor, much easier.
H&T: Are there any unconventional design choices or techniques you recommend for adding a distinctive personal touch to a room?
MT: Something very unconventional that I did was incorporate "selfie lights" into the wall in my dressing room. While it felt like a risk when we planned it out, everyone who sees them thinks they're fantastic. I believe that if you make your home functional for yourself, many times it will be functional for others!
JT: I love figurines and creative design products that look like one thing but are used for a different purpose. For instance, my phone holder for my desk looks like a set of hands holding a phone. The lighters I use for my candles look like a giant match stick. One of my favorite objects in my home is a glass astronaut that looks like a basic figurine but it's actually a vase.
H&T: What recurring design elements or styles do you find yourself continually inspired by?
MT: Paris and Europe! I used to live in Paris and I really fell in love with the city and culture. When I got stuck on what tile to use for my backsplash, I used a Paris decor book to inspire me. It helps me to have a decor style to pull from when I get stuck.
JT: I find myself continually inspired by Italian design. I love how many Italian design brands skew high-end with clean lines and thoughtful materials, but they tend to throw in a pop of color like orange or yellow that makes it fun and somewhat approachable. I also gravitate towards rounded shapes, like a globe pendant light, as this softens a room and can make any space look more elevated than it actually is.
H&T: Have you been inspired by any cultural or historical influences in your decor?
MT: The building I live in was erected during the Gilded Age, so I took the liberty of allowing that to inspire a more old-world vibe in my home. I added in traditional picture molding on the walls as well as an oversized medallion in my living room. Visitors always think that they are original to the apartment, which is the biggest compliment I could get.
JT: I try to stay away from incorporating too many cultural influences into my home as I feel that it can come off a little gimmicky. I prefer to let the colors, materials and design of the space do the speaking and not lean too heavily on "of-the-moment" decor pieces.
H&T: Do you have any advice you can share with readers about how to stay inspired when decorating a particularly challenging space or approaching a lengthy project?
MT: With everything possible, it can feel like you need to explore all the options before choosing. Know that it's ok to change your mind. If you buy a piece of furniture or art that you eventually grow out of, you can always sell it. Decor is like dating. When you've gone out with a few frogs, you'll know when you've found a prince. That's when you should stop and just pick it; you've already done your homework.
JT: I've found that taking the time to really plan things out builds up the excitement of getting started, and this anticipation can keep spirits high even when the project takes longer than expected. I also recommend documenting the entire process. This way, when you do feel less motivated, you can look back on all of the progress you've made in the project so far to help keep you motivated.
H&T: Can you explain your design philosophy and what principles you live by when decorating your home?
MT: Don't always design for resale. Why would you design for the next person living in your home over yourself? For example, I removed the tub in my bathroom and opted for a standing shower. I don't take baths, so it wasn't useful for me. It also allowed me to gain more room to install a washer and dryer, which is much more functional to me than a tub!
JT: My design philosophy is function > style > personality > budget, in that order. I believe that good home design should serve a purpose other than just looking nice. Once the purpose/function is solidified, you can then think about the aesthetics.
H&T: What advice can you give to readers about taking risks in design, and can you share an example of when unique design choices paid off?
MT: My kitchen cabinet colors were custom mixed and based on Hotel Odeon in Paris. I knew that painting the cabinets any color would be risky because color can be very personal. So I doubled down on the personality and had it represent a piece of my past. I absolutely love how it came out.
JT: My advice for risk-taking is to be intentional about it, and plan those risks out. One risk-taking design choice I made was when I was living in a two-floor loft, and the upstairs bedroom had a pony wall. I decided to take a risk and build a partition wall on top of the pony wall. I took about two weeks in the planning process, sketching, remeasuring and even window-shopping at my local hardware store. The project only took three days to complete, and it turned out exactly how I imagined it. It became my first viral piece of DIY content, and my landlord loved it.
You can follow Michelle (@chezvudecor) and Julian (@toldbythomas) on Instagram to stay up to date with all their latest projects and design inspirations.
This article has been edited and condensed for length and clarity.
---
---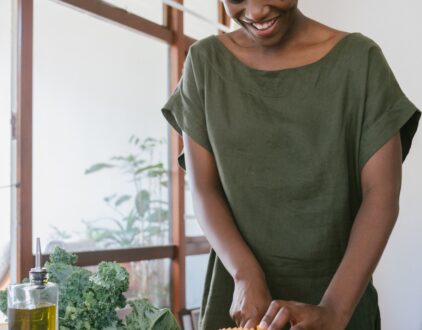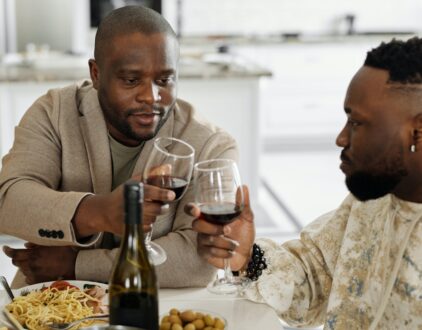 FOLLOW ALONG ON INSTAGRAM
Find us on social for more home inspiration where culture, personal style, and sophisticated shopping intersect to help you create a home where you love to live.