In the realm of artistry and interior design, Etsy emerges as a haven for both connoisseurs and home decorators seeking to infuse their spaces with creative brilliance. Boasting a diverse array of artwork from independent artists spanning the globe, Etsy offers a gateway to a world of originality that resonates with both aesthetic and soulful preferences. It's not just about adorning your walls; it's about creating a narrative and a visual symphony that reflects your essence. With a treasure trove of options, Etsy empowers you to adorn your sanctuary with pieces that transcend the ordinary and elevate the extraordinary.
An Ode to Independent Artists
One of Etsy's distinctive charms lies in its ability to champion independent artists. Every piece of artwork tells a story—a story of the artist's passion, vision, and creative journey. By browsing Etsy, you're not merely shopping; you're partaking in a celebration of artistic expression. Each stroke of the brush, every intricately woven thread, and every pixel in digital creations reflects the artist's dedication and craftsmanship.
While Etsy's variety of shops is undeniably exciting, the sheer abundance of options can be a bit overwhelming. Recognizing this, we've delved into the depths of Etsy to select the best shops to source artwork from, alleviating the burden of the endless scroll and search.
Check out these six Etsy shops we hand-picked just for your home.
KunstbyStephie
We love KunstbyStephie's shop so much, it was hard to choose just one poster to feature in this article. Perfect for your kitchen or dining area, Stephie's modern, colorful art features food and cocktail-related pieces that are sure to add personality and a pop of color to your space. Though this creator is based in Berlin, we love the fun, Parisian and Italian feel that her artwork exudes. After purchasing a piece from Stephie, you'll receive a museum-quality poster made on thick matte paper.
JuliaStanArt
JuliaStanArt on Etsy creates original oil paintings set on a newspaper background. The realistic subjects she paints are the perfect complement to any space, and reviewers rave about the outstanding craftsmanship. On request, the artist can paint your desired artwork in other sizes to suit your needs. This croissant painting for example is sure to transport you straight to a French bakery — light a pastry-inspired candle and you'll be fully immersed in the artwork in no time.
VictoriAtelier
We love VictoriAtelier's shop for all the abstract art needs in your life. Any piece from her shop will make your space 10 times more colorful and vibrant. Customers can choose between a square or rectangular format for the best fit in their space, as well as the option for a canvas print (with an additional two-inch white border for stretching on wooden bars) or a heavyweight fine art paper print (with a 0.2-inch white border for easy framing). Reviewers rave about the fast shipping and high quality, and any guests in your home are sure to rave about how amazing Victoria's art looks in your home.
XeniaFonkArt
We love how glamorous this piece from XeniaFonkArt is, and any piece from her shop is sure to add the same luxe touch to your space. All orders are handmade and wrapped on a cotton canvas for the best clarity and detail possible. Shoppers can select sizes from 5x7 to 32x46, with a canvas depth of 1.25 inches. As a Black-owned shop, this artist offers a wide selection of moody, artistic Black portraits, and each piece is just as beautiful as the next. They would look stunning in any bedroom and are sure to make a statement in your home.
CreateHygge
This textile wall art from this Black-owned shop known as CreateHygge is perfect for adding a unique touch of texture to your space without adding too much color or distraction. It's the perfect addition of warmth and made to embody the essence of coziness, comfort and contentment. Other pieces in her shop include natural woven art and abstract plaster art, and each piece is as beautiful and unique as the next. These pieces would be perfect for any minimalist or lover of a neutral color palette. Their versatility makes them able to grow with your decor and stand the test of time even as you move or change your style.
CityandFlowerCollage
This retro indie art is perfect for any maximalist or lover of eclectic design. The art belongs to Austin, Texas-based artist Brittnee Lavender, another Black creator on Etsy and owner of CityandFlowerCollage. Her art is perfect if you're wanting a statement piece or looking to add another element to your gallery wall. It would even make the perfect gift for the art lover in your life, as the unique collage aspect makes them super personalized and thoughtful. Made on thick and durable matte paper, we love this Princess Diaries-inspired collage that's sure to start a conversation with anyone who enters your home.
Our editors love finding you the best products and offers! If you purchase something by clicking on one of the affiliate links on our website, we may earn a commission at no extra cost to you.
---
---
Decorate
Access design inspiration that infuses personality and culture into your spaces.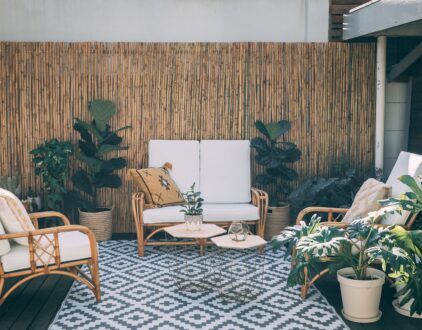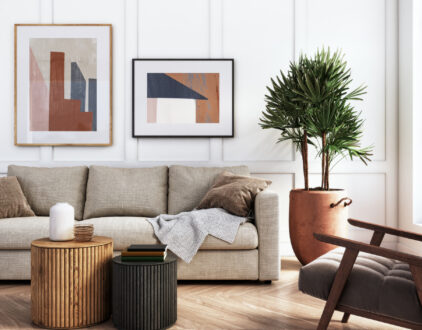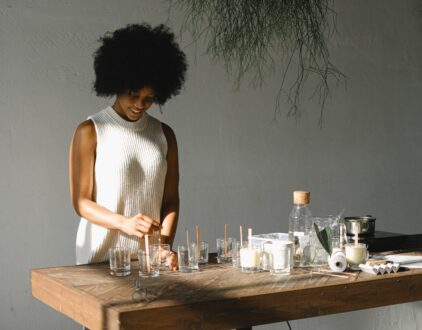 ---
Spaces
Whether it's luxury or ease, every area of your home should be as fabulous and unique as you.
FOLLOW ALONG ON INSTAGRAM
Find us on social for more home inspiration where culture, personal style, and sophisticated shopping intersect to help you create a home where you love to live.