2020 was the year of the worldwide "work from home" rollout, and with that, it also became the year of doing everything else from home too — including working out. The pandemic forced us to become more familiar with our homes and to transform them into multifunctional spaces that could be used for rest, work, exercise and play. A phenomenon called "the sitting issue" took effect after the pandemic as at-home workers reported more time being sedentary. Many reported sitting for up to 9.2 hours a day, according to a study by Yale University. This is an increase from the 9-to-5 in-person worker, who is estimated to sit about 7.3 hours a day.
Beware remote workers because sitting too long can slow the metabolism, which inevitably affects the body's ability to regulate blood sugar, blood pressure and metabolize body fat. A sedentary lifestyle is also known to increase the risk of obesity, gaining weight, type 2 diabetes, some types of cancer and early death.
To combat the lack of movement that at-home workers face, there are hacks you can incorporate into your daily routine to get your heart rate up. One of course is the 20-8-2 rule, which encourages people to sit 20 minutes, stand 8 minutes and walk for 2 minutes. The goal is to get your body moving. Another hack is to purchase at-home exercise equipment that will help you burn fat while you work. There are standing desks, active sitting chairs and medicine balls designed to encourage movement. They make it easy to sit at your desk while you exercise!
Check out these six home office exercise options that get your heart rate up and keep your body fat and stress levels down.
Jump to Products
---
1
Under Desk Elliptical
When you are working remotely, there are a lot of video meetings. And while it's great to be able to go off screen to go for a walk or ride your bike during a meeting, that is not always an option. Now with the under desk elliptical from LifePro you can get a full workout from your desk! The foot pedaler allows you to choose the level of tension by simply turning a knob to select from eight different tension levels. It also includes an add-on option for a bonus yoga mat and resistance band. Say goodbye to calories, and say hello to tone legs!
2
Adjustable Dumbbell Set
This comprehensive dumbbell set allows you to adjust the weight so you won't need several sets. The multi-weight, one set design ranges from 5 lbs. up to 52.5 lbs. And it's perfect for both targeted workouts as well as full body workouts. These dumbbells will easily fit under your desk, and they're also pretty quiet. So you won't have to worry about making noise when you re-rack them.
3
Sitting Ball Chair
Relieve your lower back pain with this sitting ball chair from YOGIVO. This pilates exercise yoga ball is known for improving posture, balance and stability, as well as working those core muscles. Unfortunately, it won't work with standing desks, but it will work with most standard desks and its inflation level can be adjusted to fit your desk height. This healthy alternative to the standard desk chair is sure to elevate your mood!
4
Kneeling Chair
The only original kneeling chair designed by Peter Opsvik in 1979, this device has you kneel at your desk, rather than sit (hence the name). The durable design takes the pressure off your spine and legs by opening up your hips, but if you have knee trouble this may not be the best desk chair alternative. The kneeling chair will engage your core, increase your mobility and relieve back pain.
5
Desk Chair Bike
This height adjustable desk chair will allow your body to exercise while your mind is at work during the business day. It comes with eight resistance levels so you can increase the intensity of your workout, and it also comes with a visual exercise metric that displays your performance numbers. The desk chair bike can be adjusted to fit any desk height. It's easy to assemble, and it has casters on the base that allow the bike to slide back and forth toward your desk.
6
Resistance Band Set
A resistance band workout is easy to accomplish from your desk whether you are seated or standing. The Draper's Strength resistance band set comes with a set of four heavy duty resistance bands that are lightweight and portable. The light to medium resistance bands are perfect for a lower body workout. Think squats, leg presses and glute kickbacks. While the medium to heavy resistance bands are better suited for an upper body workout. Think bicycle curls, side bends and chest flies. You'll be toned in no time from the comfort of your work desk!
OUR EDITORS LOVE FINDING YOU THE BEST PRODUCTS AND OFFERS! IF YOU PURCHASE SOMETHING BY CLICKING ON ONE OF THE AFFILIATE LINKS ON OUR WEBSITE, WE MAY EARN A COMMISSION AT NO EXTRA COST TO YOU.
---
---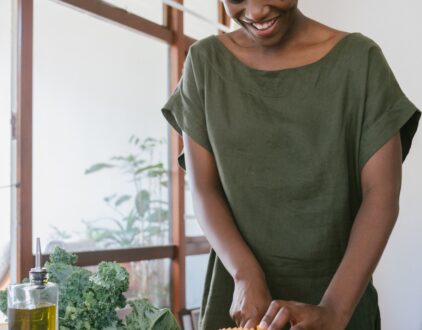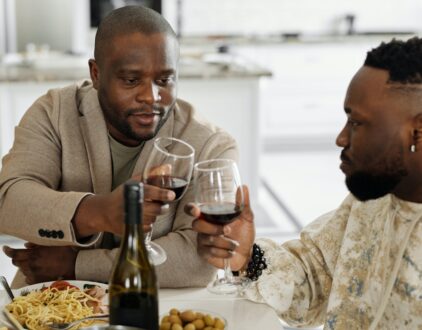 FOLLOW ALONG ON INSTAGRAM
Find us on social for more home inspiration where culture, personal style, and sophisticated shopping intersect to help you create a home where you love to live.