Your kitchen should be a place that inspires and invites you, but it's often the most overlooked space in your home when it comes to finding pieces that make you happy and that you look forward to using every day. Typically, function takes precedence over form in the kitchen, especially when it comes to kitchen tools—and rightfully so—as the purpose of these tools is to provide precision to lead to better cooking outcomes for their users.
That being said, finding items for your kitchen that are both functional and stylish can be a difficult task, and one we're here to support the mission. You don't need to be an expert home cook to justify splurging on beautifully designed kitchen tools. As long as you're prepare meals at home, you deserve aesthetically pleasing appliances to help make the process more enjoyable and beautify your kitchen at the same time. And while the words "stylish" or "stunning" may not be the first words that come to mind when thinking about toasters, air fryers and even tea kettles, these products prove that the value of kitchen tools that fuse beauty with utility is priceless.
Home & Texture searched high and low for the prettiest display-worthy kitchen tools that will turn your cooking experiences into ones you'll look forward to every day. Scroll to see our top picks—we're confident you'll want to proudly display each and every one on your countertops.
CRUXGG 6qt Touchscreen Air Fryer
This air fryer's sophisticated stone color will blend seamlessly with any existing decor and look chic in your kitchen at all times, all while allowing you to cook up to five pounds of food in its 6-quart capacity. Its sleek touchscreen interface is simple for ease of use, which helps it from looking too cluttered, and the interface disappears to avoid any unnecessary eyesores when not in use. Not to mention, it's also a Black-owned brand, so you can support Black entrepreneurs by purchasing the rest of the collection along with the air fryer to have a complete set of matching appliances.
2-Piece Neutral Salt and Pepper Grinder Set
Although salt and pepper grinders typically aren't made to stand out, these salt and pepper grinders will be the star of the show on any kitchen countertop or table. Their sleek, modern design and neutral colors make it easy for them to pair nicely with other kitchen decor like plants, cookbooks or an arrangement of wooden cutting boards. These grinders are perfect for any minimalist and are designed to fit comfortably in your hand and make your dinner table look neat and refined at all times.
BALMUDA The Toaster
Who knew toaster ovens could be this beautiful? This toaster oven is available in black or white, though we think the black will add sophistication and elegance to any kitchen. Aside from its simple and modern design, this toaster allows you to achieve the perfect toast on your bread with its revolutionary steam technology that locks in moisture on the interior while creating a crispy golden exterior. Its petite dimensions and weight will allow you to display it almost anywhere on your kitchen countertops, and with its versatile cooking options (think: sandwich bread, artisan bread, pizza, and pastry modes), you'll never want to store it away.
Fellow Stagg EKG Electric Pour-Over Kettle
This kettle is sure to make any tea enthusiast swoon. Even for those who aren't a fan of tea, this kettle still adds a chic, high-end look to any kitchen display. It can also be used for boiling water for oatmeal, hot cocoa and pour-over coffee or even for simmering spices, fruits, and herbs on your stovetop to create a delicious aromatherapy experience for your home. Available in 10 colors, there's an option for every kitchen color palette. The best feature? It allows you to set a target water temperature and view the progress on a screen—perfect for achieving temperature precision for your beverages and meals every time.
Café ™ Express Finish Matte Black 2-Slice Toaster
Have you ever seen a cuter toaster in your life? This toaster comes in three sleek colors—matte black, matte white and stainless steel—that will blend seamlessly with modern, minimalistic kitchens (but it would still look attractive regardless of design style, really). This is not your mother's toaster from the 90s—with eight shade options and a glowing white LED ring that indicates toasting progress and blinks when ready, you can achieve the perfect golden brown crust every time. Not only that, but the "Express Finish" mode toasts in approximately one minute for mornings on the go (or if you're really impatient for a bagel or toaster waffle—we've all been there).
Kitchen Utensil Holder
When trying to find the perfect utensil holder, we had three requirements: not boring, not totally basic, and yet still chic enough to enhance even the most TLC-seeking kitchen. We think this holder from H&M Home does the trick. It adds a thoughtful stylistic touch to your countertops, and the light beige color is perfect for earthy and natural kitchens yet minimal enough for other styles as well. Its 100% stoneware composition makes it resistant to chipping and cracking, perfect for those who are accident-prone in the kitchen. Purchase the rest of the collection as well for the perfect styling components to spice up a less-than-luster kitchen.
Our editors love finding you the best products and offers! If you purchase something by clicking on one of the affiliate links on our website, we may earn a commission at no extra cost to you.
---
---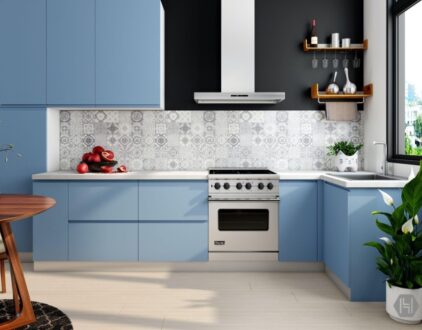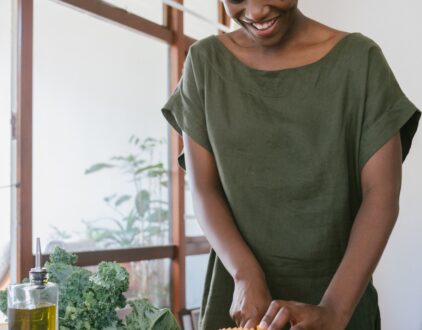 FOLLOW ALONG ON INSTAGRAM
Find us on social for more home inspiration where culture, personal style, and sophisticated shopping intersect to help you create a home where you love to live.