Your home is your castle, and your bedroom is your sanctuary. This winter you can make sure that the room where you lay your head brings cheer every time you enter. For most of us, a warm, cozy bedroom can make a world of difference during the winter months. You can easily achieve that cheerful warmth by making the right purchases to connect your personality with the mood and atmosphere you want to create. 
Winter Buys To Bring Cheer To The Bedroom
From comforters to curtains, every item in your bedroom should have a purpose. It could be to bring cheer, inspire thought, aid romance, or simply promote relaxation. These states of being can look different for everyone. Cheer can be smiles or just being in a relaxed mood. The bedroom is just so special. It's where you can shut out the noise of the outside world and family obligations, and be content.
Wintertime makes most of us want to snuggle up in our bed. The cold temperatures encourage us to wrap ourselves up in our covers and stay tucked away at all costs, even if the alarm is going off. Winter supplies and luxuries like electric heaters, robes, and blackout curtains keep the warmth in and the cold out. Accessories such as humidifiers, diffusers, and candles are what you need to help you sleep or to create just the right aesthetic to put you at ease. Home & Texture has compiled a list of items that will bring joy to your bedroom sanctuary this winter.  
Jump to Products
---
Electric Heated Blanket
There is nothing like getting cozy and cuddling up in a nice warm bed during the winter months. Geenoak is here to help make that a comfortable reality with their electric heating blanket! You'll stay warm all night long with not just one, but 10 heating settings available for your comfort! This blanket is large enough for you and someone special to warm up your chilly bodies and feet. You can also relax with ease knowing that this blanket is outfitted with a smart-controlled heating system. So, no overheating or fires to worry about. It can remain on and safe for up to 10 hours for those days you get to sleep-in, keeping you warm and cozy. 
Humidifier
Sleeping in clean air can make a world of difference. After using a humidifier you will never want to live without one. Levoit has just the thing to keep your bedroom air even more breathable. This 2-in-1 humidifier not only cleans the air, but also diffuses calming fragrant oils. The humidifier holds three liters of water and will provide moisture and diffused oils for up to twenty-five hours, aiding your sleep, allergy and sinus issues, and overall health. There is also a nozzle that can be used to control the strength and volume of the mist. You can use any of your favorite essential oils to create the right environment for yourself. Transform your bedroom into a new home spa with this multi-functional humidifier.
Down Comforter
Ready to sleep like the royalty you are? This DRW Luxury goose down comforter will make you want to wear your crown and royal slippers. The comforter is remarkably soft and boasts a 420-thread count. It's rose silk and poly cotton fabric gives you the sensation that you're floating on a cloud. This comforter can provide just the right warmth and comfort that you've been missing. It's great for winter weather, but light enough to keep you sleeping comfortably during the other three seasons. It's also large enough for you and your mate to toss and turn and still remain covered all night long. 
Blackout Curtains
One of the worst feelings is being awakened by the bright sun before your alarm goes off. BGment has found the magic you need to sleep in with their Pure White Blackout Curtains. These curtains not only block light, but are also insulated to help keep that winter chill outside where it belongs. The thermal insulation will help keep your room at your preferred temperature. You don't have to worry about your furniture being sunburned since these curtains can maintain darkness inside your home for as long as you desire. The curtains are sold as a pair of two panels and each is 52 inches wide and 84 inches long. 
Winter Clementine Candle
Having the right scent is important when trying to create a chill mood. Winter aromas bring joy and the Village Candle is doing just that with their new Winter Clementine scent. The smell of citrus and balsam brings just the right touch in the room to make it seem as if you are entering into to a winter wonderland. The candle is made for long lasting fragrance and the clean white wax recalls the purity of snow. The Candle is dual-wicked to give you control over the strength of the scent, and perhaps help the candle last longer. 
Pillows
Pillows always bring extra comfort and luxury to a room. Believe it or not, decorative pillowcases lend themselves to helping you create a particular look or mood in your space.  You can't have winter cheer without winter pillows. These four pillows are just what you need to bring that sigh of relief as you open your bedroom door. The winter designs on the front of each pillow make the season unmistakable and undeniable. This set of four includes a winter scene, some winter flora, and texts welcoming the snow. Comfortable enough for the bedroom and durable enough for lounging, these pillows are a seasonal must-have. 
---
---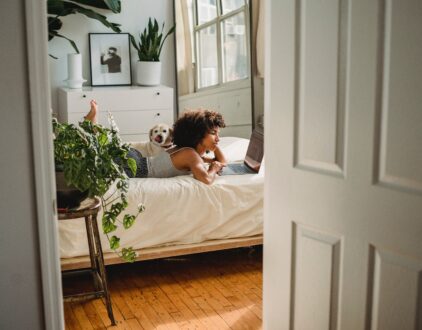 FOLLOW ALONG ON INSTAGRAM
Find us on social for more home inspiration where culture, personal style, and sophisticated shopping intersect to help you create a home where you love to live.