There's nothing better than jumping in your bed after a long day of work. Soft blankets, fluffy pillows, silky sheets ⁠— this must be what heaven feels like. The right bedding and linens can truly transform the way you sleep. Sleeping well is about more than vibey, ambient noise, or fragrant incense burning in the background. A good night's rest leads to reduced stress levels, lower risk of serious health problems, increased immunity, and better mood. It can truly impact your everyday life and your overall health.
Sleeping well is an intentional practice just like eating healthy or exercising. It doesn't just happen accidentally. Instead, it requires forethought and planning to prioritize rest, turn off your electronic devices, and quiet outside noise. In addition, a well-made bed with bedding and linens made from quality fabric and textures can only aid in better sleep. We assembled a list of must-haves bedding and linens to jumpstart your journey to better sleep. You'll be counting z's before you know it with these bedding items.
Here are a few editor's picks for the ultimate bedding in your home:
1
Kotton Culture 600 Thread Count Bed Sheet
If you're looking for five-star hotel quality sheets, look no further than Kotton Culture. Its 600 thread count bed sheets are no exception. Far superior to its microfiber competitors, each sheet is designed with luxury cotton that is sifted through by hand to remove impurities and then stitched by a local artisan in 1,000 thread count. Kotton Culture guarantees less piling, more durability, breathability, and comfort. Grab a set of Kotton Culture sheets so you can start counting sheep and experience sheets as soft as clouds.
2
B. Smith with Style Comforter
Named after its creator, Barbara Elaine "B." Smith, B. SMITH is a Black-owned home decor brand known for its simple and chic style. The Down Alternative Comforter is no exception with its luxurious softness and elevated design. This comforter will last for years to come and is filled with hypoallergenic synthetic fiber that is enveloped in 300-thread count sateen textiles. It is tied together with black piping and double-needle top-stitch finishing.
3
Lumi Living Rib Knit Throw Pillow Cover With Tassels
Lumi Living is a small business that knows a thing or two about designing a well-made pillow. The design is simple and minimalistic, and its texture is super soft. The rib knit throw pillow cover is eco-friendly, natural, and made from 100% cotton. It can easily pair well with your at-home decor by adding a simple pop of texture and warmth. Customers say that this knitted pillow puts them to sleep almost instantly. Happy dreaming!
4
Justina Blakeney Makers Collective Quilt Set
If you want tranquility and peace in your bedroom, then this quilt set is for you. The quilt is embroidered with the hamsa (also known as the hand of Fatima), which is a palm-shaped amulet common in African and Middle Eastern cultures. It is said to add protection and ward off any evil in its vicinity. Available in natural, clay, and cloud colors, you'll sleep tight with this tranquil statement piece as it ushers good vibes into your bedroom. Just be sure to wash it on the gentle cycle to keep the design intact!
5
EASTSURE Chunky Knit Throw Blanket
Made from organic fabrics, this chunky knit blanket is sure to become a household favorite. The blanket is designed to be gentle so it doesn't irritate the skin, and it's breathable, comfy, and soft. The best part is its calming effect. The blanket's active fibers allow it to adjust to changes in body temperature and help regulate the heart rate, which is proven to lead to better sleep.
Our editors love finding you the best products and offers! If you purchase something by clicking on one of the affiliate links on our website, we may earn a commission at no extra cost to you.
---
---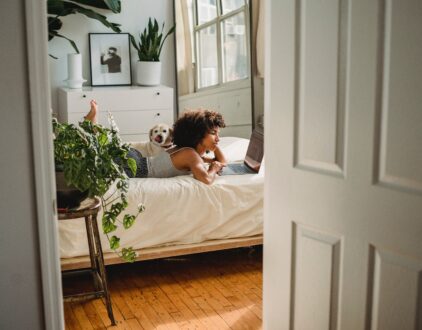 ---
Spaces
Whether it's luxury or ease, every area of your home should be as fabulous and unique as you.
FOLLOW ALONG ON INSTAGRAM
Find us on social for more home inspiration where culture, personal style, and sophisticated shopping intersect to help you create a home where you love to live.