Choosing the right carpet for your basement is an important aspect to consider when revamping the space. Upgrading your basement carpet can completely transform the area by adding warmth, comfort and style. Regardless of whether you plan to create a family room, a home theater, or a recreational area, your choice of basement carpet can help you achieve the desired ambiance.
What To Look for When Choosing a Design
When choosing a carpet for a basement, keep in mind the special circumstances that come with this type of space, such as dampness, limited sunlight, and flooring that may not be level. To ensure that the carpet holds up well and looks good, select a style that is suited for these conditions.
Berber is a popular choice for basement flooring due to its high durability and resistance to wear. It has a loop pile that is great for high-traffic areas and comes in different colors and patterns to match your basement decor. Also, the tight loops aid in concealing footprints and vacuum marks, ensuring a clean and neat appearance.
Carpet tiles are another great choice because they are easy to install and can be customized to your liking. They come in different styles, such as multi-level loops, cut piles, and patterned designs. You can create unique patterns or mix and match colors to match your taste. The best part is, if you spill or stain them, you can replace individual tiles instead of replacing the entire carpet, which saves you time and money.
5 Basement Carpet Designs To Shop
Choosing a new carpet can be a budget-friendly and efficient way to give the room a fresh feel. When shopping, consider the specific needs of your space when selecting a style to ensure that the space is comfortable, welcoming, and attractive for your family and visitors. Carefully chosen flooring can make a huge difference in transforming your space into a practical and appealing living area. Here are five basement carpet designs for maximum comfort and style:
1
Tree Bark Carpeting
This Tree Bark Carpet is a flooring solution for residential and commercial spaces. This carpet is made from pre-dyed filament nylon and features a graphic design that adds elegance to any room. It can withstand heavy foot traffic and is highly durable. Tree Bark Carpeting is also easy to maintain, making it ideal for busy households and workplaces. This carpet is durable and treated with advanced repel technology to resist stains. It comes in a 12-foot width and has a smooth and comfortable surface with minimal shedding thanks to its continuous fibers. Regular maintenance includes vacuuming and spot cleaning, with professional cleaning recommended once a year.
2
Lightbourne Carpeting
Lightbourne Carpeting is the ultimate combination of fashion and toughness. It comes in various attractive shades and can enhance the decor of any room, making it one-of-a-kind. Made from premium nylon, it can withstand wear and tear and serve you for years to come. The Lightbourne carpet is perfect for those who want to start redecorating. It is durable and comes with a stain treatment that ensures your carpet stays clean even with spills and accidents. With Lightbourne Carpet, you can have the perfect combination of style and durability to make your dream space a reality.
3
Finton Carpeting
Discover the Finton Carpet, an elegant and functional option suitable for any area in your home with heavy foot traffic. Enjoy the flawless blend of style and performance featuring vibrant hues and a sturdy build. The compact loops and short fibers offer outstanding resilience against damage, guaranteeing a carpet that lasts long and retains its charm. Finton Carpet is made entirely from recycled materials, making it eco-friendly and resistant to fading, stains, and soil. It comes in a color called Sea Lion, which is a mix of light and dark grey with a warm undertone and subtle stripes. Finton Carpet is 12 feet wide and has been approved by the FHA. It is both comfortable and durable, making it perfect for any home. Choose TrafficMASTER for high-quality carpets at a great value.
4
Terrain Carpeting
Enhance your interior design with the soft and stunning Terrain Carpeting collection. This collection features a beautiful high/low loop construction that adds a touch of sophistication with its rich tuft-textured appearance. The carpet has the appearance of a tightly woven sisal but has the comfort, attractive texture, and convenience of a wall-to-wall carpet. Choose from a wonderful selection of earth tone colors to bring warmth and style to your home with this gorgeous carpeting. It is machine tufted with precision using 100% Wooltex, which makes it both elegant and durable. With Terrain, you can create a timeless and elegant space to relax and enjoy.
5
Intelligent Blue Carpeting
Intelligent Blue Carpeting is an ideal choice for your home carpeting requirements. Made from high-quality 100% Solution Dyed Nylon, this carpet is precisely crafted to ensure excellent color preservation for long-lasting vibrancy. Featuring a 14-ounce Multi-Level Pattern Loop design, it is sure to add an elegant touch to any room. Intelligent Blue Carpeting is easy to install thanks to the StrataWorx Tile backing. It can withstand heavy foot traffic, ensuring it lasts for a long time. The carpeting also has a UV-resistant treatment that preserves its color and prevents fading. Get Intelligent Blue Carpeting for a stylish, durable, and convenient space upgrade.
Our editors love finding you the best products and offers! If you purchase something by clicking on one of the affiliate links on our website, we may earn a commission at no extra cost to you.
---
---
Decorate
Access design inspiration that infuses personality and culture into your spaces.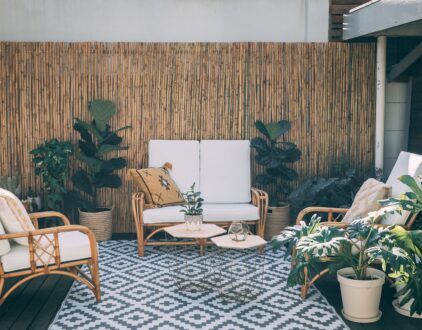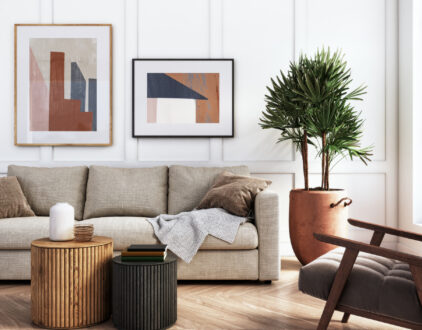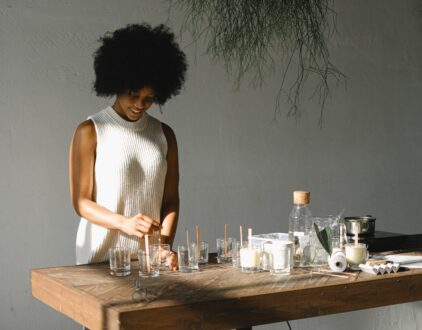 FOLLOW ALONG ON INSTAGRAM
Find us on social for more home inspiration where culture, personal style, and sophisticated shopping intersect to help you create a home where you love to live.