If you are looking to add a bit of warmth to the tile, laminate or hardwood floors in your kitchen, look no further than a runner. These long carpets are different from your traditional rug because they are meant for narrow passageways and hallways. Whereas, traditional rugs are usually rectangular  or circular and meant to cover larger areas.
Find The Size That Fits Your Kitchen
Perfect for any size kitchen, the average runner is between 2 ft. and 3 ft. wide and anywhere from 4 ft. to 16 ft. long. You'll know that you have the perfect size runner if you have between 4 to 5 inches of flooring showing on each side. For wide halls, leave about 6 inches on either side for the ideal amount of space and comfort.
Keys To Keeping Your Runner In Place
Runners also are great for adding a bit of flair and personality to your kitchen. Think of them as statement pieces that are designed to add a decorative pathway in your kitchen or between rooms. Don't forget to buy a rug pad to go underneath your runner or try these gripper pads from Rabenda Store that are placed at each corner of the rug for maximum hold. Rug pads in particular prolong the life of your rug, add extra cushion and help keep it in place. In addition, many rug runners are washable, a necessity when placed in high traffic areas like kitchens where spills are bound to occur. To be sure your runner is washer safe, check the care label and look for washer-safe materials like cotton, polyester and olefin/polypropylene. Remember: It's always best to spot clean smaller stains and spills, and to only utilize the washer for a larger clean or refresh of your runner.
When you're ready to begin your search for the "perfect kitchen rug," check out these runner rugs to add the stylish detail and warmth that your kitchen is missing.
Jump to Products
---
1
Kamran Runner Rug
If you are looking to add a Persian flair to your kitchen, then look no further than the Kamran Runner Rug. This vintage runner features a distressed design with a medallion pattern and elaborate border with shades of coral, red and blue. It's high quality, eco-friendly and hypoallergenic, and it also comes with a non-slip backing and a washable cover.
2
Upgraded Boho Runner Rug
This grey hallway runner by EARTHALL is a mix of bohemian and modern design. Perfect to place by your kitchen island or in the area that separates the kitchen from the dining room, this runner is 100% cotton and hand woven. It's soft, durable and easy to care for. You will need to purchase a rug pad as this runner does not have a rubber backing to keep it in place.
3
Floral Medallion Distressed Rug Runner
This white and royal blue oriental style runner is made by SAFAVIEH, a trusted, family-owned interior design brand that has more than 100 years of expertise. Their high quality runner is pet-friendly and kid friendly, stain resistant and non-shedding. You can easily clean it with a vacuum or by gently blotting out stains by hand.
4
Abstract Modern Washable Runner
A piece of art on your floor, this lightweight and durable runner by RealLife comes in an abstract modern design. The runner is made from recyclable polyester and flat woven, which means it won't pile or roll up. A few other added bonuses is that its machine washable and it has a nonslip grip.
4
Bohemian Rug Runner With Tassels
Available in beige, peach pink, grey and tan, LEEVAN's bohemian rug runner with tassels is a fan favorite and has even been dubbed an "Amazon's Choice" rug runner. This tightly woven, handmade rug keeps its shape, which makes it a perfect addition to high foot traffic areas, and its rainbow stitched design is sure to be an eye-catcher. It's also washer-safe and easy to clean.
5
Absida Modern Rug Runner
Stain and water resistant, the Absida Modern Rug Runner will add a modern chic touch to your kitchen. Inspired by artist Josef Albers, the rug features mirrored arches in varying shades of green set against an off-white backdrop. The runner is machine washable, non-slip and hypoallergenic.
OUR EDITORS LOVE FINDING YOU THE BEST PRODUCTS AND OFFERS! IF YOU PURCHASE SOMETHING BY CLICKING ON ONE OF THE AFFILIATE LINKS ON OUR WEBSITE, WE MAY EARN A COMMISSION AT NO EXTRA COST TO YOU.
---
---
Decorate
Access design inspiration that infuses personality and culture into your spaces.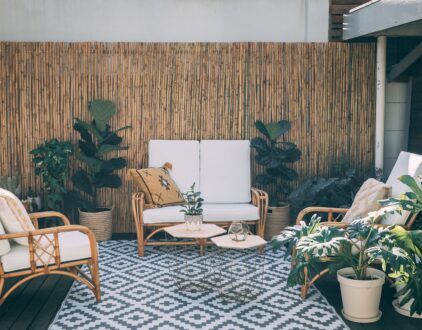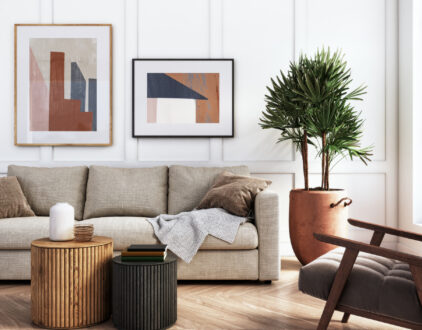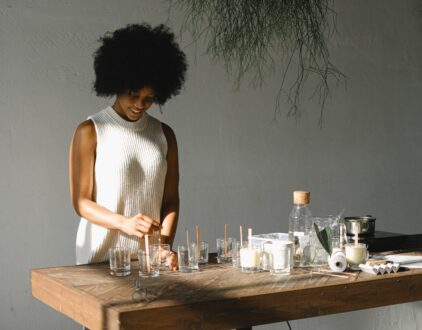 FOLLOW ALONG ON INSTAGRAM
Find us on social for more home inspiration where culture, personal style, and sophisticated shopping intersect to help you create a home where you love to live.