For most people, the bedroom is a place of retreat — a space where you can let your hair down and relax. However, the bedroom is also a great place for romance. Creating an ambiance that promotes intimacy can prime you and your partner for a romantic evening.
Why You Should Start Setting the Mood
Setting the mood before you become intimate sets the tone for the rest of the interaction. By doing so, you can create a feeling of anticipation and excitement, which also makes the experience feel more special.
It also demonstrates to your partner that you care. When you do the little things — playing music, wearing lingerie, or cooking dinner — it highlights your thoughtfulness. And as the saying goes, "It's the thought that counts."
6 Ways To Decorate Your Bedroom for Romance
Before you engage in intimacy, you should set the mood for better results. There are many ways to set the mood, from playing soft music to sprinkling rose petals. But you can also create a sensual atmosphere by decorating your bedroom. Designing your bedroom to promote passion and excitement can truly turn up the heat in your love life. So to celebrate Sexual Health Awareness month, here are six ways to decorate your bedroom for romance:
1. Set the mood with candles.
Candles are a great way to set the mood. They add a soft, warm glow to your room that can help soothe and relax you. And if you opt for scented candles, you can enjoy the added benefit of aromatherapy, which can truly ignite your senses.
So light a few scented candles as you wind down for the night to create a romantic setting. You could even arrange the candles in cute shapes like a heart or your initials to add a special touch.
2. Dim the lights.
Nothing sets the mood quite like dimmed lighting. You can shop for lamps with dimmable settings or install dimmer switches to turn your lights down low. You could even string a couple of fairy lights across your headboard or add interior LED strips in your bedroom for a cool, modern look. Whatever you decide, when it comes to promoting intimacy, the lower the wattage bulbs, the better.
3. Display fresh flowers.
Flowers are a classic way to show someone you care, so why not employ that strategy in the bedroom? Use an attractive vase to display fresh flowers to enhance the ambiance in your bedroom. Incorporating flowers can also help add a lovely scent to the room as well.
Pro Tip: Opt for red or pink blooms such as roses, tulips, or dahlias that represent passion.
4. Change the sheets.
When planning a romp in the sack, you have to have fresh, clean sheets. But not only the sheets, your entire bedding likely needs an overhaul as well.
Invest in quality bedding including high thread count sheets, a soft and plush comforter, and lots of cushiony pillows. You should also consider shopping for silk or satin sheets, which can be especially sensual. Doing so can help make your bed super inviting, and give you a better chance at scoring later on.
5. Add a mirror.
Mirrors can add a lot of romance to your bedroom. By hanging a large mirror on the wall or over the headboard, you and your partner can see each other at every angle during intimacy. This adds a hint of sensuality. Plus, having a mirror adds depth and dimension, creating a more open space.
6. Use romantic artwork and accessories.
If you enjoy art, hang a few erotic art prints featuring couples or nature to inspire a more sensual mood. You can also place other helpful accessories such as figurines, rose petals, or scented reed diffusers around the room to invoke feelings of passion.
---
---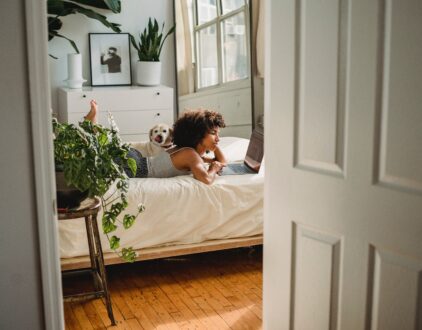 FOLLOW ALONG ON INSTAGRAM
Find us on social for more home inspiration where culture, personal style, and sophisticated shopping intersect to help you create a home where you love to live.