Digital frames are an important design element for today's home office. As more and more skilled workers embrace the digital nomad life, keeping a well-decorated home office that includes the best in these essential pieces has become all but imperative.
Nowadays we are just a click away from transferring years of memories to a frame that would show multiple pictures day and night. Who could have predicted that this is the way things would go "back in the day"? Certainly, we've come a long way in terms of technology.
But today's technical marvels are able to not only receive photos but also showcase your pictures and videos in the manner of your choosing. No more having to develop film to enjoy your pictures, just upload them to your favorite frame, sit back, and enjoy the show! These frames will add a very personal touch to your home office and give you peace of mind like nothing else will. Who says your home office has to be boring?
Now one frame can handle and show more than just one photo. You can choose from so many sizes and styles that fit your home décor and needs.
Check out Home & Texture's top picks in digital frames.
1
Cozyla WiFi Digital Picture Frame Built-in Alexa
Have you ever heard of a digital picture frame with unlimited cloud storage? Well, now you have! Cozyla is producing more than just beautiful frames. With this multi-purpose digital frame, you can upload photos that can be put into and played like an album playlist. This high-tech frame will also identify people, scenery, and time to put together collections. You can set it up to do playback on collections, pictures, and slideshow modes. A truly unique feature of this frame is the built-in Alexa, which allows you to set reminders, and timers, and create memos, and emergency alerts. This frame offers you 10 inches of crisp, clear photos of your favorite memories.
2
Fullja Large HD Electronic Photo Album
Go big or go home! FULLJA WIFI digital frame offers 17 inches of memories that you and your family can enjoy. This frame is high-tech, yet easy to use. You and your family and friends can add photos to the frame via your smartphone. Up to 30 contributors are able to add pictures to your frame. This high-capacity touchscreen frame has 32GB of storage and comes with a handy remote control. The uniquely designed frame has excellent features such as weather forecast, multi-screen display, a calendar, a motion sensor, a slideshow, text caption, and pre-programmed background music.
3
Atatat Digital Photo Frame with IPS Screen
This picture frame will be the envy of all the visitors to your home. The Atatat digital photo frame boasts many features and sizes. This HD IPS Screen with 178-degree wide viewing angles allows you to see the pictures on the front and side. Its high resolution and HD display make your photos look totally realistic. The features include a picture preview, remote control, 9 slide show modes and effects, and a timer for the slideshow. You can just input the SD card or USB drive and your photos are uploaded and ready to be displayed. The frame also comes with an alarm clock, picture zoom, 360 rotations, and a calendar.
4
Skylight Frame 10-inch Wi-Fi Digital Picture Frame
Looking for a nice plugin digital frame? Skylight is the way to go. This touchscreen frame is very easy to use--just click on the WIFI and you are set. You don't have to be on Facebook or Instagram to see the pics of your family members' vacations or a wedding you couldn't make. They can just email all their pictures to the frame, and they will pop right onto the rotation of the photos on the frame. The screen is 10 inches wide and is full of vivid color. The frame is black with white lining to give the look of a traditional picture frame.
5
FULLJA 19-inch Dual-WiFi Digital Photo Frame
FULLJA has hit the scene with this large, 19-inch dual digital frame. The frame can be used in any location with WIFI. Your family and friends can load pictures into the frame with their smartphones. With this 32GB frame, you can add up to 30 members who can contribute photos and videos. You can send up to 50 pictures at one time, which is uncommon for digital frames. The frame has so many cool features such as a motion sensor, video playback, alarm, clock, music, text caption, split screen photo folder, and even a calendar. This digital frame is what you need to save space and storage around your home and on your cell phone's picture gallery.
6
Canupdog IPS Touch Screen Smart Cloud Photo Frame
Canupdog has created this 10.1-inch touchscreen smart cloud photo frame that is able to showcase your family, friends, and memories for years to come. The high-definition frame displays clear, crisp, and vibrant pictures to make you think you are still there. This touchscreen digital frame is very easy to use for even the least tech-savvy folks. If you have WIFI and can download the "Frameo" app you will be just fine. No need to worry about whether your device is an Apple or Android, because the frame works with both. The nicely designed wood gives that extra touch of character in the living room or wherever you choose to put it. You can also mount it on the wall if you wish! The 16GB of pictures and videos are on auto-rotation and can be seen over and over in the order you determine.
OUR EDITORS LOVE FINDING YOU THE BEST PRODUCTS AND OFFERS! IF YOU PURCHASE SOMETHING BY CLICKING ON ONE OF THE AFFILIATE LINKS ON OUR WEBSITE, WE MAY EARN A COMMISSION AT NO EXTRA COST TO YOU.
---
---
Decorate
Access design inspiration that infuses personality and culture into your spaces.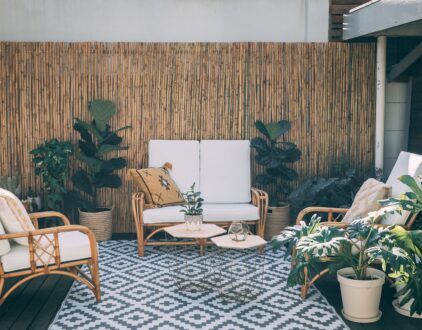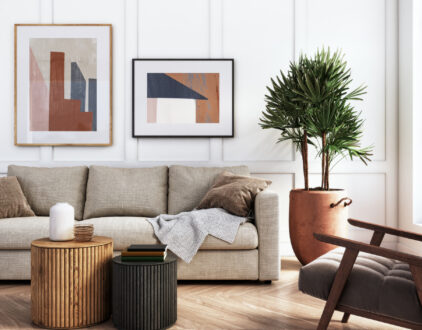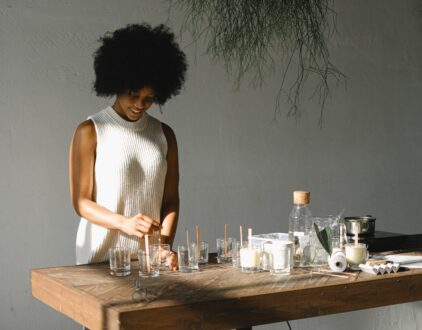 FOLLOW ALONG ON INSTAGRAM
Find us on social for more home inspiration where culture, personal style, and sophisticated shopping intersect to help you create a home where you love to live.