Long before matcha tea became the drink of choice for all Instagram influencers and "it girls" alike, a ritual for the preparation and consumption of this vibrant green beverage was developed by Zen Buddhists. Centuries ago, they discovered how matcha brought them a greater sense of clarity and well-being. By drinking the tea before their meditations, they found they were more centered, focused and energized throughout the rest of the day.
Today, matcha tea is celebrated as the ultimate morning and afternoon beverage, a substitute for coffee when you crave just the right amount of caffeine and alertness—without any hint of jitters.
The Art of Matcha
The practice of making matcha tea is a ritualistic practice deeply rooted in Japanese culture. This process not only ensures the perfect cup of matcha but also serves as a mindfulness exercise. It's this calming and ritualistic nature of making matcha that makes it more than just a beverage—it's a meditative experience that makes for the perfect morning ritual to find a sense of peace and calm before a hectic day. Preparing a cup of matcha the way it was intended to be made actually offers an invitation to romanticize your mornings, where every sip is an opportunity to embrace the art of living beautifully.
How To Prepare a Matcha Latte
With the right matcha tools, your kitchen can become an aesthetic haven that's worthy of any Pinterest feed.
To get started making your first cup of matcha at home, add a serving of matcha powder into a bowl, about one-half to one teaspoon per eight-ounce glass. Add a small amount of water to the bowl, just enough to create a thin paste, and whisk the matcha and water vigorously in a 'W' or 'M' motion until it's frothy and has a vibrant green color. In another glass, add ice and your favorite milk (we love oat!), along with honey, maple syrup or vanilla syrup for an extra touch of sweetness. Then, pour your matcha mixture overtop, and stir—that's it!
Home & Texture took the liberty of rounding up all the products you'll need, so click the links below to find only the prettiest kitchen tools for leveling up your matcha morning routine.
Ippodo Tea Sayaka – Rich Matcha (40g Can)
When making matcha tea, it's important to use a high-quality powder for the tastiest results possible. This tea from Ippodo is widely recognized as one of the best on the market—it's perfect for creating the creamy, soothing drink you're searching for. We love how the tea is produced by a family-run Japanese company founded in 1717 in the heart of Kyoto, a region known for cultivating Japan's top-quality green tea. You'll love the rich, smooth taste and its suitability for beginners.
Japanese Handcrafted Ceramic Sakura Pink Matcha Chawan Tea Bowl – Inoue Tea
No matcha is complete without a bowl to whisk it in, and we think this bowl is just about the prettiest one money can buy. This ceramic bowl is handmade by skilled artisans, so you can feel confident you're getting a one-of-a-kind piece. It's also microwave and dishwasher-safe, so you don't have to worry about damaging it over time. With the ability to hold 16 ounces of liquid, it's also enough for all your matcha tea needs. The beautiful pink color is its stand-out feature, and we love how the organic shape and free-handed white paint strokes only add to the aesthetic.
Matcha Set Accessories
This set of matcha accessories includes a chasen whisk, a ceramic stand and a traditional scoop—everything you need for scooping and whisking your matcha powder to perfection. When you're done with the whisk, wash it, air-dry it well and place it delicately on the stand in a cool, dark place away from direct sunlight. This will help to lengthen its lifespan and avoid any bamboo fiber cracks. Aside from its cuteness, the thin, fine bristles of the whisk are adept at breaking down clumps of matcha powder and ensuring it blends evenly with the water.
Brass Floral Spoons, Set of 4
Have you ever seen a prettier and more elegant set of spoons? If there's one product that's sure to level up your matcha game and help you romanticize your mornings, it's these brass floral spoons from Anthropologie. They're the extra touch of beauty you need for stirring your matcha into your latte and achieving the perfect blend of flavors. These spoons are hand wash only, so avoid putting them in the dishwasher, and they're also handmade, so expect that a variance in appearance may occur.
Syrup Dispensers With Labels
If you're a fan of sweetening up your beverages, you need these gold syrup dispensers with modern minimalist labels. These dispensers hold up to 17 ounces of liquid and you can purchase up to 10 dispensers, perfect for experimenting with which flavors you like best with your matcha. We love that they can double as coffee syrup for added versatility for all your beverage needs. Not to mention, the chic labels will work well with any kitchen aesthetic—a perfect option for having your syrups on display without having an overwhelming eyesore on your countertops.
Vintage Beaded Glass Mugs, Set of 4
Last but not least, you'll need a glass to pour your matcha in once you're done making it, and these mugs are perfect for showing off your finished work. The beaded detailing is too beautiful to not have on display at all times, and we love that a set of four gives you two designs to choose from in the morning. You may have seen your favorite influencer sporting a mug like this on TikTok, and now you, too, can achieve the classic vintage aesthetic to complement all your beverage endeavors.
Our editors love finding you the best products and offers! If you purchase something by clicking on one of the affiliate links on our website, we may earn a commission at no extra cost to you.
---
---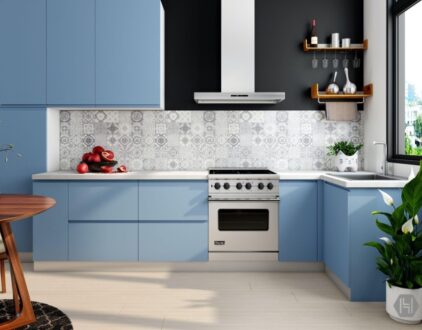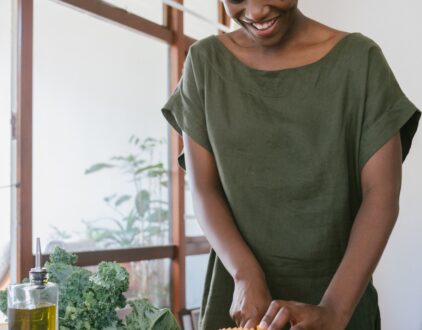 FOLLOW ALONG ON INSTAGRAM
Find us on social for more home inspiration where culture, personal style, and sophisticated shopping intersect to help you create a home where you love to live.