As you're preparing your home for a new baby, it is important to make sure that your home is a safe and comfortable environment. Check out these tips for getting your home ready for your little one, along with suggestions for practical and stylish baby essentials to get started.
Things to Consider When Baby Proofing Your Home
One of the most important steps in preparing your home for a new baby is baby-proofing. Before they start crawling, it's important to ensure that your home is safe and secure.
Here are some areas to focus on when baby-proofing your home.
Electrical outlets: Cover all electrical outlets with outlet covers.
Stairs: Install safety gates at the top and bottom of stairs.
Cabinets and drawers: Install locks on cabinets and drawers to keep your baby from accessing dangerous items, such as cleaning products or sharp objects.
Cords and cables: Keep cords and cables out of reach or secure them with cord covers.
Furniture and decorations: Anchor heavy furniture and decorations to the wall and get coverings for furniture with sharp edges.
Common Mistakes When Preparing for Parenthood
First-time parents oftentimes buy unnecessary items during the preparation for a new baby.
Here are some common mistakes to avoid.
Overbuying: It is easy to get overwhelmed by the amount of baby gear available in the market. However, it is important to focus on the essentials and avoid buying unnecessary items. First-time parents end up throwing away or donating those items.
Not planning for growth: Babies grow fast, and it is essential to plan for their growth when purchasing items, such as clothes and furniture. Avoid buying too many items that the baby quickly will outgrow.
Forgetting about yourself: It is easy to forget about your own needs. Make sure to create a comfortable and relaxing space for yourself.
Jump to Products
---
1
Diaper Genie
The diaper genie is a popular product among parents for its ability to contain and conceal dirty diapers. This product includes a refillable pail, carbon filters, and seven-layer bags that lock in odors and bacteria. With a hands-free foot pedal, the Diaper Genie makes it easy to dispose of diapers without touching the pail. One of the standout features of the Diaper Genie is its ability to hold up to 270 diapers, reducing the need for frequent emptying. The pail also has a sleek and modern design that complements any nursery decor. Additionally, the included carbon filters absorb and eliminate odors, ensuring a fresh and clean environment for your baby.
Dream On Me Jayden 4-in-1 Mini Convertible Crib And Changer
This mini crib is perfect for small spaces and can be converted into a daybed and a twin-size bed as your child grows. The attached changer features two shelves for storing diapers, wipes and other baby essentials. The crib itself is made of solid wood and has a non-toxic finish. It is easy to assemble and comes with all the necessary items you need to put it together. The attached changer also adds convenience and saves space in your nursery. It comes in a variety of colors, so you can find the perfect style to compliment your nursery or baby room.
Nanobebe Baby Bottle Ultimate Feeding and Cleaning Set
This set is must-have for new parents who want a convenient and hygienic solution for feeding their baby. It includes four five-ounce bottles. Each bottle has a unique concave shape that allows milk to warm up quickly and evenly. The bottles also have an anti-colic design that reduces air intake and prevents gas, spit-up and other feeding-related issues. You'll also enjoy the microwave steam sterilizer that can sterilize up to four bottles in four minutes, and a pacifier that is shaped like a breast to promote healthy oral development. The pacifier comes with a sterilizer that can be used in the microwave in just 60 seconds. The kit also includes a bottle brush that has a flexible neck and a suction cup base for easy and hygienic storage.
4
Delta Children Eclipse Changing Table with Changing Pad
This changing table is a versatile and functional piece of furniture designed to make diaper changes easier and more convenient for parents. It's made from solid wood and features a sleek and modern design that complements any nursery decor. It includes a safety strap and a changing pad that fits securely on the table's top. There are two shelves below the changing surface that provide ample storage space for diapers, wipes, and other baby essentials. The shelves are made from strong and durable material and can hold up to 35 lbs of weight.
Baby Trend Expedition Jogger Stroller
This stroller has a durable and lightweight design that can handle any terrain. It has large bicycle tires and a front swivel wheel that can be locked for stability. The adjustable canopy provides shade and protection from the sun, while the reclining padded seat and five-point safety harness keep your baby comfortable and secure. The stroller also has a convenient tray for parents with two cup holders and a covered storage compartment. It also has a child tray with a cup holder that swivels out of the way for easy access. The stroller folds compactly for storage and transport, and the adjustable handlebar allows you to customize the height for your comfort.
HelloBaby Pan-Tilt-Zoom Video Baby Monitor with Camera and Audio
This monitor is a valuable tool for parents who want to keep an eye on their baby from a distance. It has a large five-inch display that provides clear and vivid images of your baby's room, even in low light conditions. It features pan-tilt-zoom capabilities that allow you to adjust the camera's angle and zoom in for a closer look. The monitor also displays the temperature in your baby's room and has built-in lullabies that can be controlled remotely. It has a two-way communication feature that allows you to talk to your baby and soothe them from a distance.
7
Ingenuity Calm Springs Plush Activity Gym for Baby
This activity center is designed to provide babies with a safe and fun place to play and explore. It features a bouncy seat that can be adjusted to three different height positions, allowing it to grow with your baby. Your little one will love the range of interactive toys, such as a spinning ball, rattles, and teething toys to engage your baby's senses and encourage development. The seat can be removed and used separately as a bouncer, giving parents a portable and convenient option for keeping their baby entertained. It also features a 360-degree rotating seat that allows your baby to reach all of the toys around them.
Our editors love finding you the best products and offers! If you purchase something by clicking on one of the affiliate links on our website, we may earn a commission at no extra cost to you.
---
---
Decorate
Access design inspiration that infuses personality and culture into your spaces.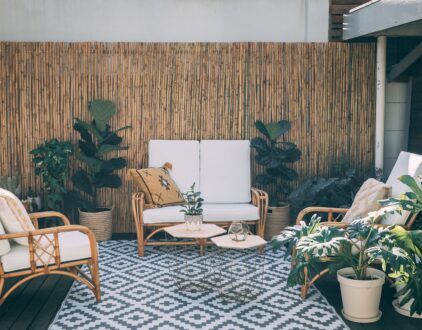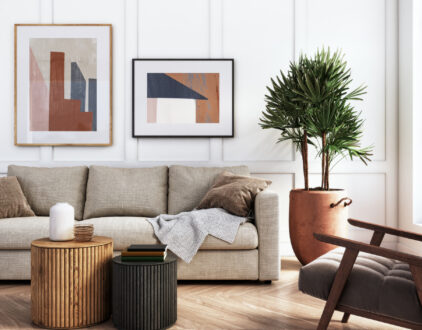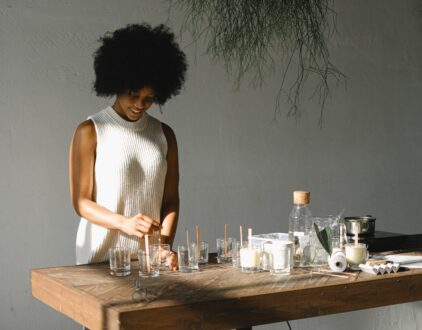 ---
Spaces
Whether it's luxury or ease, every area of your home should be as fabulous and unique as you.
FOLLOW ALONG ON INSTAGRAM
Find us on social for more home inspiration where culture, personal style, and sophisticated shopping intersect to help you create a home where you love to live.