Want to get the so-called "Rihanna nursery," but don't have a spare $25,000 laying around? Home & Texture's got you covered.
As everyone is undoubtedly aware, Robyn Rihanna Fenty has been breaking the Internet since her Super Bowl performance. At the performance, the pop star revealed that she was expecting a second child with her partner, rapper A$AP Rocky.
And she followed that performance up with a Twitter-breaking cover reveal for British Vogue, where she posed with her partner and son on a black sand beach.
A new era begins – and for @Rihanna nothing will ever be the same. Fresh from the Super Bowl and that very special announcement, Rihanna is British Vogue's phenomenal March 2023 cover star – but this is no ordinary cover. This is a family portrait: https://t.co/dYosr4a6Ah pic.twitter.com/xx4h7LisKU

— British Vogue (@BritishVogue) February 15, 2023
Since that "big reveal," the Rihanna Navy can't get enough news about "their fave." The billionaire and rising real estate mogul is, no doubt, getting ready to "nest" at home with her soon-to-be two little ones. And thanks to a rather interesting YouTube find, we're able to glean some insight into what the so-called "Rihanna nursery" looks like.
While this nursery is nothing if quite the glamorous look, we decided to see if we could find similar pieces for expectant moms who may not have tens of thousands of dollars to spend on their baby's room. In our research, we discovered that you don't have to sacrifice quality when you save money.
Here's how you can get the look of the so-called "Rihanna nursery" for less!
Jump to Products
---
1
Arcadia Wallpaper by Kenneth James
For the perfect tropical look in your nursery, look no further than the Arcadia wallpaper by Kenneth James. Each roll covers about 56 square feet, and contains an acrylic coating, making it easy to wash with just a damp rag. This is a very high-quality wallpaper with an unmatched design on very heavy paper — and we wouldn't expect Rihanna's nursery to get anything less than the best for her little one. And you, too, can get this same look in your own nursery without breaking the bank. Best of all, it's easy to remove as the baby gets older, so you won't go crazy trying to change the style in the future!
2
Rocking Chair by HOMREST
It's a fact of life: your baby will get up at least one time during the night. What better way to put the little one back to bed than in this comfortable rocking chair by HOMREST? This comfortable chair — very much like the one found in Rihanna's nursery — is made of soft memory foam and durable rubber fabric, making it easy to clean and comfortable for both Mom and Baby. Plus, its easy assembly will have the chair up and running in 15 minutes or less! (Just make sure to add it to the "honey do" list so Dad can be useful around the house.)
3
Raindrop Chandelier by OSAIRUOS
Perhaps the most prominent feature in Rihanna's nursery is the raindrop chandelier that's hanging right in the middle of the room. The bad news is, getting a chandelier exactly like the one Rihanna has will set you back tens of thousands of dollars. The good news is, you can get this replica by OSAIRUOS for a fraction of the price! What's more, you won't sacrifice form or function with this replica, as its sturdy stainless steel frame and 5-year no-questions-asked warranty will ensure you'll enjoy this gorgeous decor long after the little one is grown and out of the house.
4
Camellia 3-in-1 Convertible Metal Crib by Namesake
Your baby won't be in a crib forever, so why keep the crib forever? Fortunately, this 3-in-1 Camellia convertible metal crib by Namesake — which is very similar to the one Rihanna has in her nursery — will grow with your child! When the baby graduates from a crib to a toddler bed, the Camellia will convert with just a few simple clicks. And, if you'd like to convert it into a daybed, the Camellia can do that too! No need to spend hundreds of dollars with each of your child's growing phases, when this 3-in-1 crib and bed will handle it all with class and grace.
5
White & Gold Shelving by Safavieh
Safavieh is one of the most trusted names in luxury home decor, and for good reason. This established brand — which originally specialized in luxurious, Persian-style area rugs — has become synonymous with quality and durability. And while it's true that you'll pay a little more for this white and gold shelving set, having the Safavieh name behind it is all the reason you need to get it. With a genuine marble base, this shelving unit is crafted from the highest-quality metal and plated with the finest gold, making it just as good as the shelving unit found in Rihanna's nursery for a fraction of the price.
Our editors love finding you the best products and offers! If you purchase something by clicking on one of the affiliate links on our website, we may earn a commission at no extra cost to you.
---
---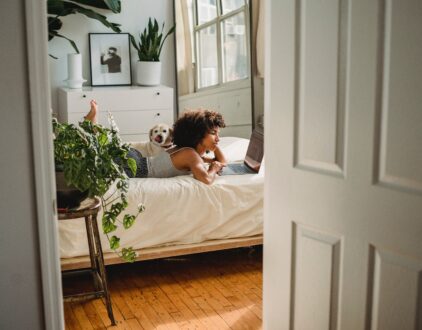 ---
Spaces
Whether it's luxury or ease, every area of your home should be as fabulous and unique as you.
FOLLOW ALONG ON INSTAGRAM
Find us on social for more home inspiration where culture, personal style, and sophisticated shopping intersect to help you create a home where you love to live.