Recliners have a pretty bad rep. A popular favorite among dads, recliners are not exactly known for their sophisticated style. But thanks to modern advancements, reclining chairs are making a comeback. And not only are they stylish, but they include a lot of new and improved features, too.
Types of Recliners
Recliners used to be considered bland and boring. And to many people, they still are. But as society progresses, so do advancements in the design space. And today, there are more super cool recliners than ever before.
For the busy body, a swivel reclining chair is a good idea to consider. That way, you can manage multiple tasks by easily spinning around. Or, perhaps you appreciate a more laidback vibe? If so, a rocking recliner can help relax you after a long day.
If you or your loved one struggles with mobility, a lifting chair can do the trick. Chairs that include lifting features can make sitting and standing more convenient. And if you enjoy cuddles, a sectional recliner is the perfect way for you and your beau to snuggle up comfortably.
Popular Recliner Features
Beyond the varying styles, many modern reclining chairs are equipped with helpful features as well. For example, you can find a number of chairs with heating functions to help you stay warm on chilly nights. And others include adjustable lumbar support to promote healthy spinal alignment.
You can enjoy your favorite snacks and drinks as many recliners include cup holders and compartments for storage. And if you need a hand alleviating pressure on your spine, there are quite a few recliners that feature zero gravity positioning so you can experience total relaxation.
7 Recliners for Young, Cool Dads
Thanks to modern advancements, recliners are taking comfort to new heights. From ergonomic to rocking, there are so many that can accommodate your every need. If you want to relax in style, here are seven reclining chairs for the young, hip dad:
1
Zaeley Vegan Leather Recliner
Recline in style with this recliner made from vegan leather. Made from thick, dense sponge material, this recliner is super comfortable. Plus, it includes an innovative swivel feature so you can conveniently face any direction.
2
Power Electric Recliner Lift Chair
This powerful chair provides the best way to relax at home after a long day. You can enjoy a warm massage due to its added features. And its power lift feature means you can relax in any position at any time.
3
Celia Upholstered Recliner
For a classic recliner with a modern twist, try this Celia Upholstered Recliner from Sand & Stable. Its nostalgic wing back includes an adjustable backrest for your convenience. And its black and white checkerboard pattern is super easy to match with the rest of your furniture.
4
Domica Upholstered Massage Chair
Need a quick pick-me-up after work? Relax and unwind with this super cool massage chair featuring a modern, ergonomic design. The cushion is made from premium quality board foam for a soft, comfortable feel. And its accompanying footrest provides the perfect support for your feet.
5
Canady Massage Chair
For a taste of luxury, this recliner is a godsend. It features a whopping eight massage modes that you can easily adjust for your convenience. And its smooth, velvet material provides the perfect cushion for long periods of sitting. Plus, installation is a breeze! You can easily assemble or disassemble your recliner in minutes.
6
Prescot Upholstered Swivel Recliner
For the Dad with a flair for the dramatic, this swiveling recliner is the perfect find. Its bright and bold upholstery print is ideal for adding a touch of personality to your space. And you can tilt it from 90° to 150° to enjoy relaxation on your terms.
7
Shoniqua Upholstered Recliner
If you can appreciate comfort and functionality, this innovative chair is for you. This modern recliner is made from smooth, soft velvet, providing an exceptionally comfortable way to lounge around in style. And beyond reclining, this chair also includes a rocking feature, which can help provide a calm, soothing experience.
Our editors love finding you the best products and offers! If you purchase something by clicking on one of the affiliate links on our website, we may earn a commission at no extra cost to you.
---
---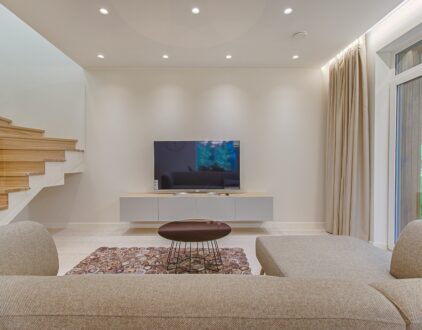 FOLLOW ALONG ON INSTAGRAM
Find us on social for more home inspiration where culture, personal style, and sophisticated shopping intersect to help you create a home where you love to live.