Gas stoves are a popular choice in home kitchens for cooking because of their quick heating capabilities, even heat distribution, and precision control. However, not all cookware are created equal, and some are better suited for use with gas stoves than others. Explore the best types of pots and pans to use with a gas stove.
Why the Right Pots and Pans Matter for Gas Stoves
One of the main reasons why the right pots and pans matter for gas stoves is because gas stoves can produce a lot of heat quickly. Pots and pans that are not able to handle high temperatures can warp, become discolored, or even crack under the extreme heat. This not only damages the cookware but can also pose a safety hazard in the kitchen.
Cracked pots and pans can cause hot liquids or foods to leak out, resulting in burns or scalds. The jagged edges of the cracked cookware can also be dangerous, causing cuts or injuries to hands and fingers.
Another reason why the right pots and pans matter for gas stoves is because gas stoves heat up quickly and distribute heat evenly. Because of this, it is essential to use cookware that can distribute heat evenly as well. Uneven heat distribution can result in hotspots, which can cause food to cook unevenly or burn in some areas while remaining undercooked in others.
Using the right cookware is also important because gas stoves offer precise control over heat levels. Cookware that responds quickly to changes in heat is essential for achieving the perfect cooking results. Pots and pans that are slow to heat up or cool down can make it challenging to achieve the desired temperature, resulting in overcooked or undercooked food. Among the best types of cookware to use on gas stones include cast iron, stainless steel, copper, ceramic and carbon steel.
Check out our best picks.
Jump to Products
---
1
Cast Iron Cookware 5-Pc Set
This essential collection comes with all the pieces you need to start your cast iron cooking journey, including two skillets, a 5-quart Dutch oven, and a pan rack organizer. With this set, you'll be able to fry, saute, braise, and sear meats and vegetables with ease. Cast iron is well-known for providing even heat distribution, making it perfect for all types of cooking. Whether you're using a gas stove, induction cooktop, grill, or even a campfire, this cookware will give you the perfect heat for improved cooking. The skillets in this set are a must-have for any chef, providing the perfect surface for searing meats and vegetables to perfection.
2
Calphalon 10-Piece Pots and Pans Set
The Impact-bonded aluminum base in this cookware set ensures that heat is distributed evenly, allowing for exceptional browning, searing, and sauteing. This feature is especially important when cooking delicate foods that require a gentle touch. The cookware set also features stainless steel long handles that stay cool on the stovetop, making it easy to handle pots and pans even when they're hot. This cookware set is designed with convenience in mind. It features measuring marks, pour spouts, and straining covers, allowing you to cook with efficiency. The pour spouts make it easy to pour liquids without making a mess, while the straining covers allow you to strain pasta or vegetables without having to use a separate colander. The cookware is also dishwasher-safe, making cleanup a breeze.
3
Gotham Steel Pots and Pans Set
The Gotham Steel hammered collection is a beautiful and practical addition to any kitchen. This cookware set is lightweight, scratch-resistant, and dishwasher safe, making it perfect for everyday use. The set includes everything you need to outfit your kitchen, including an 8.5-inch fry pan, a 10.25-inch fry pan with lid, a 1.5-quart saucepan with lid, a 2.5-quart saucepan with lid, a 5-quart stockpot with lid, and a stainless steel steamer. The award-winning ceramic and titanium coating ensures the ultimate easy release, with everything just sliding right off the pan without the need for oil or butter. This non-stick surface is ultra nonstick, making cooking and cleaning a breeze. The Granite Stone coating is derived from minerals and reinforced with diamonds, making this frying pan free of PFOA, PFOS, lead & cadmium for a healthy cooking experience.
4
Legend 14-Piece Copper Core Stainless Steel Pots and Pans Set
The Legend stainless steel copper core cookware is a high-quality set that is built to last a lifetime. This set is designed from the inside out and is perfect for serious home cooks and novices alike. The five layers of premium metal are chosen for rapid heating and retention, even heating, heat conductivity, and cooking stability. Each piece is carefully assembled, with the handles firmly riveted on, making them ideal for soups, stews, roasts, braises, and other heavy dishes on any stovetop. The 304 stainless steel is for safe, easy-clean cooking; the thick copper core is for rapid, reliable conductivity; the aluminum layers A and B help reduce the weight of the sturdy copper layer; and the 430 magnetic steel is for performance on all cooktops.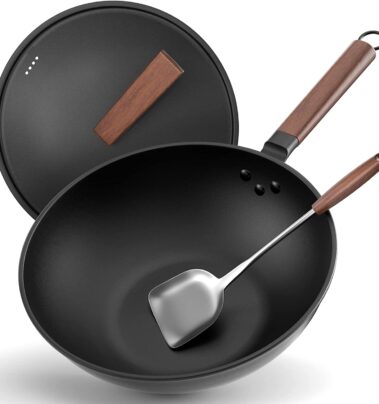 5
Todlabe Nonstick Wok, 13-Inch Carbon Steel Wok Pan with Lid
Carbon steel is the best material for a wok because it has a natural nonstick surface once seasoned. This wok is pre-seasoned at high temperatures over 1000 degrees using nitrogen treatment for excellent wear resistance, fatigue resistance, corrosion resistance, and high-temperature resistance. It is also free of any chemical coating. The large wok pan reacts quickly to heat adjustments and is specially designed to lock the juice and flavor inside the ingredients. With its greater curve and higher walls, heat is less concentrated on the flat bottom and better distributed up the walls. The high curvature results in a broader base for maximum area of heat transfer, allowing the burner flames to visibly hug the pow wok.
Our editors love finding you the best products and offers! If you purchase something by clicking on one of the affiliate links on our website, we may earn a commission at no extra cost to you.
---
---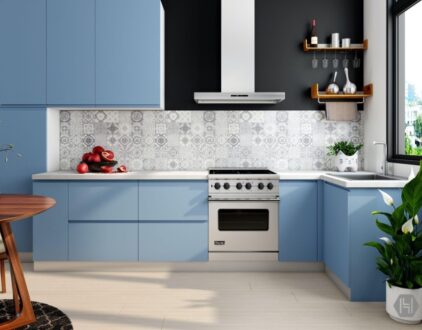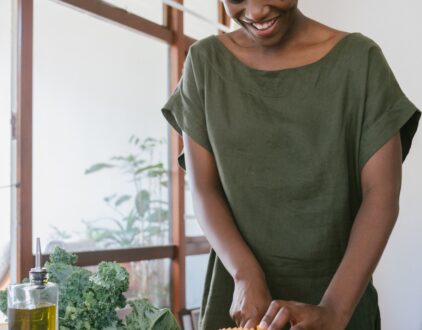 ---
Spaces
Whether it's luxury or ease, every area of your home should be as fabulous and unique as you.
FOLLOW ALONG ON INSTAGRAM
Find us on social for more home inspiration where culture, personal style, and sophisticated shopping intersect to help you create a home where you love to live.