Cooking is a love language and art form that is more enjoyable when done in a space you love. You may have spent hours browsing the internet and social media, curating your Pinterest board with items and ideas for your dream kitchen. However, designing a dream kitchen can be just as much a daunting task as it is exciting. The process of bringing your dream kitchen to life can be quite expensive. Fortunately, there are ways to make your dream kitchen fit your budget without sacrificing style or function.
Here's how you can create your dream kitchen to fit your budget.
Determine Your Budget
The first step to designing your dream kitchen on a budget is to determine how much you can afford to spend. It's important to be honest and realistic about how much you can afford. That way you don't end up overspending, going into debt or not finishing the work.
To determine your budget, list all the items you'll need to purchase and the expenses you'll incur. Factors to consider include the cost of appliances, countertops, flooring, cabinets, paint, labor and furniture. With a little bit of research and planning, you can come up with a budget that works for you.
Prioritize What You Need
It's easy to get carried away with items you don't necessarily need for your dream kitchen. When designing on a budget, it's important to prioritize the items that you need first. You can always go back and add items as your budget expands. Decide on what items are essential to your dream kitchen and what you need in your everyday life. This can look like keeping your current refrigerator, but upgrading your stove and microwave. You will avoid spending your budget on unnecessary purchases by prioritizing the items you need.
Do Your Research
There are many options when it comes to the different materials, finishes and appliances that go into designing your dream kitchen. Take time and do your research to find the options that are great quality, but align with your budget. For example, stainless steel appliances may be more expensive than white or black appliances, but the cheaper option may be just as good and chic.
DIY It
A major way to save money is by DIYing certain parts of your dream kitchen. There are many YouTube videos that will teach you how to take on projects like installing new hardware, laying tiles or painting cabinets. This can save you thousands of dollars. You should be honest and realistic about your time and abilities. Hiring a professional may make more sense if you're not comfortable or skilled in an area.
Hire A Professional
On the flip side, hiring a professional can save you time and money in the long run if you aren't comfortable with DIY projects for your dream kitchen. By hiring a professional, you can be sure that things will be completed properly, and you'll avoid having to spend extra money fixing costly mistakes. Hiring a professional for projects like installing new cabinets and countertops is recommended.
Take Advantage Of Sales And Discounts
There are sales happening every day. Be on the lookout for retailers offering discounts on materials, appliances and other kitchen items throughout the year for your dream kitchen. Remember to inspect each item for quality and functionality before snagging the discount. It's also helpful to look for stock items. Instead of going for custom cabinets and countertops, stock alternatives are pre-made and marked at a lower cost. They may not be as custom as you wanted, but that doesn't mean they won't be chic and functional.
Use What You Have
When designing your dream kitchen, a common misconception may be that you need everything to be brand new. If you are designing on a budget, consider keeping items you already have and repurposing them. This can look like painting old cabinets and giving them new hardware. There are many ways to repurpose items you already have and give them a new look at a fraction of the price of purchasing a new item.
Designing your dream kitchen on a budget is totally possible with planning, honesty and research. Take the time to determine a budget that works for you, research your options and prioritize expenses that are absolutely necessary. With these tips in mind, you can create the kitchen of your dreams without breaking the bank.
---
---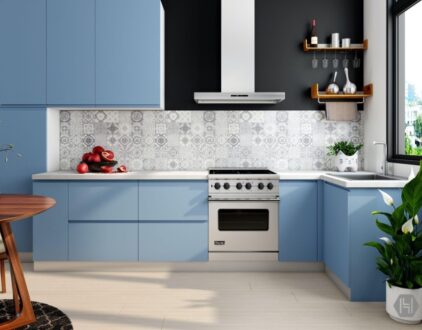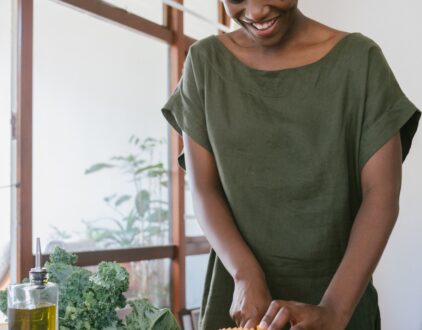 ---
Spaces
Whether it's luxury or ease, every area of your home should be as fabulous and unique as you.
FOLLOW ALONG ON INSTAGRAM
Find us on social for more home inspiration where culture, personal style, and sophisticated shopping intersect to help you create a home where you love to live.