Non-stick cookware has been popular for many years, but concerns about the safety of Teflon coating have led many people to seek out alternatives. While Teflon is known for its ability to prevent food from sticking to pots and pans, some studies have shown that the chemicals used to make Teflon can be harmful to your health.
Fortunately, many non-stick cookware alternatives exist on the market that provide the same benefits without the risks. Get ready to free yourself of that Teflon guilt and fire up the stove, because we've compiled a list of some impressive non-stick cookware like pots, pans, and air fryers that are sure to serve up all the fixings and then some.
What Is Teflon?
Teflon is a brand name for a type of non-stick coating called polytetrafluoroethylene (PTFE) — a mouthful, no pun intended. PTFE is a synthetic polymer that is used to coat pans and other cookware. Teflon-coated cookware is known for its ability to prevent food from sticking to the surface, which makes it easier to cook and clean.
The Dangers of Teflon
You'll find the villain within the chemicals of Teflon-coated cookware, the film that gives it the non-stick coating. While Teflon products have been PFOA-free since 2013, they can still release harmful chemicals when heated above 500 degrees. Non-stick cookware also till has questionable chemicals like fluoropolymer. Its effects on our health still aren't entirely clear.
We do know that these fumes can cause flu-like symptoms, including headache, fever, and nausea. Additionally, Teflon-coated cookware can also pose a risk if the coating becomes scratched or damaged. When the coating is damaged, it can release toxic particles into the air and the food that you are cooking.
Alternatives to Teflon-Coated Non-stick Cookware
The good news is you can find many alternatives to Teflon-coated cookware to stay safe in the kitchen. Here are some of the best options:
Stainless Steel – Stainless steel cookware is a durable and versatile option that can be used on a variety of heat sources. While it is not naturally non-stick, you can make it more non-stick by heating the pan before adding oil or food.
Cast Iron – Cast iron cookware is naturally non-stick, and it can be used on a variety of heat sources, including stovetops, ovens, and even open flames. Cast iron pans are also durable and can last for generations with proper care. Ever experienced the gooey, soul-hugging goodness of a cast-iron skillet cookie? Trust us it's a life-changing culinary experience.
Ceramic-Coated Cookware – Ceramic-coated cookware is a popular non-stick alternative. Ceramic is a non-toxic and non-reactive material that is safe to use with food. Ceramic-coated pans are also scratch-resistant and can withstand high temperatures.
Jump to Products
---
1
GreenPan Valencia Pro Ceramic Non-Stick Frypan Set
The Valencia Pro Ceramic Non-Stick Frypan Set from GreenPan is a great non-stick alternative to traditional Teflon-coated cookware. This three-piece set includes 8-inch, 10-inch, and 12-inch frypans, all featuring a ceramic non-stick coating that is free of PFAS, PFOA, lead, and cadmium. The ceramic coating provides excellent non-stick performance and is scratch-resistant, making it a durable choice for everyday cooking. The frypans also feature hard-anodized aluminum construction, which provides fast and even heat distribution. The stainless steel handles are riveted for added strength and stability, and the frypans are oven safe up to 600 F.
2
Cuisinart Chef's Classic Stainless Stainless Steel Skillet
Upgrade your kitchen game with the Cuisinart Chef's Classic Stainless Steel Skillet. The durable material allows for even heat distribution, so you can cook your food to perfection without any hot spots or burning. It also has a solid, comfortable handle that stays cool to the touch, making it easy to move the skillet around while you prepare your food. With its large 14-inch diameter, this skillet is perfect for cooking large batches of food, whether you're searing meats, frying eggs, or sautéing vegetables. It's also safe for use in the oven, so you can easily transition from stovetop to oven without having to transfer your food to a separate dish. Cleaning this skillet is a breeze, as it's dishwasher safe and requires no special care or maintenance.
3
BergHOFF Neo Collection Cast Iron 3-Piece. Cookware Set
Made of high-quality cast iron, this set provides a natural, chemical-free non-stick surface that's safe and effective for all your cooking needs. It includes a 4.5-quart covered casserole, a 10-inch covered skillet, and a 4.5-quart covered sauté pan, each with a durable enamel coating that provides excellent heat distribution and retention. The set's heavy-duty construction ensures that it will last for years, making it a smart investment for any home cook or professional chef. The set's sleek, modern design adds a touch of style to any kitchen, while its easy-to-clean surface makes it a breeze to maintain. The included lids help to trap in moisture and heat, making it easy to cook your food to perfection. Plus, the set is safe for use on all stovetops, including induction, and can also be used in the oven.
4
GOTHAM STEEL Hammered 15-Piece Complete Cookware and Bakeware Set
Upgrade your kitchen game with this versatile set that includes everything you need to cook up a storm, from pots and pans to baking sheets and cake pans. Made with a high-quality non-stick ceramic coating, this set provides a safe and effective alternative to Teflon-coated cookware. Its unique hammered design not only looks great in any kitchen but also helps to prevent food from sticking to the surface, making it easy to cook and clean up. The set includes a variety of pots and pans in different sizes, as well as a selection of baking sheets and cake pans, so you can cook up a variety of dishes with ease.
5
GreenPan Bistro 13-in-1 Multi Cooker Air Fryer Grill
This all-in-one kitchen tool can grill, air fry, bake, roast, and more, making it a must-have addition to any kitchen. The Bistro Multi-Cooker is made with a non-stick ceramic coating that's free from Teflon, making it a safe and effective alternative to traditional non-stick coatings. Its large 13-quart capacity can handle even the biggest meals, making it perfect for cooking for the whole family or hosting dinner parties. The appliance features easy-to-use digital controls and a bright LED display that makes it easy to select your desired cooking function and temperature. The included accessories, such as the grill rack, air fry basket, and baking tray, make it easy to cook a variety of dishes with ease. The Bistro Multi-Cooker is also easy to clean, thanks to its non-stick surface and dishwasher-safe accessories.
Our editors love finding you the best products and offers! If you purchase something by clicking on one of the affiliate links on our website, we may earn a commission at no extra cost to you.
---
---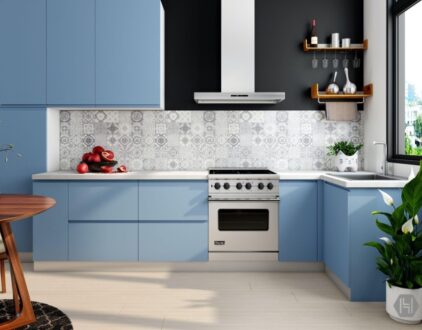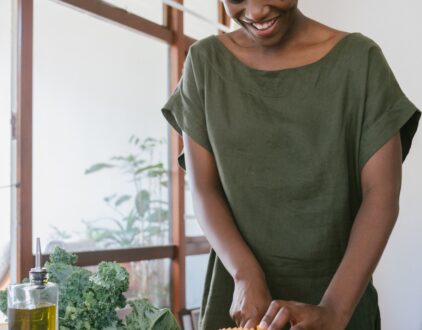 ---
Spaces
Whether it's luxury or ease, every area of your home should be as fabulous and unique as you.
FOLLOW ALONG ON INSTAGRAM
Find us on social for more home inspiration where culture, personal style, and sophisticated shopping intersect to help you create a home where you love to live.