Decorating with books can be a great way to add character, sophistication, and a personal touch to your living space. Not only do they offer visual appeal, but they also provide a number of practical benefits to your home as well.
The Benefits of Decorating with Books
Decorating your space with a diverse collection of books provides instant access to a wealth of knowledge. Depending on the books you choose, you can explore a number of genres and topics, from Black history to Bizarro. This serves as a great resource for improving learning and research skills.
Decorating with books can also build personal growth and development by promoting intellectual curiosity, critical thinking, and creativity. It can broaden your perspective by exposing you to the knowledge and even wisdom found in many books, whether fiction or non-fiction.
Studies show that reading can have a positive impact on our mental health and mood, too. It can help reduce stress and anxiety after a long day and provide a break from the hustle and bustle of everyday life. This can lead to a greater sense of satisfaction and fulfillment.
Incorporating books into your home decor also allows you to customize your space according to your preferences and interests. For example, you can arrange your books by genre or even color, present your favorite editions, and showcase decorative books that complement your aesthetic.
How To Add Personality to Your Space With Books
Whether you have a home library or a few magazines resting on a coffee table, books are a great way to spice up your home decor. Not only are they an attractive way to decorate your space, but they also provide hours of entertainment. Here are five ideas for how to incorporate books into your home decor:
Create a Reading Nook
To create a warm and inviting reading area in your home, set up a comfortable chair or seating arrangement for cozying up to read. To decorate, you can also add a small table and floor lamp for lighting.
The purpose of a reading nook is to create a sense of privacy. To do this, try adding bookshelves or using standalone bookcases to surround the area. You can also consider wall dividers in different styles and colors to really make the space your own.
Color Coordinate
Tap into your creative side by color coordinating your book display in multiple shades and tones of a single color. If you want a gradient effect, try transitioning from light to dark colors. Or, you can arrange your book collection in a rainbow spectrum for a more colorful and playful display.
If you have trouble deciding which colors to use, take a look at a color wheel. Pick colors that are opposite each other on the wheel to create a pleasing contrast.
Install Floating Shelves
For a modern aesthetic, try installing floating shelves on a wall to highlight your favorite books. Floating shelves are shelves that appear to float against the wall without the use of visible supports. And for a fun way to retrieve them, opt for a sliding ladder so that you can not only access books on higher shelves but add an interesting detail to the room as well.
Consider a Statement Piece
To make bookshelves stand out in a room, arrange your books with other knickknacks or alternate between orientations. Mix vertical and horizontal stacks of books, add decorative items, and include potted plants to add a touch of greenery. This can create an adorable exhibit that highlights your book collection in a decorative way.
Make Use of Your Coffee Table
Place large, colorful books on your coffee table to enhance your living room. Aside from a coffee table, you can also arrange them on a side table or even an ottoman to add appeal to your space. Coffee table books come in a number of different themes such as art, photography, travel, or design — the perfect conversation starter.
---
---
Decorate
Access design inspiration that infuses personality and culture into your spaces.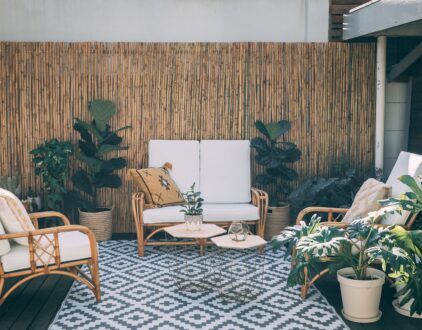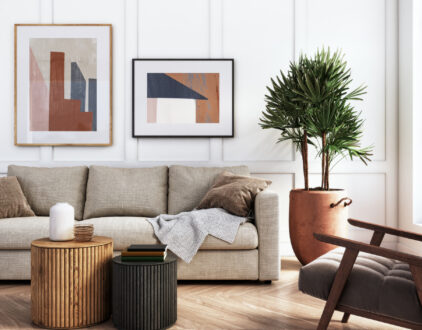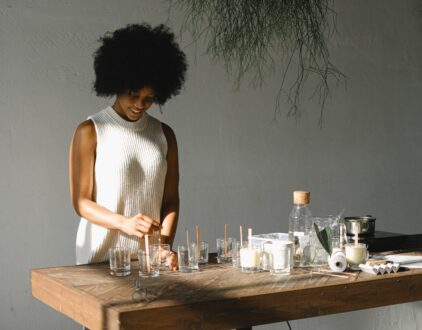 FOLLOW ALONG ON INSTAGRAM
Find us on social for more home inspiration where culture, personal style, and sophisticated shopping intersect to help you create a home where you love to live.