These coffee table books by Black authors hold key decor inspiration and information that you need to study to improve your home. These books by notable Black authors will impress all of your family and friends.
Coffee Table Books As Decor
View this post on Instagram
Nothing will beat a beautiful book that not only looks amazing, but also encompasses art, design and history.
The right book will double as a designing element and a useful tool to unlock a homeowner's inspiration. The work of notable Black interior designers, like Justina Blakeney and Roderick N. Shade, may inspire a DIY project in your home. These books will take the hard part out of understanding color theory and other design aspects.
Black Design History
Coffee table books don't have to strictly be decorative. Some of the best coffee table books written by Black authors have an underlying connection to the Black experience. Whether it's about Harlem's urban style aesthetic or a fusion of popular design styles mixed with Black culture, you will find what design style fits you in these renowned design books.
These books are to help and inspire you. Have fun with these books and don't think too hard. In the very least, these books will serve as perfect eye-catching table accessories. Home and Texture has compiled a list of books by Black authors to help you get started.
Jump to Products
---
AphroChic: Celebrating the Legacy of the Black Family Home
This interior design book puts Black culture in a unique, vibrant perspective. It offers tips for aspiring, new and seasoned homeowners. You'll find a number of home interior styles from celebrities and creatives, such as actress Danielle Brooks and author Jason Reynolds. After reading this book, you'll feel more confident about decorating your home. If you ever wanted to incorporate Black culture furnishings into your space or just want your home to represent your family's lineage, this book gives you all the information you need to bring your dream to life. It also has a beautiful cover, which makes it a perfect table accessory.
Style and Grace: African Americans at Home
If you have any questions about architectural history or Harlem, New York, then you need to read this book by Michael Henry Adams. Adams is a renowned preservationist that champions preserving sites and locations that are pivotal to Black history. "Style and Grace: African Americans at Home" is the ultimate Pinterest board in book form. This book gives homeowners the opportunity to be inspired by the homes of Gordon Parks, Sylvia Williams, Charles Rangel and more. Adams has spent his entire career opposing corporations and politicians that want to destroy legacy locations, homes and other significant buildings that were once cornerstones of Black American culture. His rich background in history, art, activism and the intersectionality of queerness and Black identity is felt among designers and historians in New York City and across the globe.
My Beautiful Black Hair: 101 Natural Hair Stories from The Sisterhood
Christen your home with this beautiful, affirming coffee table book that showcases the beauty of natural hair. Photographer and author St. Clair Detrick-Jules decided to showcase the versatility and power of Black women's natural hair with love in this book. The author came up with the concept when she noticed her young sister was suffering from a lack of representation. She grabbed her camera and proceeded to help her sister's self-esteem by taking candid photos of not only her sister, but other Black women with natural hair. This book will be a great addition to any Black home that wants to enforce positive imagery.
Jungalow: Decorate Wild
If you want to tap into bold, bright colors with a chill bohemian vibe, then you need to follow and learn from interior designer Justina Blakeney. Blakeney founded Jungalow, which is a company where she sells vibrant pillows, rugs, bedding, mirrors, ceramics and other small, transformative decor. This book is an extension of that company and she helps readers who may not be fully comfortable with their designer's eye. In this book, she gives readers a comprehensive guide on how to find and explore their interior design style. Blakeney dares the reader to step out of their comfort zone to explore the endless possibilities of making their home into the ultimate paradise.
Harlem Style: Designing for the New Urban Aesthetic
Legendary interior designer Roderick N. Shade founded the Harlem United Showhouse, which is the first design house that showcased Black designers. A lot has changed since 1998, but millennial homeowners sill are discovering the eloquent decor pieces of Black designers. In his still-celebrated book, Shade highlights a modern urban and sophisticated approach to what people associate with Harlem, New York. He brilliantly pairs city living with Black culture to create one-of-a-kind aesthetics that are luxurious and culturally rich. This coffee table book will inspire you and make you appreciate how rich and plentiful Black culture is.
Our editors love finding you the best products and offers! If you purchase something by clicking on one of the affiliate links on our website, we may earn a commission at no extra cost to you.
---
---
Decorate
Access design inspiration that infuses personality and culture into your spaces.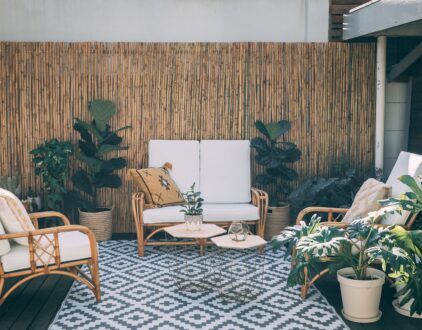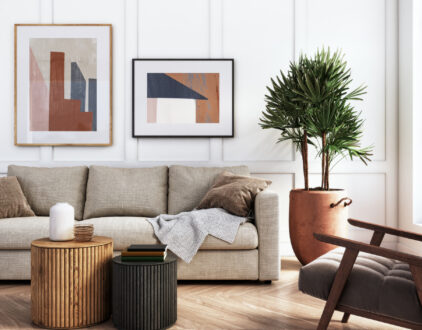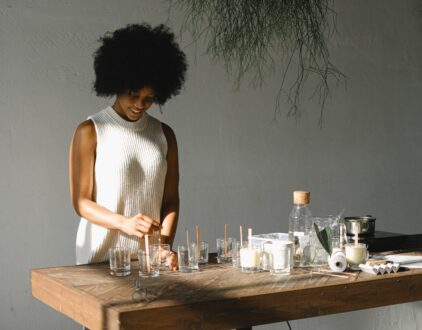 ---
Spaces
Whether it's luxury or ease, every area of your home should be as fabulous and unique as you.
FOLLOW ALONG ON INSTAGRAM
Find us on social for more home inspiration where culture, personal style, and sophisticated shopping intersect to help you create a home where you love to live.