Entryway tables are typically the masterpieces you see first when walking into a home. They set the tone and display your style, whether it be modern, natural, or chic and bold. To implement your style, you want to make sure to incorporate different textures, play with contrasts, and show who you are through your decor choice. It's easier said than done, but we've compiled a list to help you get started.
7 Decorative Pieces to Style Your Console Table
If you're struggling with how to spruce up your entryway table, use these decorating ideas to get started on beautifying the entrance of your space.
Fresh Flowers and a Chic Vase
You can never go wrong with fresh flowers. Besides, who doesn't love coming home to beautiful flowers? Welcome nature into your home with your favorite pieces from your garden paired with a chic, stylish vase for an instant transformation. Use this as an opportunity to add vibrant colors to a neutral space. Think about a tall, narrow vase for elongation and smaller accents for decoration.
Mirrors
Mirrors are one of the most popular items that are used to style an entryway table. Whether it's mounted above your console table or leaning on your wall, this will elevate the entrance to your home. Mirrors are also the perfect addition to any space when you're needing to check your reflection on your way out. The style and shape of the mirror are your choice, but consider the size in comparison to your table. You don't want a mirror too small or too big.
Small Trinkets and Knickknacks
Show personality with small trinkets and knickknacks. This is your chance to get creative and bold, and depending on your aesthetic, play with items that will add to your home. Keep in mind to leave empty space in between pieces so that it appears to be attractively curated, not cluttered.
Lamps and Candles
A lamp is a must-have for your entryway. If you want to go for a minimal look, opt for a cute mini lamp. If you're looking for a more sophisticated vibe, opt for a larger, tall lamp. Have fun with your choice of shade and base.
Whether they're lit or not, candles are staple items for decor accents. Group stick candles together for a vignette look or focus on one large three-wick candle that matches the color scheme and aesthetic you're going for. Both lamps and candles will offer a sense of calmness and tranquility.
Family Photos
Print out your most meaningful family photos and put them in nice, sleek frames. Add them to your console table, and you'll be able to catch a glimpse of your dearest family members when heading out the door.
You can also implement the layering technique. Whether you'd like to print and frame different sizes of family photos or artwork, layer them by lean the larger frames on the wall and the smaller frames on the larger frames. As a result, you'll end up with multiple pieces of artwork or family frames to show off.
Ottomans or Woven Baskets for Extra Storage
In need of extra storage? Opt for ottomans and baskets to place under your console table. Commonly used to store blankets, you can also store other items such pet gear, shoes, books, extra cushions, and so much more.
A Trusty Tray
A tray has so many uses and comes in handy no matter where you decide to place it. Keep valued possessions organized in one area or use it for things like keys, jewelry, and other items.
Your entryway space should make a statement when you walk into your home. It's the welcoming masterpiece that sets the tone for what to expect. Whether it is a narrow console table for a small space or a sizable entryway table, make sure it reflects your personality and style.
---
---
Decorate
Access design inspiration that infuses personality and culture into your spaces.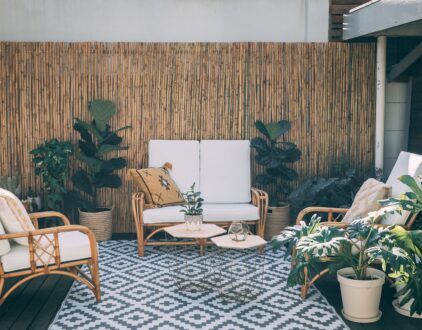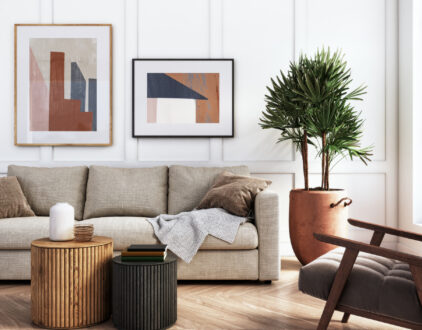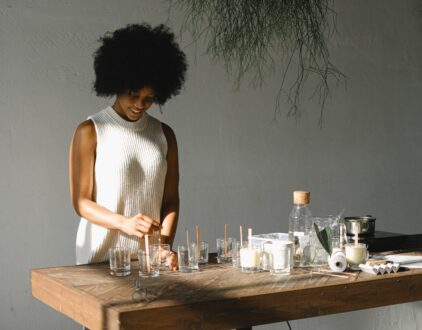 FOLLOW ALONG ON INSTAGRAM
Find us on social for more home inspiration where culture, personal style, and sophisticated shopping intersect to help you create a home where you love to live.