The first chill of fall kicks off a season that may as well be a lifestyle. Bright colors of summer simmer down into warm, muted hues, and scents of apple, vanilla, maple and pumpkin spice fill the air. Layers become a thing again, and not just for taking on the outdoors. Throw blankets are the real showstoppers of your home this season, making any room a comfy joy to be in. If you're getting ready to add some effortless coziness to your home, check out these picks for fall throws.
Choosing a Throw Blanket Material
From the soft embrace of cotton to the warmth of fleece, throws come in diverse materials, each with its own appeal. Cotton throws are known for their breathability and lightweight nature, making them an excellent choice for slightly chilly evenings when you need just the right layer of comfort.
On the opposite end of the spectrum, wool throws shine in their exceptional warmth retention. The wool fibers trap heat, making wool throws perfect for those extra cold nights. Fleece throws offer a fluffy and soft texture, creating a cozy nook that's just right for relaxation.
Selecting the Perfect Throw for Fall
There are just a few things to think about when shopping for a throw blanket. Texture plays an important role, so choose a material that not only complements your furniture but also adds visual interest to the room. Also, the size of the throw matters; choose a size that aligns with your intended use, whether it's a personal wrap for you or a decorative element.
Caring for Your Throws
Proper care will keep your throws around season after season. Always check the care instructions from the manufacturer. While cotton and fleece throws are often machine washable, wool throws demand more delicate care. During warmer months, storing your throws in a cool, dry place prevents any damage and preserves their quality.
1
Cozy Bliss Luxury Soft Fuzzy Faux Fur Throw Blanket
No animals were harmed in the making of this fluffy throw! Wrap yourself in the luxurious coziness of this blanket—it's like being enveloped in a warm hug. It isn't just cuddly, it softens up any room, turning your bedroom or living room into a peaceful retreat when draped on sofas, armchairs, and beds. You'll appreciate its lightweight nature—it's a perfect blend of snugness and practicality. Whether you're lounging on the couch or curling up in bed, this blanket takes coziness to a whole new level with its lush density. It's also extremely easy to clean, just toss it in the washing machine with cold water on a gentle cycle, then tumble dry.
2
Premium Pom Pom Throw Blanket
Made from top-notch hypoallergenic microfiber, this ultra-soft throw blanket is a comfy addition to your home. The whimsical pom poms are playful and set it apart from regular throws, making it perfect for livening up a space with charm and character. It also maintains its fluffiness while staying shed-free. It's lightweight and breathable, made from warming fleece. Because it's hypoallergenic, your whole family, including pets, can curl up in a cocoon of warmth. Designed in California, the Craft & Kin Collection is dedicated to creating products that harmonize with your home and family. Every piece is an expression of cherishing the things and people close to your heart to add more love and warmth to your life.
3
Waffle Linen Throw Blanket
Discover the luxurious comfort of the Normandy Material—a blend of breathable linen and soft cotton that not only offers a comfortable feel but also features a natural texture. Because of its meticulously crafted design, this material evolves with softness that gets cozier over time. The double-layer design of this blanket is where functionality meets style. A union of the waffle surface and the wrinkly stone-washed bottom gives you the freedom to play around with your room decor. The Normandy Material linen blanket effortlessly complements various home styles, whether it's boho, farmhouse, luxury, or modern.
4
Crafted by Catherine Premier Ribbed Cozy Knit Throw Blanket
Experience the epitome of comfort with this incredibly soft oversized throw. Curl up with plenty of room to wrap yourself in completely (and then some) with its large dimensions of 60 by 70 inches. What's even better is the reversible design that brings versatility to your space. Flip it over and the throw still looks great, giving you two versatile options in one. Made from 100% polyester, this throw comes in a variety of pastel styles and colors, making it easy to find the perfect match for your interior decor. Whether you're into bold hues or subtle shades, there's a blanket that complements your style.
5
Comfy Cubs King Muslin Blanket
Hot sleepers can rarely catch a break finding the perfect blanket that keeps them comfortable, but this throw is a game-changer! Made from 100% Muslin cotton, this breathable fabric takes care of sensitive skin and gives a cooler night's sleep. With a unique 6-layered weave, it doesn't just look great, it feels great, too. The intricate design makes any room look both welcoming and elegant. Whether you prefer a calming hue or something more vibrant, there's a color that resonates with your personal style and complements your living space. Choose from 10 different colors, including Sky Blue, Lace, Sage, White, and Slate.
6
BARMY Weighted Lap Blanket
If you've never experienced the calming effects of a weighted blanket, it's time. They're loved for promoting a restful night's sleep, easing anxiety and providing sensory regulation. Ideal for both adults and kids, this six-pound blanket is perfect for unwinding after a long day. Microbeads evenly fill small compartments, evenly distributing the weight for relaxation you'll look forward to coming home to. It comes with removable, washable covers for easy cleaning. Also, if you're on the go and looking to take a piece of home with you, pack it up in the sturdy PVC bag with handles, and you're set.
Our editors love finding you the best products and offers! If you purchase something by clicking on one of the affiliate links on our website, we may earn a commission at no extra cost to you.
---
---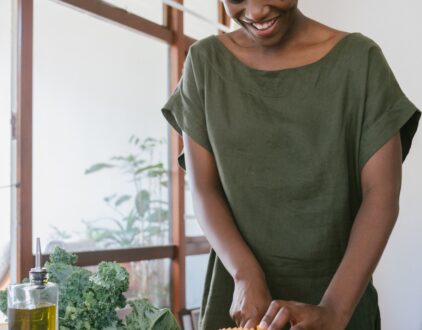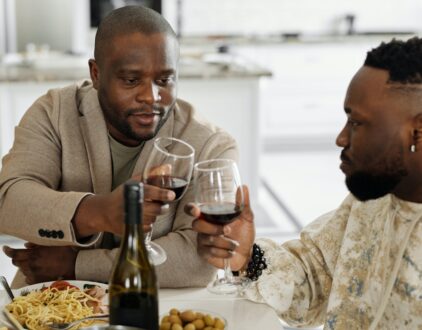 ---
Spaces
Whether it's luxury or ease, every area of your home should be as fabulous and unique as you.
FOLLOW ALONG ON INSTAGRAM
Find us on social for more home inspiration where culture, personal style, and sophisticated shopping intersect to help you create a home where you love to live.