At the end of a long day, there's nothing quite like coming home to a cozy and welcoming environment. And nothing sets the mood for relaxation and comfort like the perfect lighting. Whether you're entertaining guests or just lounging on the couch, the right kind of lighting can transform your home from drab to fab in no time. But with so many options out there, where do you start? We've compiled a list of the best lighting to make your home more chic.
Why it's Important
Lighting can create a sense of depth and texture in a space, accentuating architectural features and decorative objects. It can also set the mood for relaxation and comfort, whether you're unwinding after a long day or entertaining guests. Additionally, it can affect your mood and overall well-being.
Selecting the Right Types of Lighting
When selecting the right kind for your home, consider the different layers that can be used to create a cohesive and inviting space. This includes ambient lighting, which provides overall illumination; task lighting, which provides focused illumination for specific tasks; and accent lighting, which highlights artwork and decorative objects.
Examples of Types of Lighting
Chandeliers are a timeless option that can add sophistication to any room. They work best in entryways, dining rooms, and bedrooms, where they can make a statement and create a focal point.
Pendant lights are a versatile option that can work in almost any space, from kitchens to living rooms. They come in a range of sizes and styles, from simple and understated to bold and eye-catching.
Table lamps are an essential part of any cozy home. They create warmth and ambiance in a space and can be used to highlight artwork or decorative objects.
Floor lamps are another versatile option that can work in a variety of spaces. They can be used to create a comfy reading nook or to add ambiance to a living room.
Jump to Products
---
1
Crystal Chandelier
This GMlixin crystal chandelier will easily become the star of your dining room, living room, or entryway, whether you're hosting a dinner party or just enjoying a quiet night in. It features a modern, sleek design, eight lights, and three tiers of delicate, glamorous crystals. The crystals are made of high-quality glass, creating a dazzling and eye-catching effect when the light hits them. The chandelier's adjustable chain allows you to customize the height to fit your space perfectly. Installation is easy, with all the necessary hardware included. It can also be used with a dimmer switch, allowing you to adjust the light according to your mood and preferences.
2
Elk Home Diffusion Modern 4-Light Chandelier
Crafted from high-quality materials, this chandelier features an oiled bronze metal finish that adds warmth and luxury to your home. The beige organza fabric shade beautifully diffuses the light, creating a soft glow. The addition of the mercury glass gives it a vintage charm without feeling dated, making it a perfect fixture for those who love mid-century modern and luxe glam aesthetics. One of the unique features of this chandelier is that it's compatible with LED bulbs and comes with a dimmer, allowing you to customize the lighting to suit your needs and create the perfect ambiance for any occasion.
3
Henn&Hart 2-Light Floor Lamp with Fabric Shade
This floor lamp is an excellent choice if you're looking for lighting that combines style and functionality. Understated yet elegant, it features a modern design with polished nickel that can complement any décor, from minimalist to traditional. Henn&Hart prides itself on pieces that boast modesty and quality while streamlining with your decor. The two lights provide ample illumination, making it perfect for reading, working, or just relaxing. Cloaked in white fabric shade, it creates a warm and inviting glow that adds a welcoming ambiance to your space. This easy-to-assemble statement piece cultivates personality and charm, making any room feel more lively.
4
Arc Floor Lamp with Dimmer
Arc floor lamps make a dramatic statement over a minimalist or modular sofa, balancing out an otherwise plain living room. Its adjustable hanging shade can be used to showcase artwork or accent pieces in your room or simply illuminate a dark corner where standing lamps can't reach. The dimmer switch allows you to adjust the light according to your mood and preferences, making it great for relaxing, reading, or entertaining. The lamp also features a sturdy base and an adjustable height, allowing you to customize it to fit your space perfectly. It also comes with a 9W LED bulb, which is not only energy-efficient but long-lasting as well.
5
Farmhouse Table Lamps with USB Ports
Rustic farmhouse style meets modern design with this set of touch-activated lamps! One of the most notable features of these lamps is the built-in USB port, which allows you to charge your phone or other electronic devices while you relax or work. This convenient feature eliminates the need for additional power outlets or cords, keeping your space neat and tidy. You'll stay connected while maintaining a chic aesthetic. The dimmable Edison bulb is another feature that sets this lamp apart from the rest. You can adjust the brightness according to your preferences, creating an ideal atmosphere for any activity, from reading to ambient lighting.
6
Touch Bedside Table Lamps
We love this lamp for its look, which resembles a stemless glass of wine. With a unique and minimalist design, this lamp set is a subtle addition to your modern living space. Featuring a touch control function, you can easily adjust the brightness of the lamp to your liking with just a simple tap. The warm and soft glow of the lamp provides a relaxing atmosphere, complementing your bedside table or living room end table. This lamp set also comes with a built-in USB port, a feature especially handy for those with limited space in their living area.
7
iYoee Mini Pendant Light
This stylish lamp is great for a variety of spaces, from kitchens to dining rooms to living rooms and more. Its unique adjustable design sets the iYoee Pendant Lamp apart from other lamps. The lamp features a flexible cord that can be adjusted to your desired length, which works effortlessly for high or low ceilings. It's also compatible with sloping or parallel ceilings. What's great about this lamp is that it is also incredibly easy to install. Simply hang the lamp from the ceiling using the included mounting hardware. Additionally, it features a high-quality, energy-efficient LED bulb that provides bright and long-lasting light.
8
Modern LED Pendant Light
With its contemporary design, this modern LED light looks stunning over any kitchen island or in a dining room, bedroom, entryway, or hallway. Crafted from high-quality materials, it features a durable chrome finish that modernizes any space. With its energy-efficient LED technology, this pendant light provides bright, daylight 6000K illumination. Whether you need task lighting for your kitchen or ambient lighting for your bedroom, this pendant light has you covered. Easy to install and adjust, it comes with all the hardware you need to hang it up and shine. This elegant update is the perfect way to illuminate your home in style.
Our editors love finding you the best products and offers! If you purchase something by clicking on one of the affiliate links on our website, we may earn a commission at no extra cost to you.The Best Lighting to Make Your Home More Chic
---
---
Decorate
Access design inspiration that infuses personality and culture into your spaces.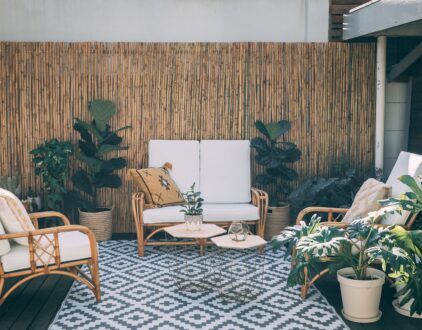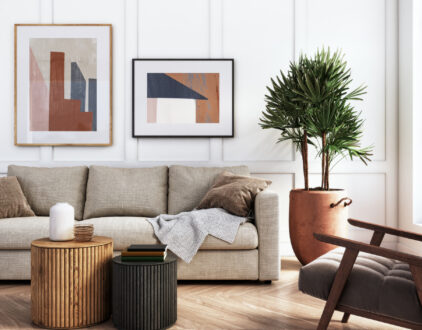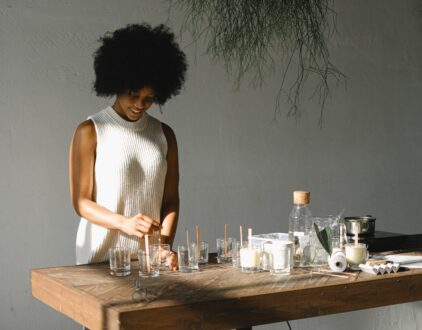 ---
Spaces
Whether it's luxury or ease, every area of your home should be as fabulous and unique as you.
FOLLOW ALONG ON INSTAGRAM
Find us on social for more home inspiration where culture, personal style, and sophisticated shopping intersect to help you create a home where you love to live.