The moment that crisp autumn breeze rolls in, it's on. Plush sweaters, piles of cozy blankets and comfort foods take center stage for the next few months. Naturally, you're ready to dust off that fall decor, but nothing transports you into a new season like the first rich aromas. You can't beat classics like pumpkin spice and apple cinnamon, but if you're feeling adventurous, there's plenty of variety if you're up for something different. Check out these picks for fall home fragrance favorites with candles, diffusing oils and room sprays to choose from.
Candles: A Symphony of Autumn Aromas
Candles just may be the most iconic way to infuse your home with fall scents. When selecting candles for the season, consider going for those made from soy or beeswax. These materials burn cleanly so that the fragrances are released without any harmful toxins.
Diffusers: Effortless Aromatherapy
Diffusers are a modern and trendy way to add fragrances throughout your home. They work by emitting a fine mist infused with essential oils, creating a calming and refreshing atmosphere. Ultrasonic diffusers and reed diffusers are popular choices for fall. Ultrasonic diffusers use water to disperse essential oils as a mist, while reed diffusers use natural reeds to slowly release scents into the air.
Room Sprays: Instant Burst of Fall
Room sprays offer a quick and effective way to refresh your living spaces with fall scents. You can purchase ready-made sprays for a quick burst of fall atmosphere. Spritz room sprays in areas where airflow is most common, such as near windows and vents. You can also lightly mist upholstery, curtains, and linens for a longer-lasting fragrance.
Top Fragrance Notes for Fall
If you're like many fall enthusiasts, you'll reach for scents like spiced apple, pumpkin pie, and sandalwood. But other newcomer favorites include maple, pine, caramel apple and vanilla cookie. Yum! Here are our fall favorites.
1
Wax & Wit Fall Candles
Embrace the inviting aromas as the scents of the season fill your home. As true OG scents, you can't go wrong with pumpkin spice and apple cinnamon. Let this autumn candle be the heart of your holiday decor. Ignite the pumpkin lover within you and enchant your guests. Then, discover the Apple Spice candle, a comforting embrace of hot apple cider. The soy candles offer the quintessential fall scents, creating an ambiance that welcomes you home after a chilly day.
2
Caramel Apple Aira Soy Candles
Made from pure, organic soy vegetable oil, these candles stand apart from the common paraffin and petroleum alternatives. The wicks, free from lead and made entirely from cotton, show your commitment to a greener planet! The 20-ounce double-wick soy candles give over 150 hours of clean, luminous burn time, leaving no soot or smoke residue. This fragrance is a symphony for your senses, harmonizing classic Granny Smith apples with the warmth of creamy caramel, complemented by a whisper of vanilla cream and a dash of cinnamon. Woah, is that your stomach rumbling, or ours? It's more than a scent; it's a declaration that fall has arrived.
3
Air Wick Essential Mist Starter Kit
Take your senses on a ride with Air Wick Essential Mist. It's the contemporary approach to infusing your space with the natural essence of oils, delicately transformed into a mist. With a cordless design, you can seamlessly shift from room to room, with no tether to an outlet. Each refill extends up to 45 days of continuous fragrance, even on the low setting and with no water required. All refills come ready for immediate use. Dive into seasonal scents like Apple Cinnamon Medley, Pumpkin Spice, Sweet Fruit and Nutmeg, Brown Sugar and Vanilla, and Fresh Pine and Juniper.
4
P&J Fragrance Oil Autumn Set
Developed by certified master perfumers with over 30 years of experience, these oils stand as a symbol to dedication to craftsmanship. The rich concentrations of these fragrances guarantee a powerful experience that is safe and ideal for every home. Cruelty-free and phthalate-free, these oils align with ethical values and are sourced and produced in the USA, providing a harmonious blend of quality and conscience. Capturing the essence of autumn, the Autumn Set features an array of 14 premium fragrance oils. Whether igniting the warm glow of candle making, concocting captivating perfumes, crafting skin-pampering products, or even adding a unique twist to laundry and bath essentials, these oils are an indispensable addition to your DIY toolkit.
5
NEST Fragrances Reed Diffuser
Enjoy the season's warmth through a harmonious blend of wild pumpkin, spicy masala chai, aromatic cardamom, invigorating ginger, and comforting cinnamon. These all-natural diffuser reed sticks and premium, alcohol-free fragrance oils work in tandem to diffuse the enchanting scent for an impressive span of approximately 90 days. This ensures that your living space is consistently filled with the cozy and welcoming ambiance that the fragrance offers. Adhering to values of compassion and quality, the richly scented fragrance oils not only enhance your environment but also uphold ethical standards. Proudly vegan and crafted without animal testing, these oils reflect a commitment to cruelty-free practices.
6
Yankee Candle Autumn Favorites Three-Pack
Explore the captivating scents of the season through these convenient sprays, each offering an impressive fragrance life of 300 spritzes for a lasting aroma. Apple Pumpkin invites you into its heartwarming narrative, meticulously cultivated with tender care. The fusion of home-grown apples and pumpkins dances in harmony with the spirited notes of ginger and clove. Step into a realm of autumnal bliss with Autumn Wreath. The air is suffused with the cheerful embrace of fall, embodied in the spicy warmth exuding from the blend of autumn leaves and cinnamon apples. Then, indulge in the comforting embrace of Spiced Pumpkin. Enjoy the artful creation of pumpkins, lovingly baked with simmering spices that include clove, nutmeg, and cinnamon.
7
Grow Fragrance Non-Toxic Air Fresheners
Harnessing the natural prowess of essential oils, these fragrances act as potent deodorizers, removing unwanted scents within your home with a twist of fall. From your bathroom to your linen closet, from the kitchen to your car, these fragrances evolve into versatile companions that neutralize and control odors with ease. The formulations are gentle yet impactful, making them ideal for a range of fabrics. Couches, pillows, carpets, curtains, bed sheets, shower curtains, car seats draped in cloth, upholstery, linens, and yoga mats all find a renewed vitality when graced by each fragrance. Experience the ultimate approach to eliminating fabric odors, with each spritz giving lasting freshness for hours on end.
Our editors love finding you the best products and offers! If you purchase something by clicking on one of the affiliate links on our website, we may earn a commission at no extra cost to you.
---
---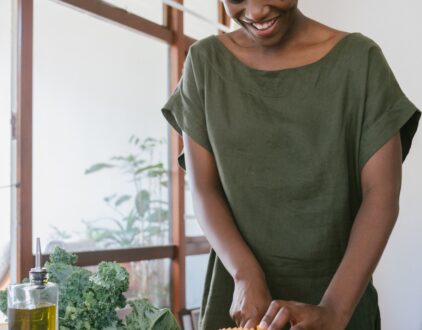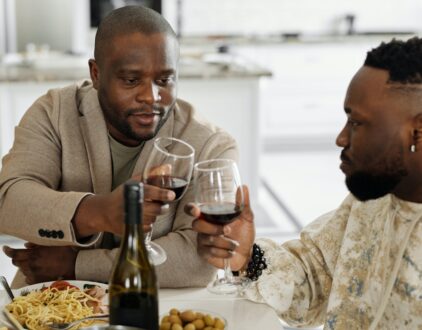 ---
Spaces
Whether it's luxury or ease, every area of your home should be as fabulous and unique as you.
FOLLOW ALONG ON INSTAGRAM
Find us on social for more home inspiration where culture, personal style, and sophisticated shopping intersect to help you create a home where you love to live.