Headlines are buzzing. Recently, it was revealed and confirmed by a spokesperson for the Duke and Duchess of Sussex that King Charles III asked Harry and Meghan to vacate their Frogmore Cottage residence. It is owned by the Crown Estate and passed from monarch to monarch. Originally gifted to the couple by Queen Elizabeth II, King Charles III is now offering it to his brother, Prince Andrew, the disgraced royal who Queen Elizabeth stripped of royal titles and duties after his entanglement with sex offender Jeffrey Epstein. The internet audibly gasped. We only recently got a beautiful glimpse of the 5-bedroom cottage on the Sussex's Netflix documentary, "Harry & Meghan." As they were packing up Frogmore Cottage to move to North America, the couple relished in their love story and took a trip down memory lane.
Royal Renovations
Frogmore Cottage's $3.1 million 2019 renovation made headlines in the past. The couple updated the property which was in severe need of renovations. They added two orangeries, a vegetable garden and a yoga studio. A trending topic on social media: what would you do if you were Harry and Meghan? Opinions have ranged.  Some people said if they were the couple they'd pull up the hardwood floors, gather those appliances and make sure they recouped some of that renovation cost. Hey, sometimes you can't help but be petty.
The Kitchen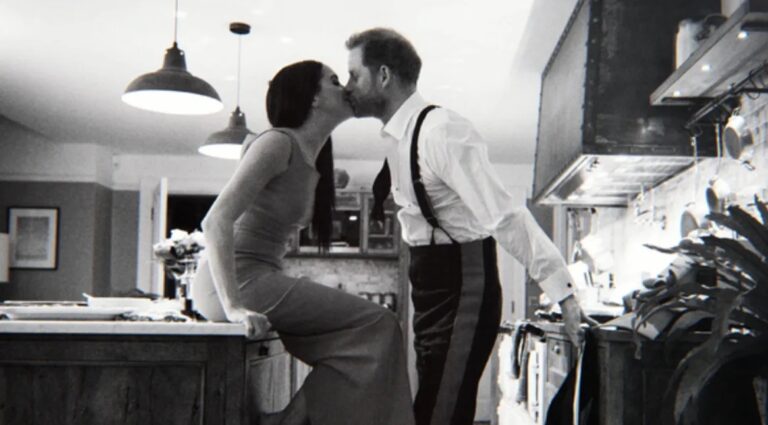 It's well-documented that the Duchess of Sussex loves to cook so it was no surprise to see scenes of her beautifully outfitted kitchen. During the Netflix documentary we saw Harry enter the sunlit kitchen at Frogmore when Meghan was painting her nails in preparation for an event. We also get another shot in the documentary of an intimate moment in the kitchen the night of one of their last UK appearances as working royals. This kitchen is not just for looks. The wood is warm and the paint color is a darker grey. It's homey, it's lived-in. The timber wood gives it a country home vibe but industrial touches like the light fixtures, the sink and the marble countertops keep it modern and not too kitschy. We saw a few photos of Meghan sitting on the counter while Harry leans in for a kiss. It exudes care and love. Meghan is giving us B. Smith!
Social media shares have given us additional peaks into the beautiful home.- from a royal cousin's visit to Zoom calls. So, here's what we would take with us when leaving Frogmore if we were Harry and Meghan.
Jump to Products
---
Country House Tea Cup and Saucer
Let's start with something small. In photos from inside the cottage, we've spied a beautiful Soho Home tea set. Soho Home is the homeware brand attached to the private members club. It's also where Harry and Meghan had their first date. Global head of design at Soho Houme, Vicky James, is said to have helped with the interiors of Frogmore so this tracks. The best part about this stoneware is that it's pretty affordable so you can get one too!
Industrial Black Barn Pendant Light
Harry and Meghan's kitchen has some amazing lighting details. Their kitchen counter is beautifully lit with industrial style pendant lighting over a marble counter top. This adds a great modern touch and mixes well with the other farm style finishes. We were able to find a similar industrial style pendant light on Claxy that would be perfect over a kitchen island or a dining room table.
Sublime Paint Color
In sneak peaks from their cousin, Princess Eugenie's Instagram, the royals seemed to enjoy spending time in what looks like a library. The cozy throw pillows and rich hues of that bookshelf lends to a beautiful way to spend the afternoon. We love the paint color they chose for that bookshelf and think we found a similar one in Black woman owned paint company, Clare paint and the sublime color. Zero VOC, excellent coverage and low-odor this is a high quality paint that you'll immediately see the difference with just one coat. Don't be afraid of color! Take Harry and Meghan's cue and go for it!
Vintage French Upholstered Fabric Armchair
We wonder if the French style Louis chair seen in a corner of the couple's home was a gift from way back when or if it's a recent edition? The chair pairs perfectly with the vintage style rug. Either way, it's the quintessential sitting room chair and we love it in the space. Maybe with a great cashmere throw draped over it? The option we found features a fluted wood frame, dense foam upholstered fabric seat and scooped armrests. The oval back dining or accent chair elegantly blends old world charm with modern intrigue.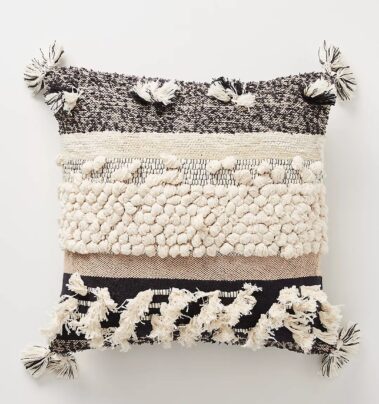 All Roads Yucca Pillow
Throw cushions add to the cozyness of any room. Textured throw cushions are a beautiful sensory experience. We see a lot of cushions in Harry and Meghan's home. Their choices are mainly in tonal colors and white. Imitate the look with this All Roads Design pillow from Anthropologie. It comes in beautiful neutrals that will lends an aura of calm to any bed or seat. The pillows construction is a mix of cotton, viscose, and acrylic.
Our editors love finding you the best products and offers! If you purchase something by clicking on one of the affiliate links on our website, we may earn a commission at no extra cost to you.
---
---
Decorate
Access design inspiration that infuses personality and culture into your spaces.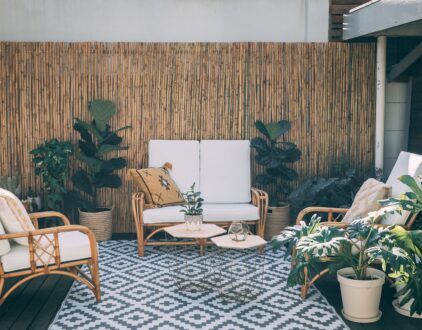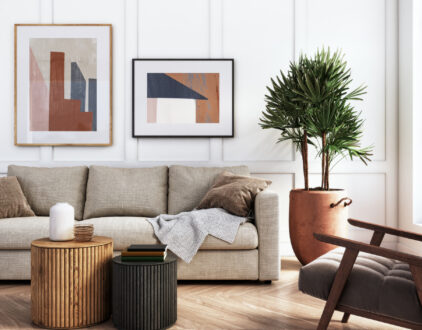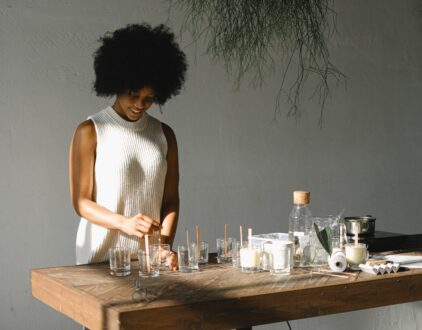 FOLLOW ALONG ON INSTAGRAM
Find us on social for more home inspiration where culture, personal style, and sophisticated shopping intersect to help you create a home where you love to live.