The pandemic showed us the importance of having a great kitchen. I mean, food is a necessity in life, so why not have the proper tools in your kitchen to ensure your meals are delicious, fresh, and healthy? Fortunately, we live in a time where there are always innovations to make cooking meals easier and faster. Take, for example, the air fryer. We can now enjoy the fried foods we ate as kids without feeling guilty about it. Air fryers cook virtually any food to perfection with less oil and calories and without compromising on taste. Life comes at you fast, and finding time to cook proper meals can be difficult if you're anything like me.
View this post on Instagram
One of my goals this year is to avoid waiting until the last minute to make meals because it results in me spending unnecessary money on Uber Eats or DoorDash. Instead, I'm investing in kitchen appliances that will show up for me when I can barely show up for myself. Appliances like air fryers that let you pop food in and you know it will taste amazing, or coffee makers that are intuitive to our busy lifestyles and get coffee brewing before we can hit the snooze button.
Investing in quality kitchen appliances is more important than we think. Where would we be without the refrigerator that keeps our produce crisp and fresh or the microwave that warms up leftovers from the night before? Having great kitchen appliances can save you money in the long run, so investing in them is important now.
View this post on Instagram
Fortunately, there are amazing appliances on sale at major retailers like Target, Best Buy, Amazon, and more, and we want you to get in on the deals. Keep reading to see the best kitchen appliance deals for your home that we're adding to our carts ASAP.
Jump to Products
---
Shop These 5 Best Deals On Kitchen Appliances For Your Home
Hamilton Beach FlexBrew Trio Coffee Maker
Nothing wakes you up quite like a strong cup of coffee. Save money and time by brewing your cup of Joe from the comfort of your home.  The great thing about this FlexBrew Trio Coffee Maker by Hamilton Beach is that it gives you three different ways to brew coffee. You can make coffee with a pod or ground coffee using the single-service side. With a pod, you'll get 10 ounces of coffee. Using ground coffee, you'll get up to 14 ounces of java.  Use the carafe side of the appliance if you want to brew 12 cups of coffee for the entire family to enjoy. There's also a 'wake-up ready' setting you can set the night before to ensure your coffee brews when you make your way to the kitchen.  This coffee maker is now discounted by 21% at Target when purchased online.
Over the Range Convection Microwave Oven with Air Fry
Having an air fryer means you've reached peak adulthood. This microwave lets you reheat your leftovers and enjoy air fryer and convection technology. You'll be able to roast, bake, brown, and cook meals to perfection, just the way you like it. This appliance is ideal for minimalist design styles as it frees up room on your counter.  The design is modern and fingerprint and smudge resistant, making it easy to clean. You can also sync your microwave to the ThinQ app, allowing you to adjust settings on your appliance from virtually anywhere and check on your food, scan-to-cook meals, and more.  This state-of-the-art appliance is 22% off at The Home Depot.
Vortex Plus 10-Quart 7-in-10 Air Fryer
Who says you must cut out eating your favorite fried food dishes to be healthy? An air fryer is perfect for getting the same taste you love at a fraction of the calories. Whether fresh or frozen, the Vortex Plus 10-Quart 7-in-10 Air Fryer is great for cooking your food to perfection without using a lot of oil.  The 7-in-1 functionality allows you to do more than air fry. With this appliance, you can bake, broil, dehydrate, reheat, roast, and rotisserie. Six customizable programs let you easily cook garlicky potatoes, cookies, cinnamon buns, rotisserie-style chicken, and more. This appliance is a must-have if you're a fan of quick, yummy meals, preparing side dishes, rotisserie chicken, appetizers, and more. 
Food Dehydrator Machine
If you're looking for a healthier alternative to chips, try dehydrating vegetables. Dehydrating beets, kale, and zucchini are all examples of healthier alternatives for chips, which are high in calories and carbohydrates. There is no need to rotate the shelves because the dehydrator machine promotes even drying with its airflow circulation technology.  This Magic Mill Food Dehydrator Machine is also great for granola, dry jerky, herbs, and more. Cleaning is simple as it can be wiped down with a damp cloth. The trays and liners are dishwasher safe. Included is a fruit roll tray, perfect for making a healthy version of the childhood favorite Fruit Roll-Ups. 
French Door Counter-Depth Refrigerator
A refrigerator fit for a luxe legacy design style enthusiast, the gold handles and matte white exterior is a dream. The TwinChill evaporators allow different temperatures in the freezer and refrigerator compartments. This ensures that your food remains fresh and crisp. The LED lighting lets you see all your food properly, avoiding food waste and saving you money at the grocery store.  An internal water dispenser and factory-installed ice maker keep your beverages cold and your family and friends hydrated. This Energy Star-certified refrigerator is currently discounted by $499 at Best Buy. If you're looking for a complete set, there is a microwave, stove, and dishwasher. 
Our editors love finding you the best products and offers! If you purchase something by clicking on one of the affiliate links on our website, we may earn a commission at no extra cost to you.
---
---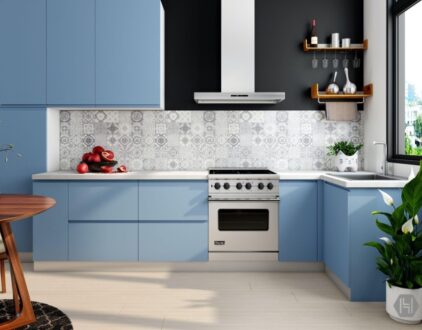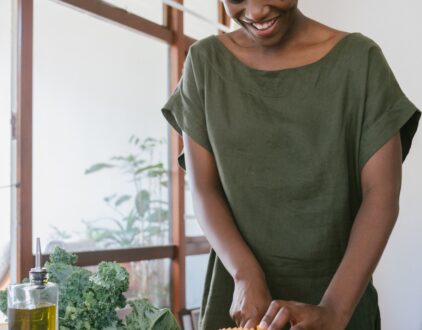 ---
Spaces
Whether it's luxury or ease, every area of your home should be as fabulous and unique as you.
FOLLOW ALONG ON INSTAGRAM
Find us on social for more home inspiration where culture, personal style, and sophisticated shopping intersect to help you create a home where you love to live.