Creating the home of your dreams can sometimes be a bit of a challenge. When thinking of home renovations, one may think of painting, changing out the floors or cabinets or revamping certain rooms in the house. One area that people tend to put off during home renovations is the garage. Specifically, the garage ceiling. Although it may not be the area you spend the most time in the house, it is equally important to choose the right decorations, paint and materials to renovate it. So if you are looking for some garage ceiling ideas to start your renovation, we have a few ideas. 
So, where exactly do you start when it comes to these types of renovations? The garage ceiling is arguably one of the most important things in your garage. From choosing different materials like plaster or drywall to equipping light fixtures, insulation, decorations, paint, ventilation and storage, it's important that you understand what works for your garage.
Understanding the why and learning the importance of a garage ceiling is pivotal in making a decision about which garage ceiling ideas to go with. Not only are aesthetics and things like storage important but other factors such as hiding wires and pipes, keeping things neat and organized, proper insulation and overall functionality are also major factors to look into for garage ceiling ideas.
Whether you plan on using the space as an in-home gym, a storage facility, a workshop or an extra room to decompress, creating your dream garage space in your dream home should not be a hassle. Here are five garage ceiling ideas to complete the perfect home.
Aluminum Soffit
One of the most popular materials for garage ceiling ideas is aluminum soffit. Known as one of the simpler garage ceilings to install, the aluminum soffit is durable, water-resistant and lasts a long time. This garage ceiling idea is functional for the home due to it being inexpensive, providing ventilation to prevent buildup and mold and is aesthetically pleasing.
Drywall Garage Ceiling
Second on the list of garage ceiling ideas is the drywall garage ceiling. Drywall is another popular option for garage ceiling ideas because it is easy to install and provides insulation. Another inexpensive option, drywall is easy to repair, has a very clean look, is fire resistant and is easy to paint to make your home even more aesthetically beautiful.
Lowered Ceiling
Lowered-ceiling garages are a great option for those who are using their garage for additional storage space. This garage ceiling idea helps the space feel warm by providing insulation and a clean and sleek look. Lowered-ceiling garages also provide space for storage up top so that the garage space looks neat and organized.
PVC Ceiling Tiles
Coming in a variety of styles, textures and finishes are PVC ceiling tiles. This type of garage ceiling is lightweight, easy to install, and comes in a variety of choices to fit the perfect garage renovation. They also prevent water damage, are very easy to paint and come in different sizes. Another pro to this style is that they are very easy to clean; all one needs is a cloth, soap and water.
Styrofoam Tiles
Last on the list of garage ceiling ideas is an environmentally friendly option, styrofoam tiles. This cost-effective solution has insulation to keep the garage temperatures comfortable. Not only are they so comfortable that they are used for flooring as well, but styrofoam tiles are also versatile in color, style and size, making them the perfect option for your home.
---
---
Renovate
From minor tweaks to major overhauls— these are the insights that add style and comfort to your home.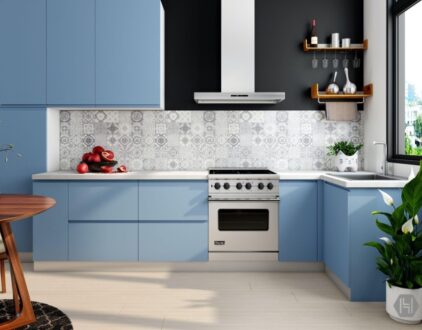 ---
Spaces
Whether it's luxury or ease, every area of your home should be as fabulous and unique as you.
FOLLOW ALONG ON INSTAGRAM
Find us on social for more home inspiration where culture, personal style, and sophisticated shopping intersect to help you create a home where you love to live.