For car collectors, a luxury garage is more than just an area to park your car. It can also be an entertainment center where you can truly showcase your car collection. But designing a luxury garage requires a lot of research and planning. From storage to flooring, every detail in your space is designed to not only protect but highlight your prized vehicles.
Whether you're a seasoned car collector or just starting out, you can design the garage of your dreams that reflects your passion for luxury cars. All you need is a bit of creativity and the right furnishings and decor to make your dreams a reality. For design help, here are nine ways you can turn a boring space into a luxury garage.
Install a floor coating.
If you've ever been to a car show, you might have noticed how polished its floors are. This is from a special floor coating they use, which not only makes your floor look nice and shiny but also protects it from staining caused by oil and grease. Consider installing a polyurea floor coating in your luxury garage for an attractive finish that lasts.
Incorporate special lighting.
To make your cars really stand out, you'll need to shine a light on them…literally. Overhead lighting like track lighting or LED strips helps illuminate your space while emphasizing the special contours and details of your cars.
Invest in high-end storage.
Too much clutter in your luxury garage can take away from the stars of the show — your cars. To avoid this, incorporate more high-end storage systems like floor-to-ceiling cabinetry, an overhead steel rack, or glossy metal modular drawers so you can organize your tools and supplies.
Add ventilation.
To keep your cars in prime condition, you'll need to add specialized ventilation to your luxury garage. This can help keep dust and other small debris particles at bay, plus maintain the perfect temperature and humidity inside your garage.
Consider a custom wash bay.
If you plan to handle much of the car maintenance yourself, consider adding a customized wash bay to make it more convenient. A customized wash bay that includes a retractable hose reel, drainage system, and wall-mounted cleaning tools is a great start, but you can also add other cool features like a spinning elevated platform, high-pressure ceramic tile walls, or even stadium lighting so you can detail your cars like a pro.
Include a lounge area.
If you plan on spending a lot of time in your new garage, consider making it more comfortable with a lounge area. You can design a lounge area complete with leather sofas, a TV, a mini fridge, and maybe even a home bar for the ultimate man or woman cave.
Add special features.
What's the fun in collecting luxury cars if you can't show them off? Consider adding special garage features like a car lift, turntable, or gasoline pump to highlight your luxury collection.
Install a security system.
Everyone likes luxury vehicles, and that especially includes thieves. To protect your prized vehicles from theft, invest in a state-of-the-art security system. Your system should include cameras, motion detectors, and alarms so you can monitor your luxury garage even when you're not at home.
Add some finishing touches.
After you've fully equipped your luxury garage, it's time to make it your own by decorating it. Add some finishing touches like vintage car posters, neon signs, retro gas pumps, and other decor that highlights your love for luxury vehicles. You can also choose a theme for your garage like a specific era or car brand to make your decor look more cohesive.
---
---
Spaces
Whether it's luxury or ease, every area of your home should be as fabulous and unique as you.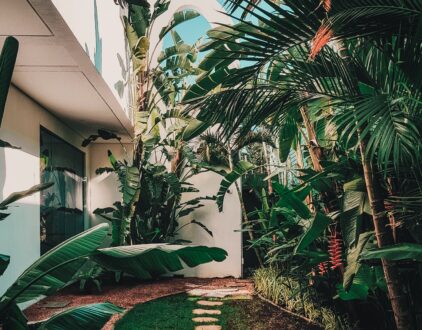 ---
Spaces
Whether it's luxury or ease, every area of your home should be as fabulous and unique as you.
FOLLOW ALONG ON INSTAGRAM
Find us on social for more home inspiration where culture, personal style, and sophisticated shopping intersect to help you create a home where you love to live.