Millennials and Gen Z are leading the blooming – get it? – plant industry. The 2020 global pandemic took the plant parent game to a whole new level with plant influencers and experts on social media leading the industry rise. Gardening was no longer just your auntie's game anymore… or maybe it was that #auntielife became goals? Either way, notable figures like Hilton Carter, interiors and plant specialist inked a deal with Target, launching Hilton Carter for Target in May 2021 letting the zeitgeist know: monsteras are here to stay! Carter, who counts filmmaker in his lists of talents, knows how to stage a room, but, as he told Southern Living, his passion for plants came as he grew and realized that plants brought him an inner sense of calm and self care.
"While tending to these plants, I found joy in seeing the positivity of new growth. Due to that excitement, the people around me reaped the benefit of a happier Hilton. I was also learning how to be a bit more patient with and aware of the people around me through nurturing these living things," he said.
And it's not just the plants. Remember, decor is a larger part of it as well. Here are the 5 must-haves to up your plant game and set the room like your favorite plant influencer.
Jump to Products
---
Golden Pothos Live Plant
If you're just starting out on your plant journey, you may want to consider the Golden Pothos. Yes, these are the ones you saw hanging at your grandma's house but their resilient nature makes them the ideal houseplant and their intertwining vine style makes them fun for decorating. Hang it from a high shelf in an otherwise white bedroom and watch it instantly add a perfect pop of green to the background!
WELLAND Tree Stump Stool
Some plants are floor plants, some table and it's always a dynamic add to the natural wild effect to have different layers when styling your plants. Add to the natural effect with this WELLAND Tree Stump Stool. Each piece is made of reclaimed cedar, so the one you receive will be unique to you. Another great use for this? Have a walk in shower? If you're hanging eucalyptus branches, use this stool to house soaps and scrubs to enhance the spa vibes!
Hanging Dried Eucalyptus
Speaking of spa vibes, a shower experience is not complete without the invigorating scent of fresh eucalyptus. Adding this hanging bundle of eucalyptus stems to your showerhead is a daily injection of aromatherapy into your life. The scent of dried eucalyptus can help clear sinuses, soothe anxiety and offer great self care.
Tiffany Style Green Floor Lamp
The original leaded glass lamps produced by Tiffany at the turn of the 20th century are pretty iconic. With whimsical designs inspired by nature, these styles aren't out of place in an elegant sitting or drawing room. With names like Wisteria and Dragonfly, a Tiffany-style lamp could be a fun addition to a plant-filled room playing off the natural colors. They're unique works of art though, so like a painting and sculpture, a well-appointed Werfactory Tiffany style standing floor lamp would be just as beautiful in an antique filled or modern home.
Mylk & Honei Rolling Plant Dolly
Sometimes, simply rearranging your furniture can give you a fresh perspective on life. But don't pull your back out. This simple and chic Mylk & Honei plant dolly has a 142-pound capacity to hold your most intricate of indoor and outdoor plants and vases. It's perfect for those plants that you have to move inside due to weather or vacation.
---
---
Decorate
Access design inspiration that infuses personality and culture into your spaces.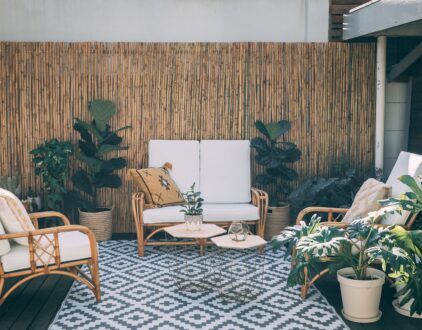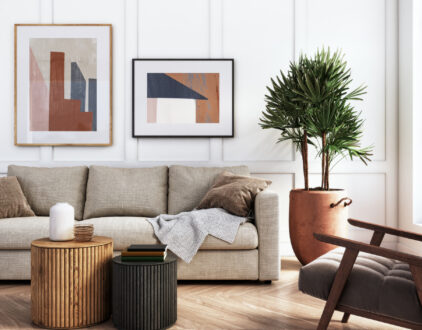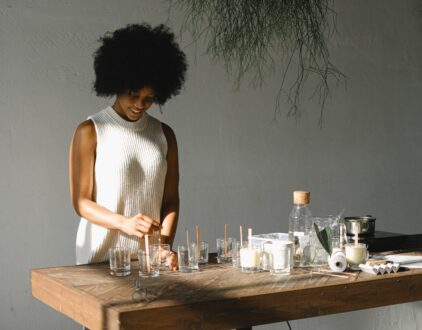 FOLLOW ALONG ON INSTAGRAM
Find us on social for more home inspiration where culture, personal style, and sophisticated shopping intersect to help you create a home where you love to live.