Looking for some great Black florists? Home & Texture's got you covered.
A beautiful flower arrangement can take any space from gloomy to elevated luxury. A 10-month study by Dr. Haviland-Jones of Rutgers University reveals that viewing fresh flowers lifts your mood instantly. Additionally, flowers are great for adding relaxation to your day and inspiring creative thinking. They also offer a beautiful scent, and a pop of color. 
If you're feeling down, unmotivated, or tired of your space, try a well-curated floral arrangement to help cure your woes. 
You can go to your local Trader Joe's and buy a bouquet, but supporting your local florist ensures you'll aid a small business and get a one-of-a-kind arrangement. 
Florists, also referred to as floral designers, have a gift of making beautiful displays of live, silk, and dried flowers and greenery. These arrangements are often seen at weddings, events, and retail stores but are also perfect for homes. 
And Black florists are making their mark in the industry. Whether you crave a colorful arrangement to suit your eccentric design style or a monochromatic arrangement to elevate your minimalist home, a Black florist can curate an arrangement to fit your taste.
Floral designer Clarence Jefferson says hydrangeas are his favorite flower because they're "easy to work with, reasonably priced, and it's a good space filler." Jefferson is currently a florist at the Four Seasons Philadelphia. 
Although he's not a fan of faux flowers, Jefferson says if he were to make an arrangement for someone," I would recommend using good quality flowers so that they look real."
Black Girl Florists is a great resource when looking for a Black women florist. The online directory provides community, collaboration, and opportunities through its Flower Club. 
To make a flower arrangement at home, Brooklyn-based floral designer Egypt suggests starting with a fun playlist, utilizing Google for floral knowledge, such as flowers poisonous to cats, and investing in a pair of floral cutting scissors for a clean cut.
Here are 5 Black florists you should know about and support:
Mallory With The Flowers
Located in Los Angeles, Mallory With Flowers started in 2017 after its founder, Mallory, decided to follow her dreams and become a florist. Before pursuing her passion, Mallory worked as a marketing manager in the entertainment, digital advertising, and non-profit industries. 
View this post on Instagram
She started creating arrangements after purchasing flowers from Trader Joe's and Ralphs and watching YouTube tutorials. Today, Mallory specializes in hand-tied bouquets, custom arrangements, and curating large floral arrangements. Her dream of becoming a florist has led her to partner with HBO's Insecure, Toyota, Hilltop Coffee + Kitchen, and more. 
TG Floristry
Owned and operated by Tiera George, this Raleigh, North Carolina, immersive floral design studio puts community wellness and modern design at the forefront. Tiera uses the art of floral arranging to express herself, learn, and engage the younger generation with landscapes and flowers. 
View this post on Instagram
If you're interested in learning more about floral design, TG Floristry offers creative workshops for beginner designers and the general public. The workshops will guide you on intentionally cultivating creativity, color theory, and developing your design eye. 
The Plant Project
Plants are a great alternative if you're not into flowers. The Plant Project is the first Black woman-owned plant shop in Texas. What started off as one location in Uptown Dallas in 2020 has now grown to 4 locations between Dallas, Houston, and Galveston. 
View this post on Instagram
Owner Bree Iman Clarke started The Plant Shop because of the lack of color she saw in Dallas' plant industry. When sharing her inspiration, she says, "Growing up, this guy Herman would always come over to my grandmother's house in Texas and just talk about plants. He was actually the first African American man to graduate from Texas A&M with a horticulture degree. He would talk about plants, herbs, flowers, and how to take care of the soil. I didn't know it then, but I was soaking in everything he was teaching. He passed away a few years ago, but I've dedicated my shop to him now." 
Blume & Plume
This bespoke Los Angeles floral design studio was founded by Maurice Harris. He built his brand as an artist in the industry and is now sought after by some of the biggest brands in the world such as Dior, Louis Vuitton, Nike and Valentino, to name a few. 
View this post on Instagram
Maurice is a visionary in the industry and creates arrangements that are sculptural and pure works of art. In addition to Blume & Plume floral design studio, Maurice is the owner of Bloom & Plume coffee, known as #yourlocalneighborhoodcoffeeshop. 
Black + Blossomed
Creating "flowers for the culture," this Denver floral design business was started by Breigh Jones-Coplin in 2020. After experiencing burnout and depression as a mental health professional and clinical psychology doctoral student, Breigh started her career as a florist. 
View this post on Instagram
In addition to the everyday decor, this floral design studio provides florals for photoshoots, weddings, events, and retail. 
Here are some items we love when playing florist at home:
Abbittar Ceramic Vase
This modern vase is perfect for your home office, bedroom, and everywhere in between. Made from 100% ceramic, the vases are of great quality and can display fresh and faux flowers. Add them to your dining room table or bookshelf for a modern, elevated refresh. The set comes with a large and small vase. You can place them next to each other or separately throughout your house. Either way, these vases are beautiful conversation starters.  Jefferson says, "As far as vases, I tend to stay away from glass because I don't like to see the mechanics such as floral tapes."
Japanese Floral Arrangement Set
Made in Japan, this kit is necessary for those wanting to make an arrangement at home. The short blades and long shank of the Koryu scissors make them perfect for beginners. The looped handle is a traditional Japanese design for ergonomic control. The short, rounded edges with a pointed tip are great for sharply cutting flowers.  Local Japanese artisans made this tool kit. Scissors are essential when cutting flowers because they prepare flower stems for conditioning and help prolong the life of your fresh flower arrangement. These scissors are different from kitchen scissors because they have sharper ridges, which cut through the layers of stems. 
Floral Foam Blocks
These foam blocks are essential when making a flower arrangement at home. They can be cut to fit your planter and can be used for faux and fresh flowers. Once the flowers are placed in the brick, they will be secure and stay in place.  Foam blocks are needed to absorb water quickly, which locks in moisture. All you have to do is place the bricks in water and wait for one minute so the water can fully absorb. Flower foam blocks can be used for special events, DIY flower arrangements, and in a vase at home. 
Sponge Blocks Flower Arrangement Kit
Take the sponge block a step further with this full arrangement kit. The blocks in this set can be matched with any style of floral bouquet. The set is especially designed for floral arches at weddings or special events. The cylindrical sponges are connected at each end to allow for a voluminous and stunning arrangement. The set contains fourteen pieces of foam which are packaged in plastic cages with hooks and eyelets. Those pieces can be attached together to make garlands. Plus, like other flower sponges, these absorb and retain moisture to prolong the life of your flowers.
WANDIC Flower Arrangement Kit
This arrangement set has it all! Budding floral enthusiasts will love this expansive kit that includes flower holders, a ceramic pot, floral stems and tape. The various tools provided are all you'll need for flower arranging. You can complete the entire creative process easily with no need to prepare extra cleaning tools or stems. Reviewers call it a "great kit" but some mention the small size of the included ceramic pot so make sure to check the measurements before you buy!
Our editors love finding you the best products and offers! If you purchase something by clicking on one of the affiliate links on our website, we may earn a commission at no extra cost to you.
---
---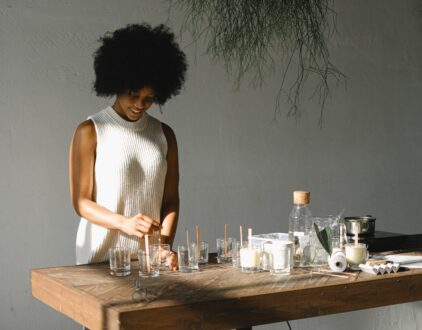 ---
Spaces
Whether it's luxury or ease, every area of your home should be as fabulous and unique as you.
FOLLOW ALONG ON INSTAGRAM
Find us on social for more home inspiration where culture, personal style, and sophisticated shopping intersect to help you create a home where you love to live.