Landscaping involves using varying elements like plants, trees, shrubs, and water features to create a beautiful outdoor space for your front or back yard. But aside from its attractiveness, landscaping provides a number of practical benefits as well.
Here's Why You Should Invest in Your Landscaping
Well-maintained landscaping can create a beautiful first impression for visitors. When you strategically place plants, shrubs, and hardscapes, your lawn can really stand out, enhancing your curb appeal and increasing the value of your home.
Landscaping can also be used to promote a calm, relaxing atmosphere that sets the stage for hosting parties and other social gatherings. You can make your outdoor space more inviting by incorporating features such as patios, decks, pergolas, and even outdoor kitchens.
Being in nature can play a positive role in our mental health, so creating a serene outdoor space can promote tranquility and peace of mind. To encourage this, try incorporating calming features such as a water fountain, sweet-smelling flowers, or attractive pathways to make your space more serene.
You can also create a miniature ecosystem right from the comfort of your own home with proper landscaping. Adding native plants, bird feeders, and installing water sources is helpful for attracting wildlife and promoting biodiversity.
Landscaping Designs That Capture the Beauty of the Great Outdoors
When it comes to landscaping, there are so many ways that it can enhance your home. From incorporating water fountains to mapping out cobblestone paths, options are endless when designing your lawn. If you want to create a welcoming space that stands out, here are some landscaping designs for inspiration:
A Lush Cottage Getaway
This lush landscaping design is filled with multiple species of plants and flowers to bring out the beauty in this quaint, yellow cottage.
A Contrasting Color Scheme
This beautiful cabin is highlighted by its winding stone pathway that makes way for an outdoor firepit for hosting friends and family. Incorporate plenty of bushes and flowers in dark and light shades for a gorgeous contrast that evokes a sense of calm and wanderlust.
A Clean, Minimal Design
This minimalist landscaping design is neat and simple. You can incorporate a tree or two, a row of hedges, and some bushes to create a full, yet minimal design that makes your home the focal point.
A Tranquil Welcome
To impress your visitors, focus on enhancing your walkway with multi-colored stones, gravel, or wood chips. Then, decorate the surrounding area with large stones, boxed plants, and towering frames.
A Desert Oasis
If you live in a hot desert area, you can still create an attractive landscaping design that highlights the vegetation native to your location. Consider adding stones in varying shapes, sizes, and colors, plus climate-appropriate plants and flowers such as prickly pear plants, desert lilies, and cacti.
---
---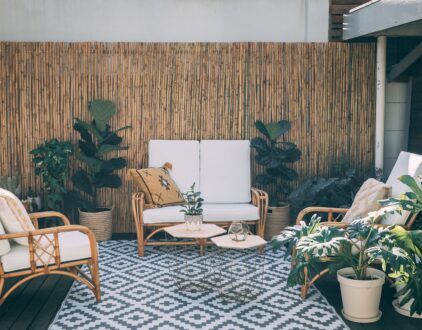 ---
Spaces
Whether it's luxury or ease, every area of your home should be as fabulous and unique as you.
FOLLOW ALONG ON INSTAGRAM
Find us on social for more home inspiration where culture, personal style, and sophisticated shopping intersect to help you create a home where you love to live.