The emergence of a new home brings about the opportunity for positive change. For those who have opted for new construction, the perks of a modern home are often built right in. And for those whose home has been lived-in longer, or was built at an earlier to time, modernizing your home can breathe new life into it.
Why You Should Modernize Your Home
Modernizing your living space provides a number of benefits. You can improve the functionality, style, and even value of your home. Thanks to the quick advancements in design and tech, updating your living space is easier than ever before. From smart gadgets to sustainable furniture, the possibilities are endless for making your home more stylish and comfy.
Plus, modernizing your home can be a great way to stay up-to-date with the newest trends. It also allows you to create a space that shows off your personality and style. Whether you choose to renovate your existing space or plan your dream home, modernizing your home is a quick way to an enhanced lifestyle.
Ways To Modernize Your Home
There are many ways to reset your living space. If you want to achieve a modern aesthetic, clean lines and minimalism are key. For example, consider trading in your bulky furniture for sleeker pieces that will utilize less space while still creating an open atmosphere.
Updating the lighting in your home is another great way to add a modern touch to your space. You can install LED lights to save energy and money. And colored lights are helpful for creating an inviting ambiance in your home.
Modernize Your Home
Modernizing your home can be a hefty task, but it offers great rewards, from convenience to comfort. Even better, there are a number of brands and products available to choose from to make the process even more exciting. To stay ahead of the trends, take a look at this list of five home decor pieces to modernize your home:
Jump to Products
---
Scandinavian Design Home Rug
1
Scandinavian Design Home Rug
Roll out the red carpet for your guests with this luxe Scandinavian design rug from Heymat. Made from recycled plastic, its sleek design is perfect for the environmentalist at heart. It is ideal for living spaces, hallways, or any other room of your home that needs a modern touch. Not only is it stylish but its soft material makes it comfortable to walk on too, so you can be sure that your feet will thank you! It includes a rubber backing to prevent slips and falls. Even better, it also comes with a high absorption feature to combat spills and stains for lasting use.
2
Artificial Paradise Palm Tree
Usher in a taste of the tropics with this beautiful set of artificial palm trees from MOSADE. Each paradise palm tree stands at just over four feet, making them an ideal height for indoor and outdoor use. Their lush, green leaves are made with premium quality materials that make them feel and look realistic. You also receive two handmade seagrass baskets for storing the palm trees. So not only can you add a touch of rustic charm to your living space, but you can also rest assured that your purchase was made with love. Enjoy the calming effects of a tropical oasis without the hassle of maintenance!
3
Diamond Shape Hanging Planters
Not your average flower vase, this set of two hanging wall planters is the perfect way to modernize your home. Each metal planter receives a glossy, black ceramic finish for durability and shine. The simple design and whimsical pattern allows these planters to be used in any living space, but they especially shine in modern and minimalist rooms. The best part about this set of hangers is that they also come with two artificial plants to get you started! This vase is perfect for people without a green thumb who still want to enjoy the beauty of nature in their home.
4
Coffee Table Decor
If you enjoy the cottagecore aesthetic, this coffee table decor from Rool may be right up your alley. Made from premium natural wood, this wooden knot is the perfect conversation starter. Whether you are hosting a party or simply looking to add some rustic charm to your home, this beautiful coffee table decor is sure to bring a touch of the great outdoors into your living space. Set it on your coffee table, office desk, or mantle — its small size makes decorating super easy. Even better, its simplistic design means it can easily match any room in your home!
5
Woven Basket Wall Decor Set
Add a touch of color to your space with this set of woven baskets from ChumDecor. Each basket is handwoven by talented artists in Vietnam. They are also made from natural materials, including seagrass, rattan, and water hyacinth. The set of three baskets come in a variety of sizes to perfectly fit your design needs. You can hang the baskets in the dining room or as an accent piece in the foyer. No matter how you decide to use it, this colorful set is sure to impress. Plus, they are versatile enough to work in any room of the house. So go ahead and get creative with your style and give your space a touch of color with this unique set of baskets.
Disclaimer: 
Our editors love finding you the best products and offers! If you purchase something by clicking on one of the affiliate links on our website, we may earn a commission at no extra cost to you.
---
---
Decorate
Access design inspiration that infuses personality and culture into your spaces.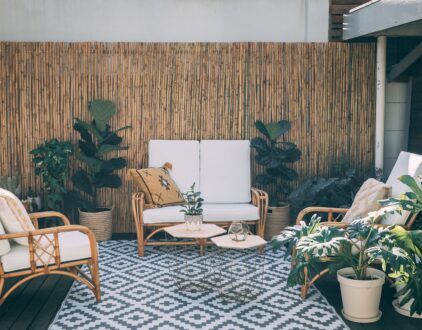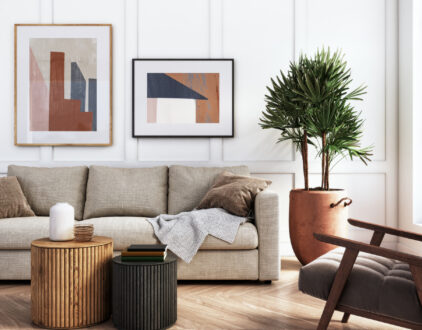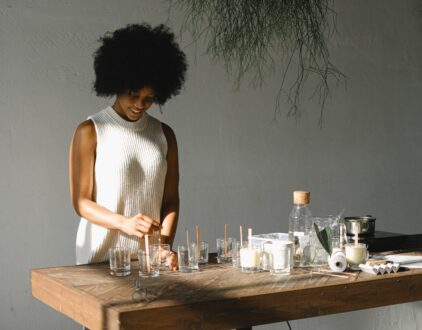 FOLLOW ALONG ON INSTAGRAM
Find us on social for more home inspiration where culture, personal style, and sophisticated shopping intersect to help you create a home where you love to live.