Your home is your sanctuary. You go to it after a long day to feel safe, seen and appreciated. Designers are catching on to the importance of implementing wellness in their work, resulting in an emerging trend: wellness design.
This new trend focuses on creating spaces in your home that promote physical, emotional, and mental well-being. People have been more vocal about their wellness routines in the past few years, with more influencers and creators sharing their practices and journeys through images, vlog-style TikTok videos and Instagram reels. There has been an overall growing awareness of the impact society, and our jobs can have on our happiness and health.
View this post on Instagram
Designers have developed solutions for our wellness needs at home through intentionality in home decor and designing spaces that promote relaxation and transformation.
Here are some wellness design trends we love:
Space For Rituals
Establishing a ritual is an essential part of a wellness routine. You don't have to have an at-home sauna or expensive equipment when carving out a space for your rituals. All you need is a quiet area in your home where you can spend time journaling, drinking tea or coffee, lighting a candle, listening to your favorite podcast, or whatever else you do during your daily routine.
Technology For Wellness
Going on social media cleanses can benefit your mental wellness, but that doesn't mean that technology can't add to your routine. Having smart devices like a speaker or automatic coffee machine are great for easing into your day and enjoying your home.
Zen Zones
This is an area in your home where you can zen out and meditate. This room should have natural light, comfortable furniture and textiles, and little to no interruptions.
Bring The Great Outdoors, Indoors
Using natural materials and colors is a great way to bring the beauty of nature inside your home. The outdoors can be added to your home through accent pillows, artwork, paint, and more.
Jump to Products
---
Make Your Home A Sanctuary With These Products:
Oversized Solid Bed Throw
Cozy up before bedtime with a cup of chamomile tea, a good book and this oversized solid bed throw. The knitted pattern is excellent for fall and winter but can be used in all seasons if you get cold quickly. With solid colorways, this heavyweight blanket goes well with most interiors. Establishing a solid wellness routine requires sleeping at least seven hours per night. Winding down two hours before bedtime is a great way to ease into sleep and wake up feeling rested. Add this blanket to your nightly routine for a luxurious experience. The blanket is reversible, and machine wash friendly.
Automatic Coffee Maker with Bean Extract Technology
Coffee is excellent for boosting energy, lowering the risk of type 2 diabetes, aiding in weight loss, and more. To get the most health benefits out of your cup of Joe, researchers say the best time to drink coffee is 30-45 minutes after waking up instead of drinking it upon waking because it spikes cortisol levels. This automatic coffee maker is great because once you're ready for your cup of java, it will brew fresh, whole coffee beans with the touch of a button. The machine automatically grinds and brews coffee and has five brew styles (light, gold, bold, over-ice, or espresso-style). The machine doesn't use pods or filters, so it's sustainable and creates zero waste.
Bose Home Speaker 500: Smart Bluetooth Speaker with Alexa Voice Control Built-In
After a long day at work, come home and settle into your wellness routine. Listen to soothing jazz music or your favorite wellness podcast. We love using a home speaker like this one by Bose because it fills our room with wall-to-wall sound, and its sleek design fits any design style. The built-in Amazon Alexa and Google Assistant make navigating through different songs and podcast episodes easy and hands-free. The noise-rejecting mic system listens to your voice commands from every angle. You can pair this speaker with your phone's Bluetooth connection, Spotify Connect, Apple AirPlay 2, or your home's Wi-Fi network.
Lavish Home Tripod Floor Lamp With Natural Oak Wood Base
Adding natural textures and colors to your home is a great way to ground yourself in wellness. Earthy neutrals are calming and work well with most color palettes. This modern floor lamp works beautifully in contemporary and minimalist homes. The 3-legged tripod base is made from natural oak and gives the lamp a unique appeal. There's a foot switch on the cord, so you can easily turn the light on and off by gently stepping on the switch. The light is stunning and will beautifully light up any room you choose to include it in. While having lights in your home is essential, remember to step outside and soak up the sun every morning.
Vitruvi Stone Diffuser for Aromatherapy
Aromatherapy is great when building a wellness routine. The benefits of aromatherapy include improving your sleep quality, pain management, reducing stress and anxiety, and more. This Vitruvi stone diffuser is terrific because its design works beautifully in every room and fits with most aesthetics. Whether on your bookshelf, desk, or bedside table, this diffuser is a stunning addition. The sculptural exterior gives the look and feel of a piece of ceramic pottery. You can choose between a 4-hour or 8-hour run time, and there is an automatic safety shut-off feature in case you fall asleep or leave home. The packing is fully recyclable and comes with a lifetime guarantee.
Our editors love finding you the best products and offers! If you purchase something by clicking on one of the affiliate links on our website, we may earn a commission at no extra cost to you.
---
---
Decorate
Access design inspiration that infuses personality and culture into your spaces.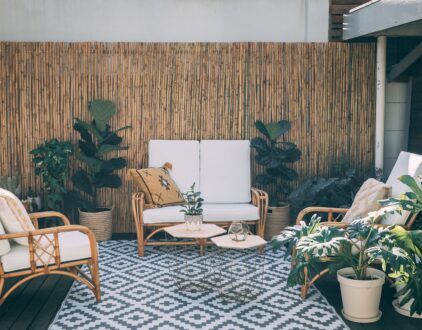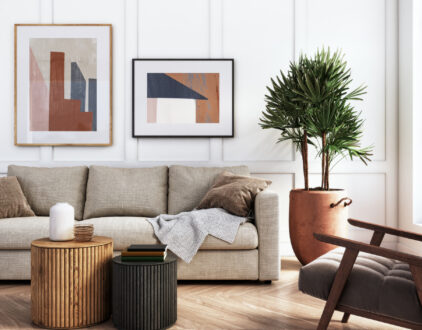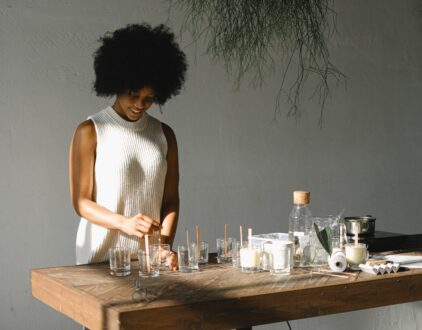 ---
Spaces
Whether it's luxury or ease, every area of your home should be as fabulous and unique as you.
FOLLOW ALONG ON INSTAGRAM
Find us on social for more home inspiration where culture, personal style, and sophisticated shopping intersect to help you create a home where you love to live.