Solarpunk isn't just a science fiction genre anymore. Solar technology for homeowners will soon be part of our everyday routine as experts, engineers and scientists find solutions to curb climate change. One of the ways they are exploring is finding ways to introduce solar technology into homes.
With scientists and data reporting record temperatures across the planet, many are looking to reduce their carbon print to help deescalate what could potentially be a severe problem in the future. Some homeowners are already exploring solar energy. According to Architectural Digest, Statista data shared in a WGSN report shows that the photovoltaic solar panel market is expected to nearly triple—from $87.2 billion to $251.4 billion—between 2019 and 2030.
The Future of Solar Technology for Homeowners
So what does solar technology for homeowners look like? According to WGSN, a London-based agency that reports trending data, homeowners can expect to see solar tech home items like SolarBotanic Trees, solar-powered lamps and solar-powered ovens. Introducing solar tech to consumers via home decor and goods is a positive way to get consumers to think more responsibly about the energy they consume.
As the government continues to entice homeowners with solar tax credits, companies are looking for ways to be innovative while finding consumer-based solutions to combat climate change.
Industry experts are looking at regions like the Global South in areas like India and Puerto Rico to see how these home items perform. Testing home goods in these regions is effective because these locations are experiencing record-breaking high temperatures. Additionally, these regions also have much more sunlight than other locations, making them the prime spot for solar tech.
Currently, a solar enclave in the state of Florida called Babcock Ranch resides on an 8,000-acre planned community in Florida that will eventually host 50,000 residents. If proven a success, the concept of solarpunk might be more than just a science fiction concept and a reality that could save the future.
---
---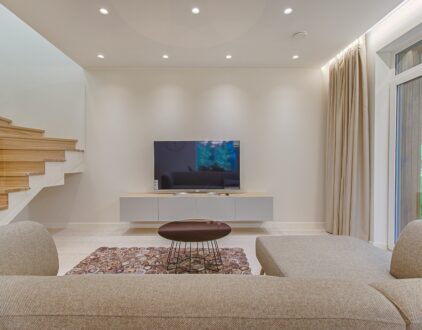 ---
Spaces
Whether it's luxury or ease, every area of your home should be as fabulous and unique as you.
FOLLOW ALONG ON INSTAGRAM
Find us on social for more home inspiration where culture, personal style, and sophisticated shopping intersect to help you create a home where you love to live.