One of the perks of having your own space is having the ability to set up your entertainment. Now, you can finally indulge and give your vinyl records some love. If you've had your parents' and grandparents' old records and have been waiting for the opportunity to scratch those records, here's your chance. These modern record players are some of the best turntable sets to have in your home if you love music.
Vinyl records can hold a lot of sentimental value to them. This is especially true if they were passed down to you or you've collected them over the years from various places. Whether they've been in your family for years or you've obtained them while traveling the world, nothing beats hearing a record needle hit the vinyl for the first time.
Modern Record Players and Turntables for Millennials
What makes for a good turntable at home? First, you want to determine what size records you already have. If you've been collecting records recently, you most likely have 33s, which are the modern standard for vinyl records. If you have much older and original records, chances are you have a mix of 45s and 78s. You will need to look for record players that play at all three speeds to hear your records. Although modern record players tend to play 33s by default, there are quite a few turntables that have the option to play all three speeds.
Modern turntables are mostly Bluetooth-compatible, too. So even if you don't have the ideal record collection at the moment, you can still stream your favorite music on the turntable. You can even hookup separate speakers to them to get the authentic sound system feel that Millennials love so much.
Check out these must-have modern turntables and record players that combine retro, analog design with present-day technology.
Arkrocket Record Player Stand with 3-Speed Turntable
Tap into the sensations of the 1960s with this posh Arkrocket Record Player Stand with 3-Speed Turntable. It can play your 38s, 33s, and 78s on one turntable. It also has a headphone jack so you can vibe out by yourself whenever you want. With Bluetooth capabilities, you can sync your favorite music to this turntable without using any additional cords. It's the perfect combination of having the look of yesterday with the technology of today. This turntable will be the center of attention in your living room with its retro design and long legs to hold the turntable.
Crowley Cruiser Plus 3-Speed Bluetooth Suitcase Vinyl Record Player Turntable
Take it back to David Quarles, IV's favorite era with this 3-speed Bluetooth suitcase vinyl record player turntable by Crowley. Bluetooth lets you play your favorite vinyl on a wireless speaker. You can also stream music wirelessly to the record player's built-in speakers. The aux cord allows you to plug in your mobile devices, so you're always streaming your favorite playlists to set the vibes. Whether you're waking up to disco music like Quarles or listening to contemporary hits, this record player is the perfect addition to your home. Music sparks joy, and so does this aesthetically pleasing nostalgic record player. It's the perfect mix of old school and new school in a delightful shade of yellow.
Sony Bluetooth Stereo Turntable
This is a minimalist, yet modern upgrade to the classic record player. This Sony Bluetooth Stereo Turntable is ideal for playing your 45s if you want high-def stereo quality. With its Bluetooth capability, you can stream your favorite music servers into the turntable and connect them to any compatible speakers. This turntable is also HDMI compatible, allowing you to travel with your record player in case you want to take the party on the road. For audiophiles that enjoy having their music in digital and analog, this turntable comes with a USB port for your convenience. Go, DJ! That's my DJ!
Spectra Turntable with Storage
If you are beginning to build your vinyl library, you may not have the allocated space for your records just yet. But that's ok! The Spectra Turntable with Storage is the perfect step for music lovers who are ready to build a collection. You can play your favorite B-side records, no matter what size, on this turntable. In addition to its Bluetooth capability, you will be able to stream your favorite track to provide endless hours in your home. Whether you entertain yourself or others, nobody will ever question whether the music was good or not because you can play everything—old and new.
Crosley Ridgemeont Entertainment Center
Hey Millennials, this turntable is a blast from the past, right?! The Crosley Ridgemeont Entertain Center will bring you never-ending nostalgia with this retro design. With its '80s appeal, it will remind you of the record players your parents used to have back in the day. This is the perfect entertainment center for people who have several formats of music. This can play vinyl records, cassette tapes, the radio, and CDs. You will enjoy digging into the crates and playing the tunes you love so much. You'll also enjoy having the option of having multiple ways to play your music.
Our editors love finding you the best products and offers! If you purchase something by clicking on one of the affiliate links on our website, we may earn a commission at no extra cost to you. 
---
---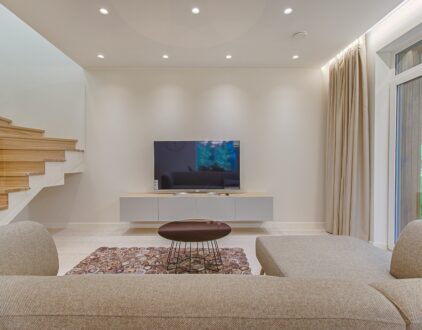 ---
Spaces
Whether it's luxury or ease, every area of your home should be as fabulous and unique as you.
FOLLOW ALONG ON INSTAGRAM
Find us on social for more home inspiration where culture, personal style, and sophisticated shopping intersect to help you create a home where you love to live.