If you are like the majority of Millenials, the emphasis on sustainable home products is a new-ish phenomenon.
What we once considered an "eco-friendly household" was a generous stretch at best. You turned off lights after leaving a room and maybe had a recycling bin. Maybe. Anything more and you may as well have come from another planet on a spaceship fueled by sunshine and gratitude. It was that unlikely.
But for the rest of us Earth-bound, single-plastic-using beings, we didn't realize the impact our choices could have on the environment at the time. In fact, sustainable practices felt less like a lifestyle choice and more of an obligatory chore. Looking back, it's cringe-worthy how so many seemingly harmless items we used daily were, in fact, the worst.
Ziplock bags? Couldn't have enough. Aerosol sprays? Glamorous. Let's not even get started on the pièce de résistance of the kitchen, Glad Press'n Seal Food Wrap. It was nothing if not the pinnacle of food-storage innovation.
Today, we have the incredible opportunity to choose sustainable home products to help reduce our carbon footprint and create the aspirational sustainable lifestyle of your dreams. With so many eco-friendly products available, there's plenty of ways to spruce up your home.
Why Choose Sustainable Home Products?
There are so many benefits to choosing sustainable home products, like lower energy bills, improved air quality and reduced waste. You can enjoy a healthier, more comfortable home
while helping to protect the environment. The better question is: why not take the opportunity to invest in products that will benefit you and the planet?
Additionally, eco-friendly products often have a lower impact on the environment during the manufacturing process, reducing pollution and resource depletion. Overall, choosing eco-friendly home items is a great way to promote sustainability and reduce the negative impact of consumerism on the environment.
Whether you're looking to take small steps in making sustainable choices or inspired to upgrade some of your everyday items, you'll love these seven eco-friendly products that will make your home a little greener!
Jump to Products
---
1
Reusable Silicone Food Storage Bags
This silicone storage bag set is a must-have if you're looking to reduce your use of single-use plastics in the kitchen. It includes four bags in various sizes, allowing for versatile use for storing a range of foods. The bags are made from high-quality, food-grade silicone that is non-toxic, BPA-free, and odorless, ensuring that your food stays safe and fresh. The bags are also dishwasher and freezer safe, making them easy to clean and perfect for storing food in the freezer. The unique design of these bags features an airtight seal that prevents leaks and spills, making them perfect for storing liquids such as soups, sauces, or marinades. They're also microwave safe, so hello leftovers!
2
Crackling Wood Wick Candle with Natural Coconut Wax and Essential Oils
Introducing an eco-friendly and sustainable alternative to traditional candles. This candle is made from organic coconut wax, a renewable resource that burns cleaner and longer than traditional paraffin wax candles, which also fill the air with toxins when they burn. Yikes! This candle also features a wooden wick that crackles as it burns, creating a cozy and relaxing atmosphere in any room like the bedroom, kitchen or living room. The essential oils used are 100% natural and free from synthetic fragrances and harmful chemicals. They offer a range of therapeutic benefits, from promoting relaxation and stress relief to uplifting the mood. They also enhance mental clarity.
3
Reusable Cotton Cloth Storage Bowl Covers made with Beeswax
Let's take a moment of silence for plastic wrap and say bye for good, because these reusable beeswax wraps are a much better. They're also a cuter, more sustainable alternative that are easy to clean and last up to a whole year. These wraps are made from organic cotton fabric and coated with a blend of beeswax, jojoba oil, and tree resin, making them reusable and biodegradable. They come in a set of three different sizes, perfect for wrapping up leftovers, covering bowls, or keeping produce fresh. Plus, the natural properties of beeswax make these wraps antimicrobial and antibacterial, keeping your food fresh for longer.
4
Solar Powered Outdoor Firefly Lights
Feel like upgrading your backyard with a bit of whimsical ambiance? You and the Earth will love these solar-powered outdoor lights. They're made from weather-resistant materials and are powered by the sun, which means you don't have to worry about electricity costs or wiring. The lights are waterproof, making them suitable for outdoor use even in rainy conditions. They also automatically turn on at dusk and off at dawn. You don't have to worry about switching them on and off. Plus, they feature eight different lighting modes, so you can choose the perfect vibe for your outdoor space.
5
Energy-Saving LED Light Bulbs
Get your hands on an eco-friendly lighting solution that not only saves energy but also provides convenience and ease of use. These bulbs are compatible with both Alexa and Google Assistant, allowing for hands-free voice control of your lighting, because touch controls are so 2022. They are also dimmable, allowing you to adjust the brightness to your liking. These LED smart bulbs consume 80 percent less energy than traditional incandescent bulbs, making them an environmentally-friendly choice that can help reduce your energy bills. Naturally, they are long-lasting and have a lifespan of up to 25,000 hours, meaning you won't have to replace them as frequently.
6
Bamboo Hexagon Floating Shelves
Space looking a little . . . blah? Give those blank walls a little life with these fun shelves made from bamboo, an incredibly renewable resource that grows much faster than other types of trees. This means that using bamboo as a material helps reduce the demand for traditional hardwoods and helps to reduce deforestation. The hexagonal shape of these shelves adds a unique touch to your decor and can be used to display plants, books, or any other decorative items. The floating design also adds a modern touch and can help free up floor space. Additionally, these shelves are easy to install, coming with all the necessary hardware to mount them to your wall.
7
Recycled Hand Blown Drinking Glasses
Stock your kitchen and get ready for a girl's night with these hand-blown glasses, which are made from 100 percent recycled glass and dishwasher safe. The recycled glass used to make these glasses not only helps to reduce waste but also gives each piece a unique and stunning appearance with tiny bubbles and flaws. The glasses have a vibrant green tint and are thick and durable, making them perfectly convenient for margaritas or other refreshing cocktails. In addition to being eco-friendly, they're also made in the USA, which supports local manufacturing and reduces the environmental impact of shipping products from overseas. 
Our editors love finding you the best products and offers! If you purchase something by clicking on one of the affiliate links on our website, we may earn a commission at no extra cost to you. 
---
---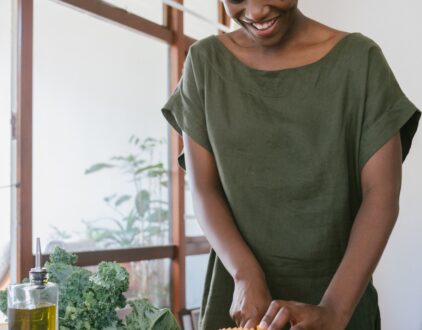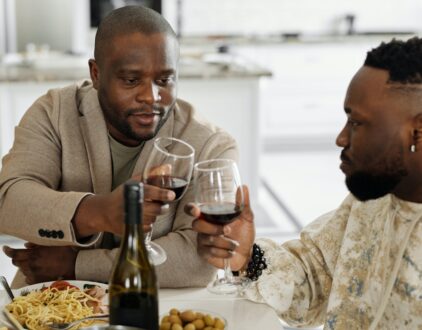 ---
Spaces
Whether it's luxury or ease, every area of your home should be as fabulous and unique as you.
FOLLOW ALONG ON INSTAGRAM
Find us on social for more home inspiration where culture, personal style, and sophisticated shopping intersect to help you create a home where you love to live.