Spring is approaching, and with it comes the therapeutic task of spring cleaning. A new season is a chance to take inventory of what you have and clear out items you're not using. Removing things you haven't picked up in a while is the first step to having a tidy, organized home, whether it's your bedroom closet, home office, or pantry.
Super organizer Marie Kondo had us all in a chokehold a few years ago with her Netflix series Tidying Up with Marie Kondo. If you're unfamiliar, the show documents the tidying expert going to her client's homes and helping them clear out clutter to become organized. Although she admits to not being quite so tidy anymore due to focusing on motherhood, the creator of the KonMari Method blessed us with great organization tips.
View this post on Instagram
This method focuses on tidying by category instead of a specific location like your living room, dining room, or bedroom. This means focusing on clothes, books, and sentimental items instead of a specific room in your house.
According to Kondo, the six rules of tidying are:
1. Commit yourself to tidying up
2. Imagine your ideal lifestyle
3. Finish discarding first
4. Tidy by category, not by location
5. Follow the right order
6. Ask yourself if it sparks joy
View this post on Instagram
You can practice Kondo's method in your home by following these steps. Organizers are another great tool to ensure your house stays tidy. There are lots of amazing organizers available for items like makeup, toilet paper, cords, and mail. Access to various organizers can be overwhelming, so we're to help.
Keep reading for our top 10 organizers your home needs this year to stay tidy.
Jump to Products
---
10 Organizers We're Adding To Our Homes This Year
Pots and Pans Organizer
Opening your kitchen cabinets to find clutter can be anxiety-inducing. Imagine coming home after a long day at work, ready to make dinner, and going through a cluttered cabinet to find the pot to boil pasta. It's frustrating and can be avoided with a pots and pans organizer. This organizer is easy to assemble and can be adjusted to fit the needs of your cabinet. Make sure to measure your cabinets before purchasing to ensure that the organizer will fit. Thanks to this organizer, you won't have to feel stressed finding the pots and pans you need. Now your pots and pans will be easily accessible and aesthetically pleasing.
Acrylic Shelf Divider
Organizing your belongings is one of the best ways to tidy your space. For most of us, our closets quickly get messy, even after cleaning them out every season. This shelf divider keeps everything organized while making the most out of your closet's storage space. You can divide shelves and stack items like clothing, blankets, linens, and towels into neat stacks. These shelf dividers can also be used in your pantry and office to keep things organized. The dividers come in a set of 8, are made from high-quality acrylic, and are made to last. The clear design makes it perfect for any design style or color palette.
10-Piece Stackable Food Canisters
Keeping your food in its packages can look clunky in your pantry. A great way to organize your food is to put them in clear canisters. This makes it easier to see what you have and the quantity and know when to get more at the grocery store. These canisters also come in handy for purchasing items like rice, peas, beans, granola, and nuts in bulk. All you have to do is transfer the items from the bag to these canisters to keep your pantry organized and visually pleasing. These canisters are designed to stack to maximize the space in your pantry and cabinets. They're also easy to clean, and the lid's airtight seal makes it great for keeping your dry food fresh.
Two-Tray Ornament Bag with Clear Top
As much as we love the holidays, decor, like ornaments, takes up space. Storing them in boxes in the attic usually results in a few ornaments breaking each year. Not to mention ornaments being discolored from being wrapped in tissue paper or newspaper. This two-tray ornament bag resolves those issues with its brilliant design.  The two trays in this bag are lined with acid-free fabric that prevents the discoloration of ornaments. Ornaments can be sentimental and expensive, so caring for them is important.  Storing your ornaments in this bag keeps them organized, protects them from damage, and preserves the life of your ornaments. 
Home Gym Storage Rack
A home gym is a great way to stay on track and meet your fitness goals. It's convenient on cold or rainy days when you don't feel like leaving your house but want to move your body. You don't need an entire room dedicated to your home gym. You're good to go as long as you have the equipment and a space big enough to work out and stretch.  Keep your equipment for your home gym organized with a storage rack. This rack stores bulky equipment like dumbbells, roller wheels, foam rollers, and kettlebells. This rack also has space to store your yoga mat and brick. It's high-quality and built to last. 
3 Drawer Shoe Cabinet
Coming in and out of the house can result in shoes piling up at the door. If you're looking for a solution to organize and conceal your shoes, this three-drawer shoe cabinet is the perfect solution. Store it at the entrance of your home for your family and guests to store their shoes upon entering.  This shoe cabinet has two rows in each compartment and can store between 18 and 24 pairs of shoes, depending on the size and height of the shoes. The table top of the cabinet can be used to display flowers or plants or even a bowl to drop your keys in when arriving home. The modern design makes it perfect for contemporary and minimalist design styles. 
Toilet Paper Organizer
One thing you never want to run out of is toilet paper. Buying this life necessity in bulk is a must. The downside to buying toilet paper in bulk is that sometimes there isn't enough room to store it in your bathroom. This is why having a toilet paper organizer is needed for every household.  This steel toilet paper organizer is great because you can store up to 12 rolls, and each roll is concealed. A dispensing feature automatically pushes the next roll downward when a roll is taken out. The organizer's top can be used for plants, air fresheners, and other hygienic necessities. 
Makeup Organizer Box
Keeping all of our beauty products organized is an ongoing struggle. If you need a beauty product revamp, remove products you haven't used in a year. Next, get an organizer to hold all your products while making them look neat and organized.  This makeup organizer box is perfect for your bedroom dresser or to store in your bathroom. You can also store fragrances and skincare like sunscreen, facial wash, moisturizer, and more. It's dust-free and waterproof, making it great for standing the test of time. The top of the organizer is transparent, so you can store and easily access the products you use daily. 
Faux Leather Mail Organizer
A major part of adulting is keeping up with your documents and mail. There's nothing better than feeling organized when tax season rolls around or if you're going through the home-buying process. Make sure your mail is organized with this faux leather mail sorter. You can also use the organizer for storing important documents or business cards. This organizer has two curved compartments to separate mail. It's great for your home office, kitchen counter, or home entryway table. The brown faux-leather finish with a brass-finish metal frame makes it a stunning addition to homes with a luxe legacy, contemporary, or minimalist design style.
Large Cord Organizer
Nothing is more aesthetically unpleasant than cords hanging everywhere in your home. Getting a cord organizer is a great way to keep your wild wires organized and kept. This discreet design conceals your cords and wires. Its large size makes it perfect for storing your outlets, power strips, surge protectors, USB hubs, and more.  Keeping your wires organized also protects your children and pets from being harmed. Its sleek exterior seamlessly fits into any design style. This cord organizer is a great way to free up more floor and desk space in your home office, living room, and any other cord-cluttered space in your home. 
Our editors love finding you the best products and offers! If you purchase something by clicking on one of the affiliate links on our website, we may earn a commission at no extra cost to you.
---
---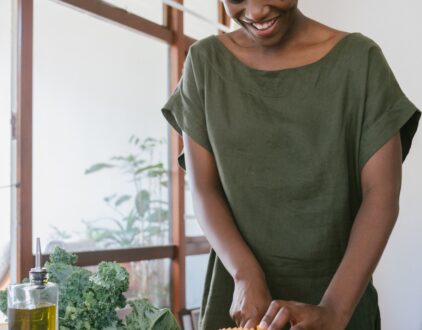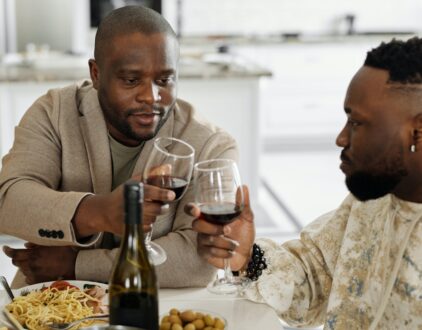 ---
Spaces
Whether it's luxury or ease, every area of your home should be as fabulous and unique as you.
FOLLOW ALONG ON INSTAGRAM
Find us on social for more home inspiration where culture, personal style, and sophisticated shopping intersect to help you create a home where you love to live.